Real estate has been a very popular investment choice over the years because of the higher returns offered by it. However, investors who want to earn secondary income from rent can struggle to decide which type of real estate investment is beneficial – residential or commercial? Here is the detailed analysis of commercial vs residential real estate investment.
There are several benefits of investing in commercial real estate as well as residential real estate, like property ownership, tax savings, rental income, etc. While both commercial and residential offer many similar benefits, the earning potential varies for investors.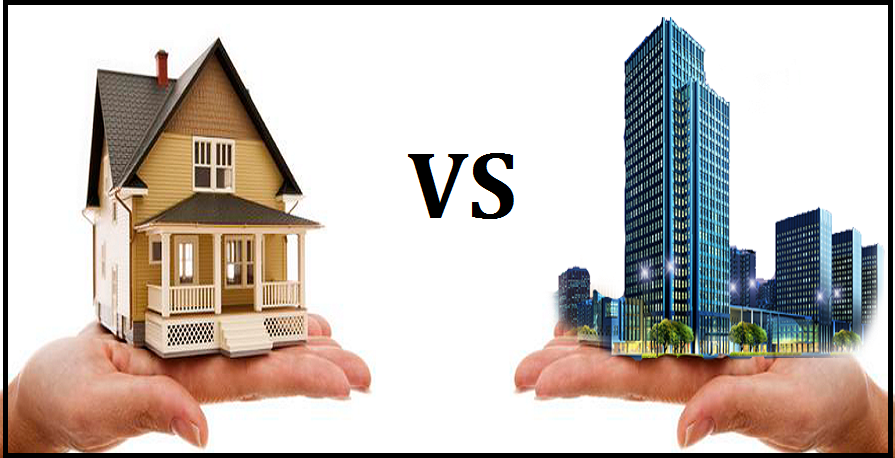 What is Commercial Real Estate and Residential Real Estate?
Commercial properties include retail centers, offices, and industrial complexes. In other words, commercial real estate (CRE) refers to properties that are leased to tenants to conduct business related activities. These properties can be used for a variety of purposes, such as commercial offices, warehouses, daycare centers, movie theaters, parking lots, and retail spaces. Owners of commercial properties can earn rental income and return from capital appreciation.
Commercial real estate investment is getting popularity among young investors. As per a Neo-Realty survey by MYRE Capital, 53% of NRI investors are millennials.
Residential real estate (RRE) refers to properties that can be used solely for the purpose of living. Residential properties include houses, apartments, villas, etc. where people can live or rent out to tenants.
Commercial vs Residential Real Estate Investment
Commercial and residential real estate markets generate the second highest employment in India. While investments in both types of properties offer major advantages, there are factors that you must consider before investing in these properties in India.
Minimum Investment Amount
The minimum investment in a residential property is the overall price of a property. The price of a property varies from one location to another. For example, a 3 BHK property in an upscale neighborhood of Gurugram can cost around Rs. 2 crore. The price of a property in tier 2 cities is lower than tier 1 cities.
Commercial properties are relatively very expensive. For example, an A-Grade property may cost somewhere around Rs. 50 crore or more. Given the large investment, it is impossible for everyone to purchase a commercial property. However, the provision of fractional ownership of property helps individuals to invest in Grade-A commercial real estate in large cities and industrial hubs with a minimum of Rs. 25 lakh.
Average Rental Yields
Commercial properties provide significantly higher returns (8-11 percent) than rental yields from residential properties (1.5-3.5 percent). In addition, the capital appreciation as a minimum of 5-10 percent yields may be possible on investment in commercial properties, while the minimum capital appreciation in residential properties is 1-3 percent.
The responsibility of maintenance of commercial properties lies with the tenant while in the case of a residential property, the owner is responsible.
In terms of rental yield and capital appreciation, the commercial real estate market in India makes for a better investment proposition.
Commercial vs Residential Real Estate: Where Should You Invest?
As compared to residential real estate, commercial properties assure higher yields and capital appreciation. Moreover, because of fractional ownership, today commercial real estate requires a lower entry-level investment in India, starting from Rs. 25 lakh. Whereas, you need more than Rs. 1 crore to purchase a 2 BHK apartment in tier 1 cities.
However, in residential realty, you can enjoy hassle-free procedure for leasing, and a lower holding period for returns than commercial properties.
Residential properties take time to start giving attractive yields. Despite some tax benefits, it is not easy to earn higher profits after paying maintenance charges and property taxes.
Residential properties are a good investment for people who need it for end-use. If you want to invest in properties to earn profits or generate income, commercial real estate units offer higher yields over a longer duration, and ensure stabler income flow and better capital appreciation.
NRIs who wish to invest in commercial properties or residential properties in India can ask any question related to NRI investment in India. You can download SBNRI App from the Google Play Store or App Store. You can also use the SBNRI app for investment in stock market/ mutual funds, Pre-IPO, Asset Finance, Indian Startups Funds, NRI account opening, etc. To ask any questions, click on the button below. Also, visit our blog and YouTube channel for more details.
FAQs
What are the types of commercial properties?
Commercial properties are primarily divided into four classes depending on how each of the property types should be used. 
– Office space
– Industrial property
– Retail stores
– Multifamily properties
What are the biggest growth drivers for commercial real estate in India?
Growing demand from IT/ITeS and BFSI sectors, reopening of offices, popularity of co-working and flexi-working segments, etc. boost the CRE in India. Moreover, the system of fractional ownership and Real Estate Investment Trusts (REITs) also play a vital role in boosting demand in the sector.
Which one is the better investment option between residential and commercial real estate?
It depends on your requirements. If you need a property for end use, you can buy a residential property, whereas commercial real estate investment is a better option for investment purposes.