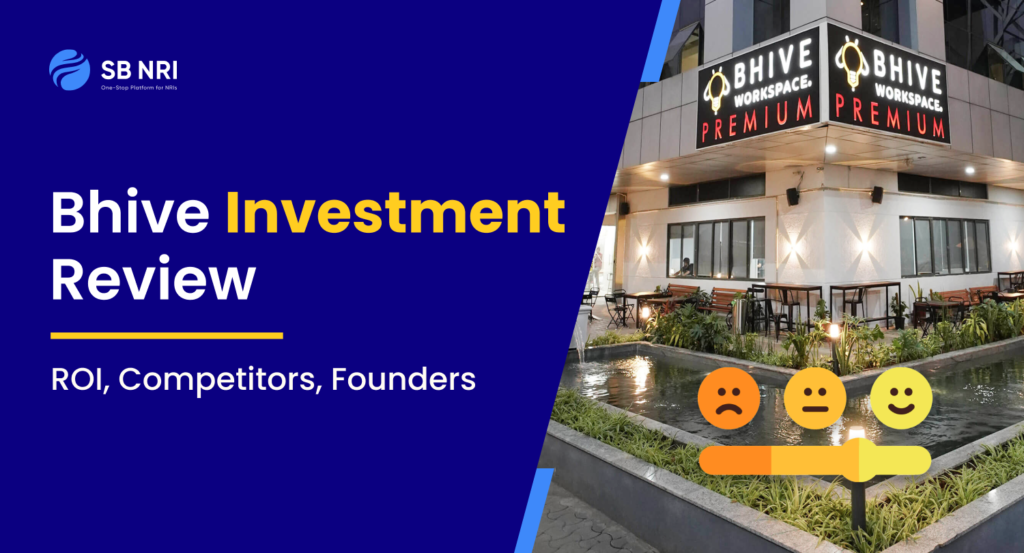 Investing in commercial real estate (CRE) is one of the trending investment options for NRIs that allows them to diversify their investment and add alternate asset classes to their portfolio apart from mutual funds, stocks, and more. Bhive is one such commercial real estate investment developing Bhive Workspaces and more that allows NRI investors to generate strong rental yields and high growth potential. We here take a look at the Bhive Investment review, Bhive workspace investment review, Bhive alts investment review, and more in our article.
What is Bhive: Bhive Investment Review
Bhive Group is the oldest and biggest commercial real estate brand in Bengaluru that provides investors with an opportunity to diversify their portfolio by investing in an alternate asset class. They also have a Bhive Alts platform for alternate investments along with Bhive properties that take commercial real estate investments and management.
With Bengaluru being one of the fastest-growing cities with a rapidly booming real estate industry, Bhive focuses on curating investment opportunities in commercial real estate by creating workspaces that are budding with growth potential. This provides a great opportunity for NRI investors to receive monthly rental yields as well as an increase in value throughout ownership.
Bhive workspace investment in commercial real estate spaces has allowed investors NRIs and alike to become the owners of large-scale retail properties without having to shell out the whole investment amount.
Bhive manages approximately 2 million sq. ft of built-up space across 25+ properties with 130+ crore in assets under management (AUM).
Also read: Growpital Review: ROI, Competitors, Founders
Why Bhive Workspace Investment?
Commercial real estate investments have become a popular alternative class investment option for NRIs and more in the last few years. Here are some of the top reasons why you should choose Bhive for a CRE investment and expand your portfolio:
Cash Flow: CRE provides an excellent source of stable cash flow over some time. CRE properties provide timely rental payouts allowing you to generate regular cash flow. This can be an excellent source of passive income where your investments can yield returns.
Diversification: Diversifying your portfolio is much needed in current times as that can help build additional streams of wealth generation whilst also lowering the risk factor. The traditional means of investments have been around for a long but these new age alternate investment classes like CRE, managed farmlands, and more help in creating a diversified investment portfolio while generating timely returns from the market.
Tangible asset: Commercial real estate is tangible and will always maintain an intrinsic value of the property and land. Real estate are great investment choice due to this tangibility which is at times lacking in other forms of investments like stocks.
Fractional ownership: With CRE investments you don't need to invest the full amount of the property and can invest a certain amount to become the part owner. This opportunity of fractional ownership allows you to own CRE properties and generate regular passive income.
Source of passive income: CRE properties provide an excellent return of 15-17% p.a. making it almost 3x the income generated via fixed deposit investment. The returns are provided promptly like monthly, quarterly, or more giving you a regular source of passive income.
Bhive Investment Reviews – High Return Projects
Investors can choose from multiple commercial real estate properties undertaken as part of Bhive investment. One of the most prominent high-return projects under Bhive for NRIs is:
Bhive Workspace, Whitefield Campus
Features:
15.6% First Year Rental
Easy and hassle-free investment with an NRO account
Principal payback backed by Corporate guarantee
How to Invest in Commercial Real Estate with Bhive via SBNRI
SBNRI is a portfolio partner of Bhive. You can invest in commercial real estate in Bhive through the SBNRI app or platform. Both residents and NRI investors can invest in CRE to earn high yields and returns.
Schedule a call with our expert to invest in CRE or learn more about the product.
Also read: Grip Invest Review India: App, Product & Competitors
Is there a Bhive App?
There is no app for Bhive. NRIs can invest in Bhive via SBNRI's platform or through any other partner investor.
Bhive Competitors and Alternatives
While with Bhive, one can get unique investment opportunities, a few more such companies are offering commercial real estate solutions for investors. Following are some of the Bhive competitors and alternatives:
Strata- Online platform for fractional investments in real estate
hBits – Online commercial real estate fractional ownership platform
Bhive Customer Care
For any questions, suggestions, or feedback, you can contact the Bhive Team:
Phone Number: +91-83101 89944
Email ID: [email protected]
Address: No.112, AKR Tech Park, "A" and, 7th Mile Hosur Rd, Krishna Reddy Industrial Area, Bengaluru, Karnataka 560068
You can also download the SBNRI app to connect with our experts and get end-to-end assistance related to NRI investment in alternative assets in India or get a full Bhive review.
You can also click on the button below to ask any questions. Visit our blog and YouTube Channel for more details.
FAQs
What is Bhive?
Bhive is a commercial real estate platform that allows investors to invest in CRE properties and gain fixed monthly returns along with valuation growth. 
What is Bhive Alts investment?
Bhive Alts Investment provides investors with access to a variety of different investing opportunities through a simple integrated platform. Bhive Alts investment allows investors to invest in commercial real estate properties and generate passive income.
Who is the founder of Bhive?
Shesh Rao Paplikar is the Founder and Chief Executive Office of Bhive while Monnappa Bayavanda is the Co-founder of Bhive.
Who are Bhive investors?
Bhive Workspace has 1 lead investor and 8 investors who have invested in the company during the three rounds of fundraising.
How does Bhive work?
Bhive pools funds from investors and uses them in commercial real estate (CRE). It develops and manages CRE properties and investors get fixed payouts every month.
Is Bhive investment safe?
Yes, Bhive commercial investment is safe as it comes with principal payback backed by a corporate guarantee making it a safe investment for NRIs looking to diversify their portfolio by investing in alternate asset classes.
Is the return on investment in commercial real estate fixed or subject to market risk?
The monthly rental provided on your investments is fixed.
Who manages the commercial real estate projects?
Bhive owns and develops commercial real estate properties.
Can an NRI invest in Bhive commercial real estate?
Yes, an NRI can invest in Bhive commercial investment real estate from their NRO account.
How is the income from Bhive commercial real estate taxed?
The rental income generated from Bhive commercial real estate is taxed at the investor's tax slab in India.