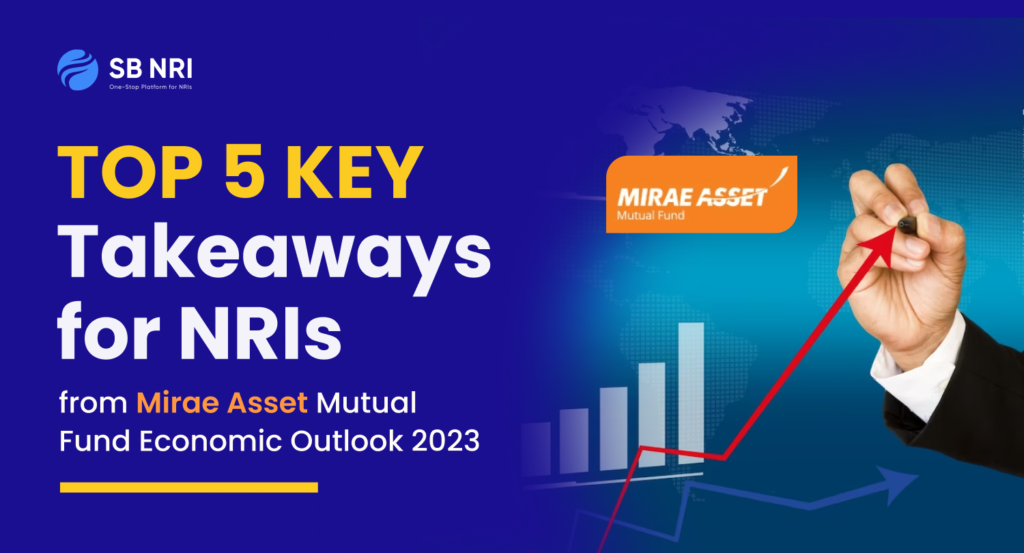 Mirae Asset Mutual Fund published its Economic Outlook as part of their annual report on the insights on the global economic landscape, movement on financial markets, and investment opportunities for the year. Their Mirae Asset Mutual Fund Economic Outlook 2023 report gave a detailed read on many prominent areas for investors to understand the market trends and make informed decisions. This report also holds immense value for NRI investors investing in mutual funds in India and we take a look at the key takeaways from Mirae Asset Mutual Fund Economic Outlook 2023 for NRIs in this article.
Also read: Top 5 Reasons to Invest in India Now
What is Mirae Asset Mutual Fund?
Mirae Asset Mutual Fund is a well-established name in investment and wealth management. Having received SEBI's approval in 2008 for operating mutual funds business in India under their parent company Mirae Asset Global Investments (India) Private Limited, they started their mutual fund offerings and schemes. It was later transferred to the subsidiary Mirae Asset Investment Managers (India) Private Limited in 2020 and now has over Rs 117534 crores in assets under Management (AUM). They offer 43 primary mutual fund schemes under them.
Also read: Top 5 Tips for NRIs to Pick a Winning Mutual Fund
5 Key Takeaways from Mirae Asset Mutual Fund Economic Outlook 2023 Report for NRI
1. Global Economic Recovery
The report highlighted a positive take on the global economy for 2023 where it states the economy to rebound from the effects of the COVID-19 pandemic that affected the international markets and Indian markets for a long period. The report also states that the recovery is already being seen in a few areas and is expected to drive growth in various major sectors like technology, healthcare, renewable energy, and more.
2. Investing in Emerging markets
Mirae Asset Mutual Fund Economic Outlook 2023 for NRIs report focuses on the possibility of emerging markets like India, China, and Southeast Asia as the major areas to look for in terms of global investment. It states that these markets often have a higher growth rate as compared to the developed countries and present a promising investment prospect. Particularly, the equity market in India is seen as a constructive growth area for the year with the economy being supported by broader macro growth of domestic consumption and no likely chance of a recession in the nation. 
Also read: NRI Investment in India: 10 Investment Options for NRIs in India 2023
3. India's growing stature in the economy
The report showcased the continued growth of the Indian economy against the sharp contrast of the global economy. RBI's GDP growth estimate stood at 6.8% for FY 22-23 as against the earlier estimates of 7.2% on April 22. International Monetary Fund (IMF) at the same time has estimated India's GDP growth to be around 6.5% for FY 23-27 making it the fastest growing economy. On the other hand, the World Bank estimated that global economic growth will be rallying around 2.9% for the period against the previous estimation of 4% during January 2022. It is a clear indication that India looking forward to diluting the impact of the global slowdown in economic growth and building on its relatively smooth growth trajectory.
4. From Growth to Profitable Growth
Mirae Asset Mutual Fund Economic Outlook 2023 report provides a fascinating insight into the way corporates and companies will position themselves in 2023. The likelihood of chasing growth will not be a prima facie target with a shift towards profitable growth. This can be seen with the steps of consolidation in various sectors, revival of growth areas, demand revival, government capital expenditure, and more. It will also likely present a lower volatility in the corporate earnings.
5. Indian Markets and its Outcomes
The global sentiment will have an impact on the Indian equity market but with the economy heading toward consolidated growth, the long-term outlook is solid. The market may offer low teen return at present levels providing a lowered entry point for investors and providing a good wealth generation in the long run. Investors can diversify their investments into mutual funds and can allocate SIPs to invest in the markets.
Impact on NRIs and the Road Ahead for Long-Term Wealth Building
NRIs can explore the Indian markets and invest in mutual fund schemes and other modes of investment to yield favorable returns in the long run. The Indian economic outlook is solid and is likely to present a good growth curve in the next 3-5 years.
Diversifying investments by way of adding inflation-resistant assets into their NRI investment portfolio will help protect the real value of investments and provide purchasing power over time.
NRIs should regularly review their investment portfolios and consult wealth experts and financial advisors to stay updated on market reforms, trends, and changing economic conditions to help make informed market decisions and generate higher returns.
Also read: NRIs, Invest in India: Uttar Pradesh Plans to Become a Trillion-Dollar Economy
Wrapping Up
Mirae Asset Mutual Fund's Economic Outlook 2023 for NRI provides valuable insight for NRIs looking to make investments in India and build a sizeable wealth. Aided by economic growth and growing GDP, the Indian markets look to present a window of opportunity for NRIs to create better returns.
Invest in India's growth as NRI
NRIs can now download the SBNRI App and choose to invest in different investment options in India with ease. You can also get detailed investment advice from experts at SBNRI. Also, visit our blog and YouTube channel for more details.
SBNRI is an authorized Mutual Fund Distributor platform & registered with the Association of Mutual Funds in India (AMFI). ARN No. 246671. NRIs willing to invest in mutual funds in India can download the SBNRI App to choose from 2,000+ mutual fund schemes or can connect with the SBNRI wealth team to better understand Mutual Fund investments.
FAQs
What is Mirae Asset Mutual Fund's Economic Outlook 2023?
Mirae Asset Mutual Fund's Economic Outlook 2023 is an annual economic report published by Mirae Asset provides detailed information on the market performance, economic growth, and its various key factors. It also provides guidance and insight into the prospects of the market and key areas to look for.
Can NRI invest in Mirae Asset Mutual Fund?
NRIs can achieve long-term capital appreciation by investing in the Mirae Asset Short-Term Growth scheme from Mirae Asset Investment Managers (India) Private Limited. It is a Short Duration mutual fund scheme that predominantly invests in Short Duration stocks of companies.
How can NRI buy mutual funds in India?
NRI investors can purchase or sell mutual funds in India once they complete their Mutual Fund KYC and have an operating NRO/NRE Bank account.
What happens to my mutual funds if I become NRI?
Once your residential status changes to an NRI (Non-Resident Indian), you can continue with your investments in domestic mutual funds. However, according to FEMA rules, you need to change your residential status in your bank accounts and other investments like mutual fund schemes.