Fixed deposits, mutual funds, shares, and even cryptocurrency are the most common investment avenues in India. However, all of them are market-linked investment options and have a component of volatility. Moreover, the fixed income options don't always offer real inflation-adjusted returns. This is where Grip Invest comes into play, allowing investors to access high-yield, fixed income products like lease financing and inventory financing. Here is a complete Grip Invest review, including what it offers, pros and cons, and risk linked to investing through Grip Invest.
Grip Invest Review – what is Grip Invest and what it offers?
What is Grip Invest
Grip Invest is a new-age digital investment platform that aims to democratize investments by making non-market-linked and asset-backed fixed income and equity investments options available to retail investors who otherwise would not have been able to get such opportunities due to large ticket sizes. It acts as a marketplace for investors looking to invest in higher yield asset-backed securities and companies looking to lease financing and secure new forms of capital.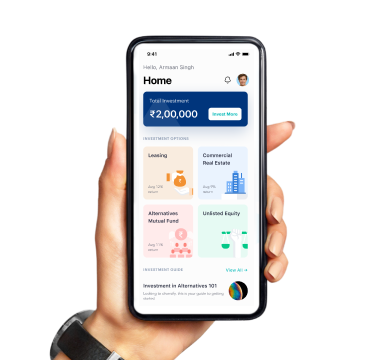 Grip Invest started operations in 2020 to offer an opportunity for investors to co-invest money in leasing assets, such as electric vehicles, furniture, EV batteries, cloud kitchen equipment, etc. through its platform. The investors get fixed monthly returns. Companies on the other hand can access new forms of capital without raising equity or debt but using leasing as a form of growth capital.
What it Offers
As mentioned above, Grip Invest is a marketplace that offers lease financing to retail investors and rents assets to users. It receives rental income from users. Assets it owns could be a fleet of cars that are leased to transport service providers, or medical equipment, furniture, or even pre-leased commercial real estate. These users pay a regular rental which becomes Grip's income.
While Grip owns the assets, the financial investment, in the form of lease for which investors earn an income, is in investors' name. Grip offers different lease-backed investment products to investors based on lease rentals – short-term (5-6 months), medium-term (12-24 months) or long term (5 year or higher). In case, the lessee is unable to deliver the agreed rental, the asset which is still owned by Grip can be sold to recover money for its investors.
Grip Invest also democratizes start-up equity financing through its online platform. Usually the ticket size for such investment is upwards of Rs. 1 Cr. But through Grip's online platform, retail investors can invest with a minimum ticket size of Rs. 20,000.
Grip Invest is a corporate partner of SBNRI. Schedule a call to invest in physical assets or know more about the product.
How Do You Earn Money from It?
Grip buys assets using money pooled in by investors and then leases them out. Rental paid by the users for using assets owned by Grip is distributed among investors.
Investors' income depends on the lease opportunity and contracted income. The annualized pretax income that investors can make ranges between 11% and 22%, depending on the type of lease, tenure, etc. For example, leasing out three-wheeler vehicles can get investors up to 20-22% annualized returns. The return is not market-linked.
Each deal is closed at different times and after that returns are paid out in a monthly frequency. Investors will receive the first return in 30-45 days. Return earned may be taxed at the marginal income tax rate applicable to the investors.
Grip retains 1-3% as its own income from the rental income that it gets from users of assets. And the rest of the income is passed on to the investors.
Investors whether residents or NRIs need to complete their KYC formalities before they start investing.
Is Grip Invest Regulated
Start-up equity financing and the commercial real estate lease product are governed by the Securities and Exchange Board of India's (SEBI) Category-1 alternative investment license. The other lease financing products are governed by provisions under the Companies Act.
Risk Involved
Every investment comes with a certain degree of risk. In the case of Grip Invest, lessee or user quality is the biggest risk. For example, the start-up where Grip invests money may not become profitable or the drivers of the fleet of cars may not fulfill their commitment for rental.
Sometimes, the pre-leased commercial real estate market can slow down leading to termination of contracts. For example, many companies left their office spaces and employees shifted to working from home during the Covid-19 pandemic.
An investment on Grip platform comes with a 2% cost split over the tenure of the investment, unlike mutual fund investment where it is charged upfront. This is a one-time fee, not a recurring annual cost.
Grip Invest App
As mentioned above Grip is a digital investment platform that is disrupting the investment market in India. It allows individuals to start investing in non-market-linked and asset-backed fixed income and equity investment options with as little an amount as Rs. 10,000 through its online platform.
As far as Grip Invest app is concerned, the company has not launched its app so far. Grip has its own website that allows people to smoothly invest in curated investment opportunities such as corporate bonds, leases, inventory, start-up equity, and commercial real estate. Investors can log in or sign up on its platform to create an account, complete KYC, start investing, and receive returns as pre-determined schedule, without installing Grip Invest app.
Grip Invest Competitors and Alternatives
While Grip offers rather unique investment opportunities, there are a few companies that also offer investment solutions for investors in India. Following are some of the Grip Invest competitors and alternatives:
Wint Wealth – Allows users to invest in high-yield, asset-backed products
KredX – Unsecured investment options
Klub – Growth capital to brands
Capital Float – Offers collateral-free business loan
Grip Invest Pros and Cons
Each type of investment comes with its own pros and cons. Likewise, Grip Invest has some pros and cons as listed below. You can go through them to determine whether you should invest in it or not.
Pros
As a multi-asset alternative investment platform, Grip has grown to 2.5 lakh users registered on its platform and attracted Rs. 500+ cr worth of investments in just 2 years since its inception. What's more the company is yet to have its first default.
They perform due diligence to choose companies so as to earn the best returns from investors' money.
Grip Invest takes 7.5% to 15% of the lease as a security deposit from companies.
The most interesting thing about Grip Invest is the offers are not linked to the stock market, which makes it a go-to option for new investors.
Investors earn passive income in the form of interest every month instead of once during the end term.
Each investor can decide the use of his/her money i.e. where to invest, as everyone's contribution is treated separately.
Creating an account and initiating investment is very simple on Grip's platform.
As mentioned above, its products and services are governed by regulatory bodies, the platform is legal and so is your investment.
Your personal and other data like PAN, Aadhaar, or any information shared with Grip is safe.
Cons
Since you are investing in non-market linked investment options, there is a probability that you are investing in assets you don't have much knowledge about like past performance, risk associated with it, etc.
Sometimes, the company may not earn profits or fail to make lease payments on time. Or even, Grip may find it difficult to sell off the asset to generate the desired value to your investment. In such a case, you may suffer a loss.
There is no guarantee on investment for returns and neither is it secured.
Investing in startups is relatively risky, sometimes it can go wrong. Moreover, returns on investment depend on underlying assets which adds to the risk associated.
The ROI ranges between 11% and 22%, but the higher return depends on the type of lease, tenure, etc. Sometimes you may end up making the least returns, say 8%.
Since your fund is locked in for 24 months, you can't withdraw money before 2 years in case of financial emergencies.
There is no tax benefit on your investments in Grip Invest.
If the company to whom the asset is leased defaults and the asset can't be monetized, investors will lose their money.
Not only residents but NRI investors can also invest in physical assets such as vehicles, equipment & furniture which are leased to corporations to earn great returns.
You can download SBNRI App to connect with our experts and get end-to-end assistance related to an NRI investment in physical assets in India and trade account opening, or even to get full Grip Invest review.
You can also click on the button below to ask any questions. Visit our blog and YouTube Channel for more details.