Best NRI Trading Account in India: Despite the recent volatility and dull phase in international equity markets, India's long-term growth story remains intact. Indians staying overseas can take advantage of the high growth back home by investing in stocks and mutual funds in India. Indian stock brokers are also wooing NRIs with attractive services like Zero AMC NRI Demat Account, 3-in-1 NRI Trading Account and Low Brokerage NRI plans. NRIs need a trading account to invest in stock market-listed companies in India.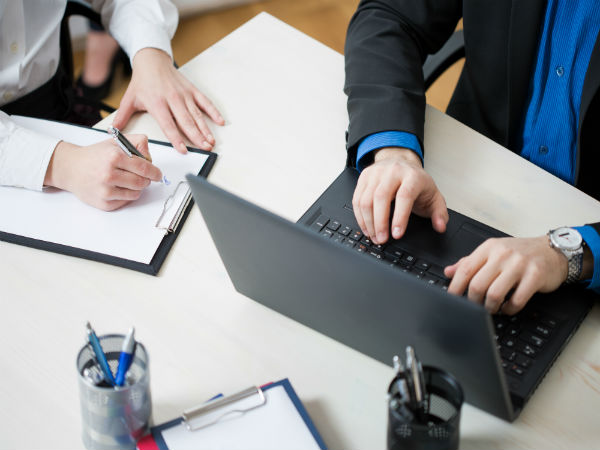 Also Read: Best Demat Accounts for NRIs (Non-Resident Indians) 2023
What is NRI Trading Account?
An NRI trading account is an investment account that allows Non-Resident Indians (NRIs) to invest/ trade in stocks, IPOs, bonds and mutual funds listed in NSE and BSE. A trading account is mandatory for NRIs looking to invest in the stock market listed companies in India.
Other than a trading account, NRIs also need an NRI bank account and an NRI Demat account to trade in the Indian stock market. As per the government regulations, NRIs are only allowed to invest/trade in equity and currency derivatives, through Authorised Dealer Category I Bank. NRIs can't invest in commodity derivatives.
The trading account facilitates online investment in the stock market and is central to all the stock market transactions performed between a bank account, a Demat account, stock exchanges and the NRI investor.
Note: A Demat account is not mandatory for NRIs to invest in mutual funds in India.
NRIs can download SBNRI App to choose from 3000+ mutual fund schemes in India or to ask any questions related to mutual fund investment.
NRI trading account types
Trading accounts are classified into two categories as under:
NRI 3-in-1 accounts
NRI 2-in-1 accounts
NRI 3-in-1 accounts
NRI 3-in-1 account is an integrated account that combines 3 accounts i.e. an NRI bank account, trading account and NRI Demat account. It is also known as a 4-in-1 account as some brokers open 2 bank accounts: PIS and Non-PIS accounts. 
The 3-in-1 account offers the most convenient way to invest in Indian market. All transactions are conducted smoothly and supervised by the bank offering this account type. ICICI Bank, Axis Bank, HDFC Bank, SBI, and Yes Bank offer 3-in-1 accounts for NRIs.
NRI 2-in-1 accounts
An NRI 2-in-1 account is a combination of an trading account and an NRI Demat account. NRIs need to open PIS, NRE and NRO savings accounts before applying for a 2-in-1 account. This type of account is offered by stock brokers who don't have a banking license i.e. Zerodha, Sharekhan, ProStocks, etc. 
Best NRI Trading Account in India
Several full-service and discount stock brokers in India offer trading services for NRIs. Each of them has its own pros and cons. Full-service brokers offer a wide range of investment options through one account. In addition, they also offer add-ons like a dedicated personal relationship manager (RM), PMS, tax, and also research the trends and make recommendations, etc. However, they charge high brokerage fees.
Discount brokers offer limited no-frill services, including online trading and investment in mutual funds, equity, F&O, IPO, bonds, etc. at a low brokerage in comparison with full-service brokers. They don't offer services like RM, PMS, Tips, etc.
For best NRI trading accounts in India, there are many full-service and discount stock brokers including ICICI Direct, Kotak Securities, HDFC Securities, Axis Direct, Zerodha, ProStocks, Tradeplus etc.
Here is a checklist of trading account for NRIs in India along with charge comparison:
| Rank | Broker | Brokerage | Active Clients |
| --- | --- | --- | --- |
| 1 | Zerodha | Rs. 100 per trade (non-PIS), Rs. 200 per trade (PIS) | 6,590,699 |
| 2 | Angel Broking | – | 4,244,617 |
| 3 | ICICI Direct | 0.50% to 1.25% | 2,686,765 |
| 4 | HDFC Securities | 0.75% | 1,126,177 |
| 5 | Kotak Securities | 1.00% | 1,056,932 |
| 6 | Sharekhan | 0.50% | 749,880 |
| 7 | AxisDirect | 0.75% | 389,282 |
| 8 | IIFL Securities | 0.50% | 719,141 |
| 9 | Ventura | 0.40% | 114,183 |
| 10 | Choice Broking | 0.50% | 263,576 |
Best NRI trading accounts in India
Many of these NRI brokers also offer services like dedicated NRI desks, Good-till-cancelled (GTC) orders, Call n Trade, After Market Orders (AMO), Stock Recommendations, and online trading portals such as mobile app for NRIs to trade from abroad.
Important Points to Remember
Since they don't have a banking license, discount brokers don't offer an NRI account (PIS). NRIs need to open an NRI banking account with an authorized bank in India before applying for NRE/ NRO Demat account and trading accounts.
Due to additional compliances as per FATCA and CRS regulations, some Indian brokers don't offer services to NRIs based in the US and Canada.
Some brokers require NRIs to be physically present in India at the time of NRI trading account opening.
Also Read: Mutual Funds for NRIs from USA/Canada to Invest in India
Living away from India, it is not easy for NRIs to open a NRI Trading account or Demat account and make the right decision about investment in India. At SBNRI, we understand that there are many obstructions faced by NRIs while investing in India. You can download SBNRI App to connect with our experts and get end-to-end assistance related to an NRI investment.
You can also click on the button below to ask any questions. Visit our blog and YouTube Channel for more details.
FAQs
Is an NRI trading account the same as a Demat account?
A trading account for NRIs is different from an NRI Demat account. The trading account is used to trade in stock exchanges online through stock brokers. You can open a Zerodha NRI account for trading to invest in Indian stock market. NRI Demat account, on the other hand, is used to hold securities bought in the trades in electronic form. Brokers allow NRIs to open both accounts, for example, you can open Zerodha NRI accounts (both Demat and Trading) to invest in the stock market in India.  
Can NRI hold shares in India?
Yes, NRIs can hold shares in India received in the form of gifts purchased in the capacity of a resident Indian. Or they can participate in equity investments using their NRI accounts i.e. NRI bank account, Demat account and trading account. 
What are the trading account charges?
Trading account charges NRIs include:
– Trading account opening fee (one time)
– Brokerage charges
– Exchange transaction charges
– Taxes (GST, STT, SEBI Charges, Stamp Duty)
– Call & Trade Fee
– Trading platform access fees
What are the documents required to open a trading account?
Here are the documents required to open a trading account in India:
– Photocopy of passport
– Photocopy of valid visa
– Address proof (domestic and overseas)
– Photographs (Coloured)
– Copy of PAN card
All these documents should be self-attested and attested by any of the following: Indian Embassy/ Consulate General/ Public Notary/ Court/ Magistrate/ Judge/ Local banker in the country of your residence.