Long frocks are in trend and nowadays it's evolving with new style collections in the market. These kinds of frocks are well adopted by Bollywood and Hollywood as a symbol of style and comfort. In India, long frocks are classy yet comfortable as per the season. South India is exploring the latest fashion in this. Almost all corner of India gets the long frock fashion for evening wear whether at home or preparing for a party. Even though the long frock designs come in the western wear category.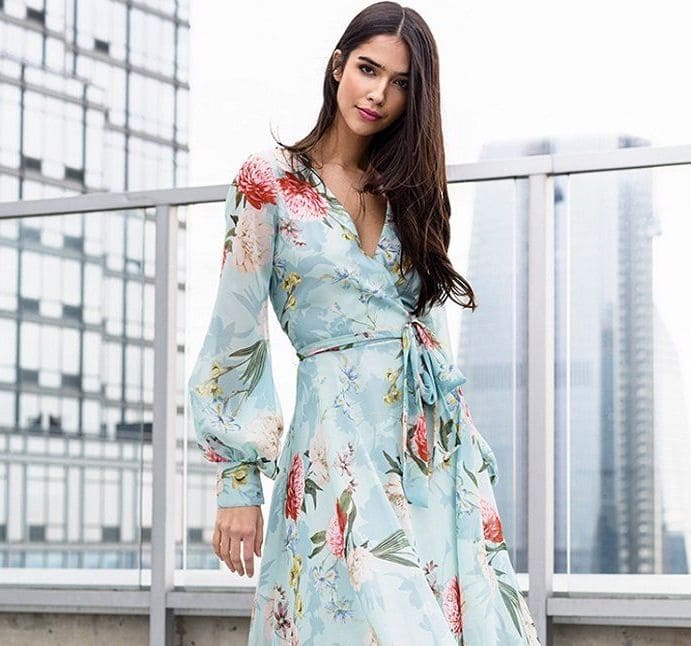 In the making of a frock, material and stitching are very easy and can include varied idea of styling. There are many modern designs of long frock or gown available such as Asymmetric long frock, frill or ruffle style, bell sleeves, Anarkali style, etc. Long frocks can be paired with leggings or a pant as per the consideration.
The traditional Indian attire changed to the stylish need of the modern generation. The general options of ethnic wear for women transformed from heavy lehnga to long frock for special occasions or evening wear.
What to know before selecting a long frock?
You should check for the color and material or fabric used for making your frock as per the comfort, season, and occasion.
Colors for frock
We, women, are color freaks and sometimes with specialized love for a unique combination. Match the outfit's tone with the surrounding need. Check and choose a suitable color like maroon, navy blue, royal blue, white, or any other fusion that will make you look stunning on spot.
Material /fabric
We are listing some of the common fabrics generally used for long frocks by events or on individual demands.
Georgette
The fabric was conventionally prepared from silk but can be made with synthetic fibers like polyester. It can be one of the best choice fabrics as per its characteristics like it has a crinkly, crepe-like texture. It makes you feel like a bouncy, flowy drape with a little and dry touchups. The fabric is of good quality, strong, and holds up well to wear.
Velvet
Velvet fabric can be the best choice for a grand celebration or a party during winter. The lustrous shine, depth, richness, etc. all made it the perfect choice for a vampy, gorgeous feminine dress. The loving features made it worthy of the dress like the shimmering surface, soft textured, strong with durability, smooth, and touchable. The elegant royal drape can impress you to love yourself.
Chiffon
It is available in varied versions to plot the beauty of the dress. It can be made of cotton, silk, rayon, or any other synthetic fibers. The light-weighted fabric is easy to carry the beautiful drape of the dress. Some of its unique characteristics can include a plain weave, soft and supple, generally taut, fine, and transparent.
Crepe
The flowing fabric is always the perfect choice for elegant formal wear. The tightly woven construction that is available due to the twisted fibers can have a diverse set of properties. It can be the best choice for dress innovators for its lightweight, matte face, graceful drape, comfortable with its two-way stretch, a grainy textured surface. Its creased or wrinkled appearance is eye catchy in the evening.
Satin
The chic and opulent fabric is the favorite choice of many. The material with added depth, flawless movement, and flexibility makes it the right choice for your ethical dress. The notable attributes of the fabric can include a sleek and glossy face, highly lustrous, and a dull back. The material can be made of cotton, silk, wool, and synthetic fibers.
Rayon
The fabric is unique in made from natural sources like wood or agricultural products. This material is supple and textured with patterns to provide a glam look to your evening wear a long dress.
There can be cotton, organza, and some other materials on the list but the choice is yours. You can see the quality traits of fabrics to customize them into your dress. Even cotton is an evergreen fabric material that can serve all types of dresses as per the pattern.
Bottom Line
Long frocks are the first choice for women either for the small occasion or the high-level function with the designer's uniqueness included. One should look after the required research for the best dress out of vast collections offline or online.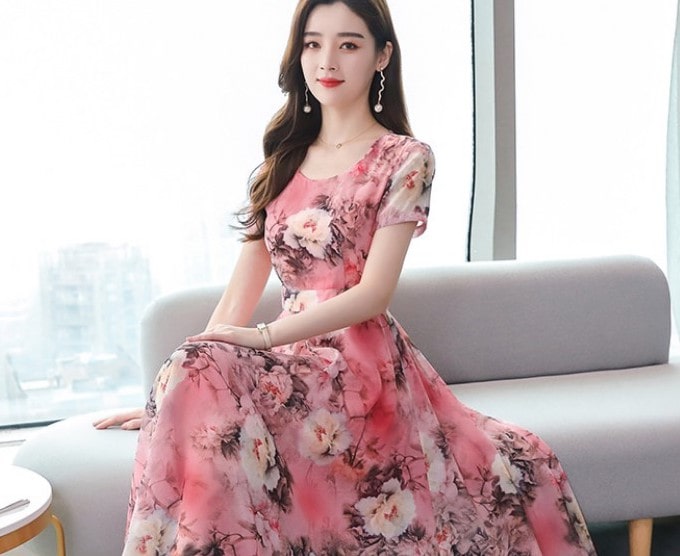 To ask any questions related to the rights of NRIs, PIOs, and OCIs, you can download SBNRI App from the Google Play Store or App Store. You can also use the SBNRI app for investment in stock market/ mutual funds, NRI account opening, tax filing, etc. To ask any questions, click on the button below. Also, visit our blog for more details. 
FAQs
Can I wear a long frock at weddings?
Well, of course, yes! You can wear a long frock or gown but designer extensions, as it is the demand for a special occasion. Further, it's up to you as per your taste and liking of colors and their contrast combination.

How can I select the correct fabric for my long dress?
You can see your skin suiting fabric that you prefer to choose for other dresses or even you can get expert advice from tailors or dressmakers for the selection.
What color can be the best choice for a long frock at an evening party?
Colors can be the choice as per your personality and your selections. Light or bright colors depend on the formal or informal parties.