Since time immemorial, Indian brides have managed to steal the show with their resplendent attires and glamorous looks. Often, grooms end up feeling like a second fiddle at their own weddings. For years, NRI grooms have been restricted to a few ethnic styles that lack the lustre of their rich Indian heritage. Keeping pace with the bridal haute couture, Indian groom wear is enjoying a renaissance with royal outfits and opulent embroideries re-emerging. 
With modern designs blended with ethnic wear, NRI grooms have a plethora of options to explore for their big day. From regal sherwanis to voguish bandhgalas, designers are creating an extensive range of Indian groom wear. Intricate jackets, addition of layers, vibrant colours, hemline designs and pleated sherwanis are just a few of the numerous options available for the leader of the groom brigade. It's time for NRI grooms to play catch-up with their brides and put their fashion foot forward.
Raise the royal quotient with a sherwani
Fit for royalty, sherwanis are the dream wedding outfit for Indian grooms. NRI grooms hailing from North India can pay homage to their rich Indian heritage by donning an ethnic sherwani. The button-down, knee-length jacket can be worn over a subtle kurta and paired with a churidar, salwar or dhoti. NRI grooms can opt for textured fabrics such as chikankari or jacquard or go for simple fabrics detailed with embroideries and embellishments. Grooms with a rich colour palette can explore pastel and neutral sherwanis. To elevate the ensemble, the groom-to-be can add a draped dupatta or stole in vibrant colour.
Radiate strength and sublimity with a bandhgala
NRI grooms who prefer a more modern look without losing the ethnic touch for their big day can take pride in bandhgala. India's formal suit, the bandhgala, is also called the Jodhpuri suit owing to its princely lineage. This fusion of East and West consists of a structured closed collar jacket that falls just below the waist and can be paired with slim trousers. Stun everyone at the wedding with an Eastern tuxedo in a deep hue or pastel shade with opulent embroidery to jazz it up. Additionally, grooms can add a pocket square that matches their bride's outfit.
Invoke the Southern spirits with a mundu & kurta
A staple South Indian wedding groom outfit, mundu can offer a refreshing change to grooms tired of sherwanis and jackets. The epitome of grace and simplicity, mundu can be paired with a button-down shirt or short kurta. Opt for a luminous silk mundu for NRI grooms trying to add a glamour quotient to their wedding outfits. Though this outfit is usually worn in white colour, grooms can also opt for beige, cream or off-white. To add a dash of colour to the wedding ensemble, grooms can choose kurtas in vibrant colours, floral prints or bright embroidery.
Add a layer of grandeur with a Nehru jacket
A guaranteed head-turner at every wedding, Nehru jackets are a must-have traditional outfit for groom trousseau. It can be instantly dressed with a silk or cotton kurta in complimenting colour combinations. The Nehru jacket popularised by former Indian Prime Minister Jawaharlal Nehru is high on comfort, style and trend. The hip-length tailored coat with a mandarin colour comes in a dizzying range of prints, textures, colours, embroideries and fabrics. Grooms can layer a silk or brocade Nehru jacket over a contrasting pastel or bright kurta in cool fabric.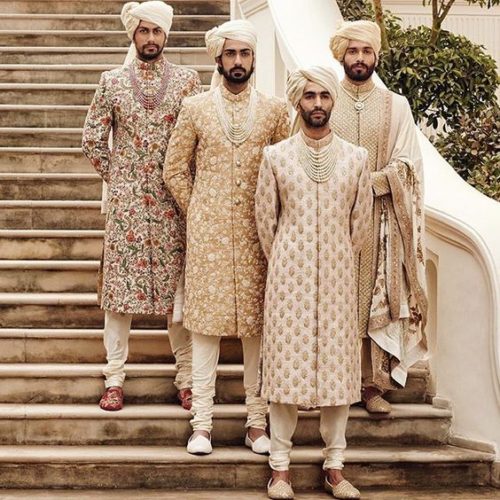 Turn on the charm with a kurta set
Often favoured for pre-wedding festivities, the kurta set is for grooms who want to make more than a fleeting appearance on the dance floor. The embodiment of comfort, kurta sets are made in fabrics ranging from cotton and linen to silk and brocade. The quintessential slim-fit design lends a modern look to grooms while adding an ethnic charm to their aura. Grooms can play with prints, embroideries, textures and accessories. Additionally, they can pair the kurta with a churidar, ankle-length trousers or dhoti. Grooms can layer the kurta set with a Nehru or bomber jacket to elevate the ensemble.
Final Thoughts
The photographs from one's wedding day are framed in the house and etched in one's memory forever. Grooms don't want to look back and regret why they chased some fleeting trend and opted for something that did not define them. This 2022-23 wedding season, don't just go for fashion designers' nod but go for something that resonates with your personal style.
To ask any questions related to the rights of NRIs, PIOs, and OCIs, you can download SBNRI App from the Google Play Store or App Store. You can also use the SBNRI app for investment in stock market/ mutual funds, NRI account opening, tax filing, etc. To ask any questions, click on the button below. Also, visit our blog and YouTube channel for more details.
FAQ
What outfit are the models wearing in this picture?
They are wearing sherwanis.
Who inspired the Nehru Jacket?
The Nehru jacket was inspired by former Prime Minister Jawaharlal Nehru.