India is a country with astounding diversity and heart-warming vivacity. The Silk of India distinguishes out with its smooth textures and aesthetic appeal in its captivating environment of garment styles and vibrant clothes. The fabric is used to make a wide variety of textiles that satisfy the needs for apparel of all social groups. Silk has long been a source of allure for Indians due to its glistening beauty and smooth texture. India is now the country with the highest consumption of this fabric. Every part of India produces a different sort of silk fabric that is distinctive. These materials are made from a variety of natural Indian silk fibers. The very mention of silk sarees instantly makes us feel abundant and wealthy. Silk has consistently been Indian women's first preference among all textiles. Here are some best silk sarees for Indian women.
Kanchipuram Silk Saree
The region of Kanchipuram in Tamil Nadu, India, is where the Kanchipuram silk saree, a particular style of silk saree, is produced. Most ladies in Tamil Nadu, Kerala, Karnataka, and Andhra Pradesh wear these sarees for important occasions and as wedding sarees. In 2005–2006, the Government of India recognised it as a geographic indication. These can be considered as a best Silk Saree for Indian Women.
Muga Silk Saree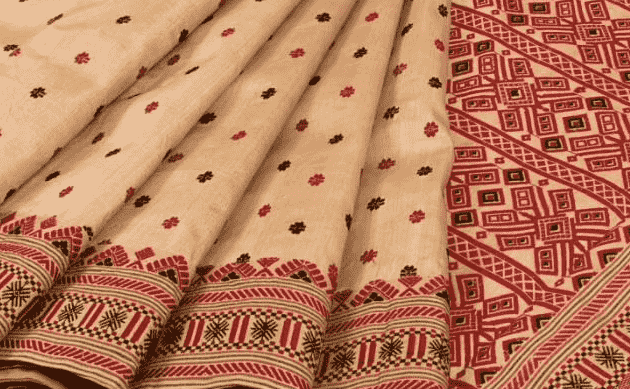 The Indian state of Assam is the location of the Muga silk kind of wild silk. The silk has a naturally yellowish-golden tint and a shimmering, glossy texture, and it is renowned for its extreme durability. Before this, royalty was only allowed to utilize it.
Tussar Silk Saree
Tussar silk is made from the larvae of numerous species of silkworms that belong to the moth genus Antheraea, including Assamensis, Paphia, Pernyi, Royle, and Yamamai.
In Sanskrit, tussar silk is sometimes referred to as Kosa silk. These silkworms are found in South Asian forests, where they feed on the leaves of trees like the Terminalia species and Shorea robusta, as well as other food plants, including Jamun and oak. Tussar silk is a prized Silk Saree for Indian Women and is known for its luxurious texture and organic, deep-gold color, and various nations, including China, India, Japan, and Sri Lanka, make different kinds of it.
Mysore Silk Saree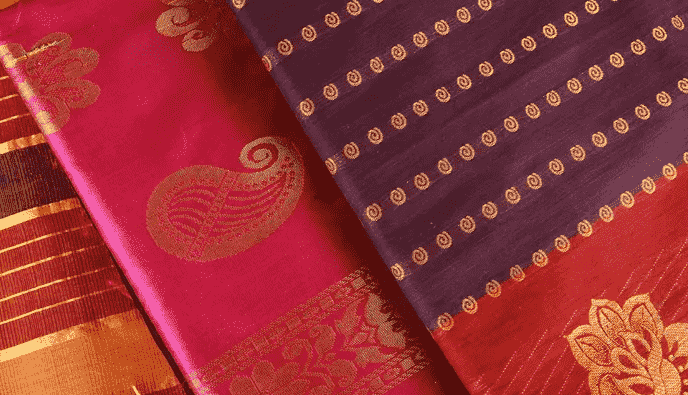 By Karnataka Silk Industries Corporation Limited (KSIC), Mysore silk is made by Sri Nalvadi Krishnaraja Wodeyar, the Maharaja of Mysore, who established the factory in 1912. The silk fabrics were initially produced and supplied to satisfy the royal family's needs and provide decorative fabrics to their armed forces. The Mysore State Sericulture Dept. took over the silk weaving factory when India attained independence. The factory was given to KSIC, a Karnataka government enterprise, in 1980. Silk sarees, shirts, kurtas, silk dhotis, and neckties are available today. The location of Mysore silk has also been identified.
Patola Silk Saree
Known by a variety of names, including patakulla, patolu, and patola of Patan. The saree, which has its roots in the Gujarati city of Patan, is today well-known worldwide. The saree has inspired many people. The patola saree stands out due to the elaborate needlework. This is one of the most valuable types of Silk Saree for Indian Women is one with elaborate patterns and motifs that have been created with extreme perfection. The vivid colors of patola sarees make them distinctive.
Baluchari Silk Saree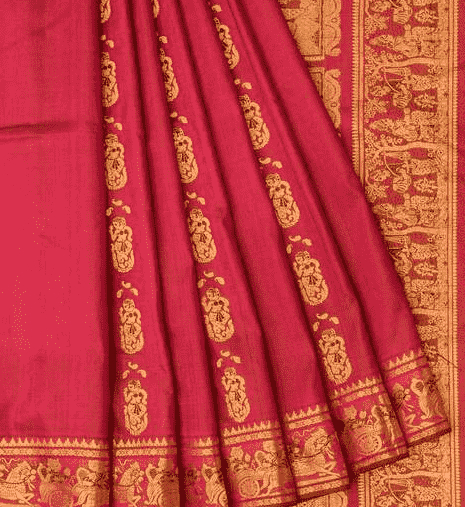 Women in Bangladesh and the Indian States of West Bengal wear sarees of the Baluchi variety. This particular saree style was developed in West Bengal and is distinguished by the representation of mythical images on the pallu. The only place where genuine Baluchari sarees are currently made is in Bishnupur and the surrounding areas of West Bengal. They used to be made in Murshidabad. A single saree of this type is made in about a week. The Baluchari Saree was given geographic indication designation for West Bengal in India in 2011.
Pochampally Silk Saree
A Pochampally saree or Pochampalli ikat is a saree made in Bhoodan Pochampally, Yadadri Bhuvanagiri district, Telangana State, India. They are dyed in the "Paagadu Bandhu" (Ikat) dying style and feature conventional geometric designs. Materials for sarees and dresses often feature elaborate geometric patterns. Air India, the official airline of the Indian government, requires its flight attendants to wear specially created Pochampally silk sarees.
Banarasi Silk Saree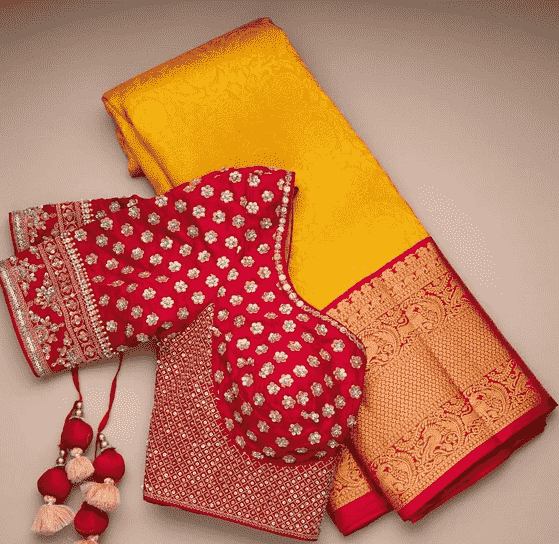 A Banarasi saree is a saree created in Varanasi, a historic city also known as Benares (Banaras). The sarees are among the best in India and are renowned for their lavish embroidery, exquisite silk, gold and silver brocade, or zari. The sarees are made of highly woven silk and embellished with exquisite engravings; as a result, they are relatively heavy. These sarees are distinguished by their intricate interwoven floral and foliate motifs, kalga and bel, and a string of erect leaves called jhallar at the outer edge of the border. Other characteristics include gold, compact weaving, figures with fine details, metallic visual effects, pallus, jal (a design resembling a net), and mina work.
Bhagalpuri Silk Saree
Traditional silk saree designs include those made of bhagalpuri or tussar silk. The Bhagalpur saree is a type of saree made from this cloth. Bhagalpur is frequently referred to as India's "silk city." Antheraea paphia silkworm cocoons are used to produce bhagalpuri silk. This species, native to India, is often called the Vanya silkworm. These silkworms reside in Terminalia-species trees in the untamed woodlands. Bhagalpuri silk is mostly processed in Nathnagar. Bhagalpuri silk is also used to make shawls, Kurtis, and other clothing items in addition to sarees.
Chanderi Silk Saree
One best silk saree is produced in Madhya Pradesh, Chanderi silk sarees are the source of the name Chanderi. The Mughal era marks the height of its production. It is divided into three categories: silk cotton, pure silk, and chanderi cotton. Traditional coins, floral artwork, peacocks, and geometric patterns may all be seen in the Chanderi Silk Saree's design. This is one such best silk saree that is also known for its luxurious needlework, beautiful silk, and brocade or zari in gold and silver.
You can also click on the button below for more information. Visit our blog and YouTube Channel for more details.
What kinds of silk are there, exactly?
Only four varieties of natural silk, including Mulberry, Eri, Tasar, and Muga silk, are produced worldwide. The mulberry silkworm is widely thought to produce the purest silk available, contributing as much as 90% of all silk production.
How long is a saree?
A saree or saree is a stunning dress that symbolises Indian tradition and culture. It is made of a drape that can be anywhere from five to nine yards (4.5 to eight meters) long and two to four feet (60 to 1.20 meters) wide. Usually, one end is slung over the shoulder, and the other is wrapped around the waist.
Banarasi silk – what is it?
A pure variety of a best silk saree called Banarasi Silk is made in the lovely Indian city of Varanasi, which is located in Uttar Pradesh. Each Banarasi saree was made with genuine gold and silver threads, taking up to a year to construct a lovely banarasi silk saree. In the past, banarasi sarees were only made for the royal family.