Festivals and the wedding season dominate the second part of the year, and during this time, Indian women dream of having the perfect appearance from head to toe. One of our most valued possessions and one that necessitates intensive care and attention is, more often than not, our hair. Indian women are renowned for their diverse and distinctive hairstyles, which play a significant role in maintaining a pleasing appearance. Each hairstyle cannot fit everyone because not everyone has the same hair type.
Hairstyles can improve your appearance and define your personality. Therefore, it is essential to select a haircut that complements your face shape, personality, and career. The ideal hairdo will give you an exquisite, fashionable, and assured appearance.
This article includes a selection of the top hairstyles that will make you feel beautiful and distinctive.
1. Bun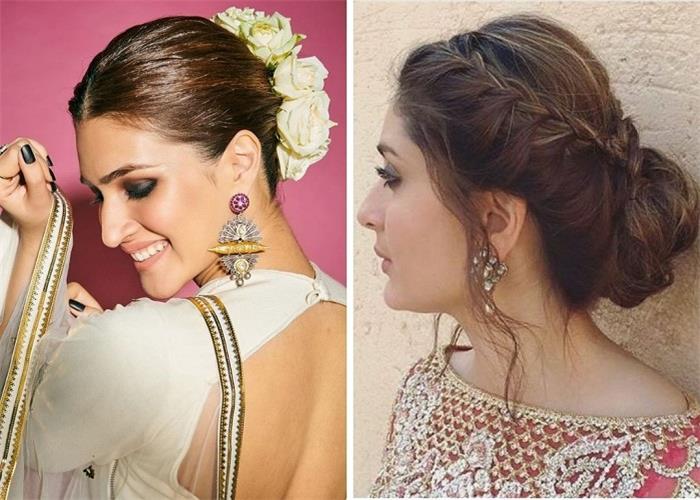 The most attractive hairstyle that Indian women favour is the bun. Buns will never let you down, whether it's a family event, a festival, or even a business conference. You can style your hair in various ways even if it is short. Long gowns look great with messy buns. It may not be possible for everyone to pull off the messy bun hairstyle for a saree, but if you can, it gives you a stylish appeal. Your traditional clothing will appear better with a gajra bun. Low buns are also fashionable; use hair gel or hairspray to provide yours with a sleek, shining appearance. A braided bun is an additional popular bun design. Ladies experiment with various bun styles and outfits.
2. Braid
This will undoubtedly alter your perspective if you believe braids are dull. You can choose from the side, loose, or messy braids when styling a simple braid. You should try these braided hairstyles if you don't like wearing your hair down or open. You can design a fishtail braid with lehengas, embellish it with mogras and beads, and look absolutely stunning.
3. Ponytail
If your standard ponytail style is getting old, try a curly ponytail. You can wear this outfit to a cocktail party or a festival. For young ladies who don't want to overdo their hairdo, the low-style elegant ponytail has also gained much popularity.
You can wear your hair in a high, messy ponytail for a casual look. Long boots suit well with this style.
4. Half tied
If you have short hair and are unsure of what hairstyle will look best with sarees or other traditional clothing, you should give a side or simple half-braid a try. Some of the hair is kept loose while the other half of the hair is braided and fastened at the back. This hairdo is stylish and versatile. Decorative beads, pins, or flowers are additional styling options.
5. Curls
The simplest and fastest hairstyle for women with long hair is to curl it, but you can add some intrigue by sweeping all of your hair to one side of the shoulder and curling it. If you're wearing a traditional saree, you may further glam up this hairdo by adding a hair clip or a flower. Curls brushed to the side are always in style; consider wearing this hairstyle to wedding events.
6. Twisties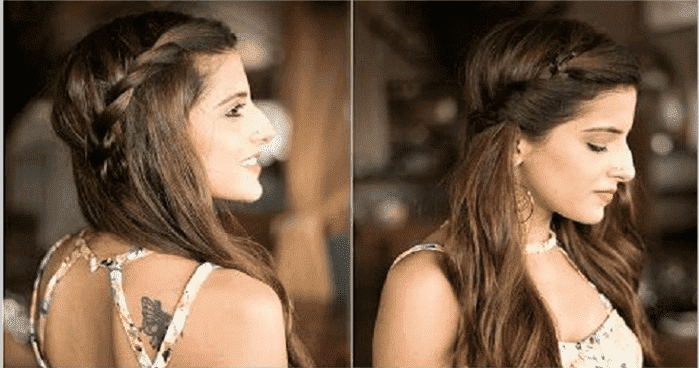 Choose twisties to give your hair an edgy look if you're one of those people who can't handle a big bun and too many hair ornaments. It is easy, simple to choose, and nevertheless appears fairly stylish. Twist one or both sides, and the remaining hair can be left open. By bringing the two side Twisties together and smoothing the rest of the hair, you may create a halo-like hairstyle. The twistie bun, which looks elegant with sarees, is another option.
7. Open hair
You have a variety of options if you enjoy playing with open hair while keeping it sophisticated and fascinating. You can create a wavy appearance by highlighting the strands, lightly brushing them, and letting them hang loose. Any style of dress will look fantastic with subtle coloured highlights. For women who are busy and don't have time for lengthy hair treatments, this haircut is ideal.
For those with long, thick hair, side-swept styling is another excellent and simple choice. To sweep all of your hair towards one side of the shoulder, all you need is a tiny bit of styling product. This hairdo is simple, refined, and genuinely timeless. Another lovely, delicate, and feminine hairstyle for long hair that you may try with open hair is the waterfall braid. The top of your hair should be thinly braided down each side, beginning at the crown, and pinned behind each ear. The rest of your hair should be left open.
You can now choose from a variety of alternatives to achieve the ideal look. Indian hairstyles are unquestionably unique, beautiful, and elegant. You're ready to shine.
To ask any questions related to the rights of NRIs, PIOs, and OCIs, you can download SBNRI App from the Google Play Store or App Store. You can also use the SBNRI app for investment in stock market/ mutual funds, NRI account opening, tax filing, etc. To ask any questions, click on the button below. Also, visit our blog for more details.
FAQs
Which hairstyle goes best with lehenga?
You can experiment with various hairstyles with a lehenga, such as a messy bun, gazra bun, fishtail braid, twistie bun, or side-swept curls.

Does short hair go with a saree?
Try a twist-out or a wavy hairstyle. If you have short hair, it complements sarees well.

Which hairstyle is best for an office setting?
For offices, a half-tie, fishtail braid, or side-swept open hairstyle appears classy.