An Instagram account, a YouTube channel, or pretty much any other medium can be used by a child influencer, but the basic idea is the same. Children interact with one another about their interests and daily activities while also promoting products that might be of interest to them through a variety of paid partnerships with affiliate marketers. Although most of the people engaged are technically too young to even have an account on the platform that they are prominent over, it functions very similarly to the classic influencer modus operandi. Their social media accounts are generally managed by their guardians. Children can create a virtual friendship with influencers their age who offer amusement equivalent to watching television or reading their favourite book, including toy reviews, gaming, and even fashion inspiration.
Social media is the perfect platform if you want your kid to become a child influencer. Social media has the widest audience possible and will provide your child with a platform to become well-known. The following 11 steps will assist your child in developing their impact.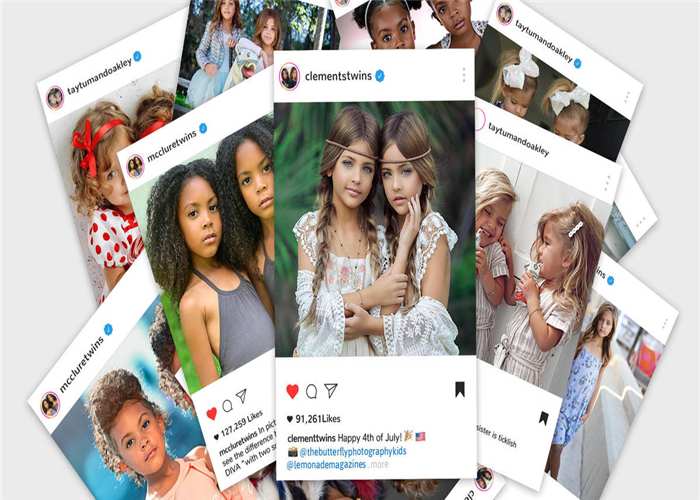 1. Choose your niche
The initial stage is selecting your niche. Find a subject here that your child might discuss without getting bored daily. It will undoubtedly be something that they are passionate about. When the subject is within the child's purview, they should be allowed to speak freely. Fashion, lifestyle, gaming, food, and technology are examples of popular topics.
2. Creative ideas for Child Influencers
Make your kid as creative as you can. The audience would be interested in this and want to follow your youngster. Use a variety of features on your social media story, including videos, interesting postings, and perhaps polls.
3. Know your audience
You must comprehend your target audience before you start producing material and sharing it on social media. Influencers command their audiences and establish close relationships with them. That's a result of the fact that they solely cater to customers who share their interests in a particular area rather than everyone.
Knowing your audience and executing your strategy skillfully will help you develop a strong following. You can start by looking at your current follower base to gain knowledge about the demographics and interests of your audience.
The majority of social media networks have an analytics tool built in that provides these details on your existing audience. For instance, Twitter Analytics offers details about the interests, genders, and locations of your existing followers.
4. Switch to a business account
You should either modify your social media account to a business account or make it public. By doing so, you can enhance the profile's design, add contact information, and gain access to insightful account data. Having a business account has no drawbacks and makes it simpler for brands to get in touch with you.
5. Design your profile
Emphasize the Instagram Story, handle, page category, and picture.
This portion, which takes up 80% of the screen when someone visits your account, frequently determines whether or not the "Follow" button is tapped.
Make sure your display photo is a classy headshot. Your username must be simple to enter and remember. If at all possible, omit underscores, periods, and numerals, and define your page category in your business profile settings.
Choose a username that goes well with your niche and interests.
6. Partner Up with a Popular Instagram Influencer
The majority of Instagram influencers begin their careers by teaming up with sponsors and other well-known Instagram influencers. They create a substantial network on social media sites. This network aids in their initial success in gaining traction. Invite well-known Instagram influencers over for a picture shoot by collaborating with them. After all, no influencer would want to pass up the chance to show off their tender side by having adorable photos taken with a young child.
7. Engage with the audience
Increase your audience participation. Your child's content will become viral with the aid of this.
8. Child Influencers Should Post Content Regularly
A key factor in increasing your following count is consistency.
After deciding on the kinds of information you'll publish, you need to decide on a publishing schedule and regularity. The algorithms of the majority of social media networks favour account with frequent posts. This is especially true for Instagram, which necessitates frequent updating to gain more visibility.
9. Work on Your Skills, Learn New Trends
For young influencers, staying current is crucial if you want to keep appearing in your followers' feeds. Make sure your kid picks up new techniques and skills. This will also help them grow personally.
10. Attract brands
The capacity to produce high-quality content is necessary to draw in brands and is one of the main determinants of the engagement rate you will achieve. You'll almost certainly not need to do much else to draw sponsors if you can combine quality content with high interaction rates and a sizable following.
11. Be ethical and valuable to your audience
Being an influencer can be really challenging as your audience follows you at every step therefore it is important for your child to be ethical and should provide some value to the audience.
There are numerous steps for your child to be an influencer but keep these in mind if you want your child to be an influencer. Along with this make sure your child is safe in the digital world.
To ask any questions related to the rights of NRIs, PIOs, and OCIs, you can download SBNRI App from the Google Play Store or App Store. You can also use the SBNRI app for investment in stock market/ mutual funds, NRI account opening, tax filing, etc. To ask any questions, click on the button below. Also, visit our blog and YouTube channel for more details.
FAQs
What is Expected in the Future for Child Influencers?
Without a doubt, exposure to prominent brands and the opportunity to work with them may truly prepare a young influencer for life, who can then breathe new life into any flagging business. However, as social media continues to grow in importance to brands, there will undoubtedly be more celebrity kids who impact content in the coming years. This new marketing phenomenon is just getting started.

What Are The Benefits and The Dangers for child influencers?
Children may not be aware of or unprepared for the consequences of social stardom, which often happens quickly. It can be tough to handle this degree of attention and the unwavering scrutiny of the public eye, whether they are getting approached on the street for photos or becoming the topic of their school and peers owing to their prominent appearance.

Is being an influencer a real job?
Since social media has grown in prominence over the past ten years, many people now consider this to be their dream career. Being a well-known public figure is not simply a pastime for some people; it is also their full-time job.