Individuals living in the United States need to fill Form I-134 to sponsor the temporary stay of their friends or relatives in the US. It is necessary to show the US government that you are able and willing to financially support the visit of a non-US citizen to the US.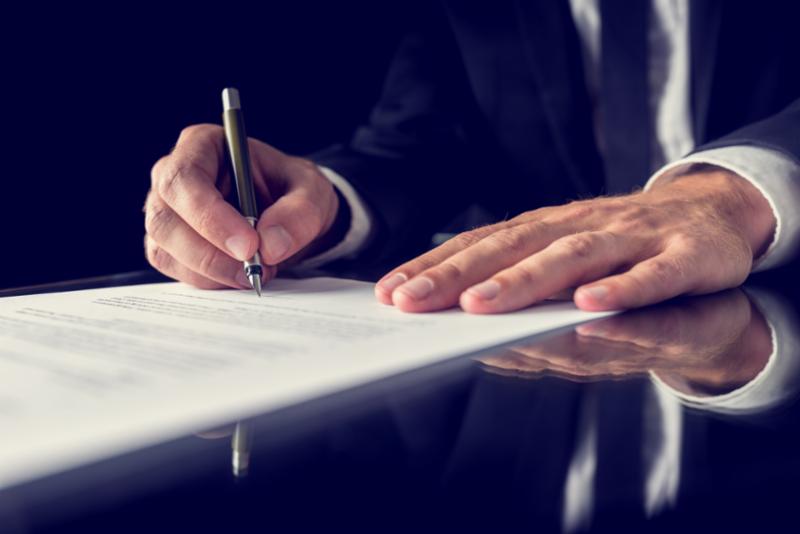 What is Form I-134?
One of the biggest challenges obtaining a US visa is proving self-sufficiency and that you have sufficient funds to support your stay. This is because US immigration authorities carefully check visa applications to ensure whether there is any risk of a person becoming a public charge. Hence, someone already living in the US can sponsor a trip of their friends or relatives to the US.   
Form I-134, also known as 'Affidavit of Support Form', must be submitted along with a tourist or visitor visa, or a K-1 or K-2 fiancé visa if the trip is sponsored. It is given by a person residing in the US who has agreed to sponsor a visitor visa for a person planning to visit the US. Form I-134 is a legal contract between the sponsor and USCIS to ensure that the visitor has sufficient funds and will not become a US government liability.
Form I-134 requirements
To sponsor a visitor to the US:
You must be a US citizen or a lawful permanent resident (Green Card Holder).
Your income must be at least 100% of the amount listed as per family size in the Federal Poverty Guidelines, and possibly 125% when sponsoring someone for an immigrant visa (permanent residence).
You should be willing to financially support the person you are sponsoring. Since Form I-134 is a legal contract between a sponsor and the US government, it can be enforced in court.
You should be willing to have your finances scrutinized by US Federal immigration officials.
A US citizen or green card holder agrees to finance a visitor visa or a K1 and K2 visa. Therefore, rather than the applicant having to prove their financial capability, the sponsor steps in and states that they will be supporting the visa applicant.
The sponsor needs to fill out Form I-134, submit documents to support the applicant, and sign the legally-binding document. The document is an affidavit of support and a legal commitment to support the applicant during their time in the United States.
These are strict requirements and show that this is a legal commitment. Once you have signed and submitted, it is enforceable through the legal system.
Who can fill out Form I-134
A US citizen or a lawful permanent resident (Green Card Holder) can sign the Form I-134 to sponsor a tourist or visitor visa or K1/K2 visa holders. The sponsor might have to prove that their income is at least 100% of the amount listed based on family size in the Federal Poverty Guidelines, and possibly 125% when an immigrant visa is sponsored.
Form I-134 Process
Typically, the visa applicant already completes their paperwork for the US Embassy or consulate in India or their country of residence. This form is one of the last steps in the visa application. However, you can make this form ready beforehand. Following is the information the sponsor needs to provide:
General information
Printi Form I-134 back to back
One form per family
Personal information
The sponsor will need to fill in all the details about himself/ herself including banks accounts, assets, employment, etc., as follows:
Your personal details including your name, last name, mailing address, and date & place of birth.
Proof of your citizenship or your alien registration number if you are a green card holder.
Your Social Security Number (SSN).
Your USCIS online account number.
Number 11 deals with the type of US citizenship you hold i,e, by birth or by naturalization, via marriage, etc
Mention when you started residing in the USA.
Beneficiary information
Information about the visa applicant or mentioned as 'beneficiary' in the form.
The information includes address, nationality information, and details about a spouse or children traveling along with the beneficiary.
Make sure you have all the information beforehand.
Additional information about the sponsor
You will be asked to provide more information about yourself, including:
Your employment and financial information, including income and assets.
Marital status and list of dependents as mentioned on your federal tax return.
Any past obligations sponsorship offered to other visa applicants.
The extent of support you are willing to extend to the beneficiary.
It is crucial to provide completely accurate information, as this form is legally binding and incorrect information will be considered as perjury. Review the information you have provided and sign the form before submitting it.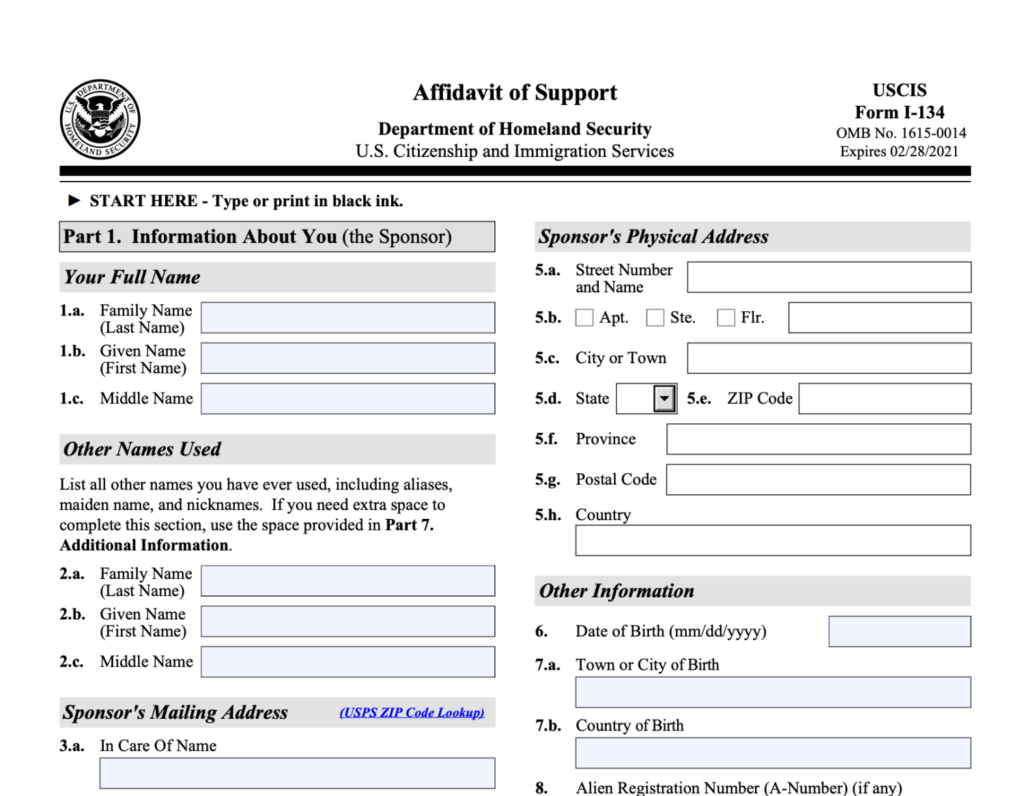 Documents required for Affidavit of support
The sponsor needs to submit the photocopies of the following documents to declare sufficient income source and ensure that the beneficiary doesn't become a state charge:
A bank statement, duly signed by the presiding officer of the bank or other financial institution, stating when you opened an account and the amount deposited last year and current balance in the account.
A signed employment letter from your employer on business letterhead detailing the date, your designation, salary paid, tenure in the company, nature of employment – temporary or permanent.
A copy of your latest US federal income tax return, or a report of commercial rating concern (in case of self-employed).
These documents must be in English or completely translated in English along with a certificate stating that the translation is complete and accurate, and the translator is competent to translate into English from the foreign language.
Where you submit the Form
A completed and signed form should be sent to the foreign visitor it is intended for. The beneficiary can then submit the form to a US consulate or embassy along with a US visa application. A digitally signed or emailed form has a higher chance of getting rejected.
Form I-134 processing time
Once you have submitted the form, the USCIS will review the details provided. If the details are incomplete or incorrect, the USCIS will reject the form. Sometimes, additional information may be requested in support of the affidavit. Depending on the details and number of applications at the USCIS, it may take a few hours to a few days for the form to get processed.
NRIs/ OCIs and Green Card holders of Indian origin may have several India-related queries. To get tailor-made answers/ solutions, you can download SBNRI App from the Google Play Store or App Store. You can also use the SBNRI app for investment in stock market/ mutual funds, NRI account opening, tax filing, etc. To ask any questions, click on the button below. Also, visit our blog and YouTube channel for more details.