OCIs or overseas citizens of India enjoy many basic rights of citizens in India, such as they can live, study or work in India as long as they want. Foreign passport holders of Indian origin are eligible for registration as OCI cardholders. Documents required for OCI card application slightly vary for applicants born in India and abroad.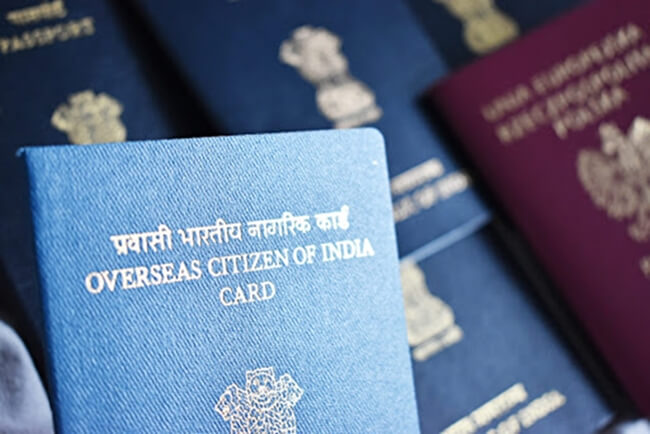 The Union Ministry of Home Affairs introduced new rules for OCI cardholders under Section 7B of the Citizenship Act 1955.
Documents required for OCI card application
Individuals applying for an OCI card are required to submit the original documents along with a set of photocopies of the originals. All photocopies need to be self-attested. Once the Embassy of India verifies the documents, originals will be returned.
Here are the documents required for OCI card based on the connection of applicants with India:
Mandatory documents required for OCI application
Printed application form: Fill out the OCI application form on the dedicated website of the government of India.
Two latest photographs as per the photo specifications.
Photocopy of your foreign passport.
Applicants who are foreign nationals by Naturalization need to submit their Naturalization Certificate (Original) along with the photocopy.
Documents required for applicants born in India
The Indian Citizenship Act, 1955, does not allow dual citizenship. Once an individual obtains foreign citizenship, it is a punishable offense to hold or acquire an Indian passport under the Indian Passport Act, 1967. Indian nationals who have acquired foreign citizenship are required to give up their citizenship and get Indian passports canceled within 3 months of acquiring foreign citizenship. Hence:
You will have to submit a surrender certificate of your Indian passport (original).
Individuals who have obtained foreign citizenship after May 2010 must surrender their certificates.
Individuals who held Indian passports and obtained foreign nationality before May 2010, but can't produce the passport for surrender for any reason (misplaced/ lost) are required to furnish a notarized affidavit (original) from local authorities along with other necessary documents.
Individuals who were born in India and never held Indian passports, traveled on their parents Indian passports need to submit an affidavit stating details of their foreign visit along with mention of other documents.
Other documents of Indian origin
Original domicile certificate or original birth certificate issued by municipality or panchayat, recently issued birth certificate, duly certified by the District Magistrate/ District Collector of the area. Or
Original birth certificate issued by Indian Municipality or Panchayat. Recently issued birth certificate (post-dated birth certificate) by Panchayat/ Municipality, duly certified by the District Magistrate/ District Collector of the area.
School Leaving Certificate original. Post-dated school certificate from India, duly attested by Director of Education/ District Magistrate/ District Collector of the area. Name, stamp, seal and phone number should be in the certified copy. Or
Agriculture land documents.
Documents for applicants applying on the basis of parents/ grandparents/ spouse
Here is the checklist of documents that applicants who are born in India or abroad and wish to apply for an OCI card on the basis of their parents/ grandparents/ spouse:
A photocopy and original birth certificate/ marriage certificate along with the proof of Indian origin of their parents/ grandparents/ spouse to prove the applicant's relationship with them. Applicants who were born outside India must produce a birth certificate in full version and should be translated in English by a recognized authority.
Applicant who is applying on the basis of his/ her parents must submit his/ her full version certificate with both parents' details on it that prove their Indian origin.
Overseas Citizens of India (OCIs) can ask any questions related to the rights of NRIs, PIOs, and OCIs. You can download SBNRI App from the Google Play Store or App Store. You can also use the SBNRI app for investment in stock market/ mutual funds, NRI account opening, tax filing, etc. To ask any questions, click on the button below. Also, visit our blog and YouTube channel for more details.