Due to nostalgia for a bygone era, rail routes have been romanticized for a long time. Although rail is no longer the primary mode of transportation due to the commercialization of aircraft in the late 20th century, it is still one of the simplest ways to travel throughout Europe. Additionally, rail travel is more important than ever with the climate crisis in full swing. Even though travel is not an option, we may still daydream about our next vacation, and many Train Journey in Europe provide some breath-taking sights. Let's have a look at the 11 Most Scenic Rail Routes in Europe.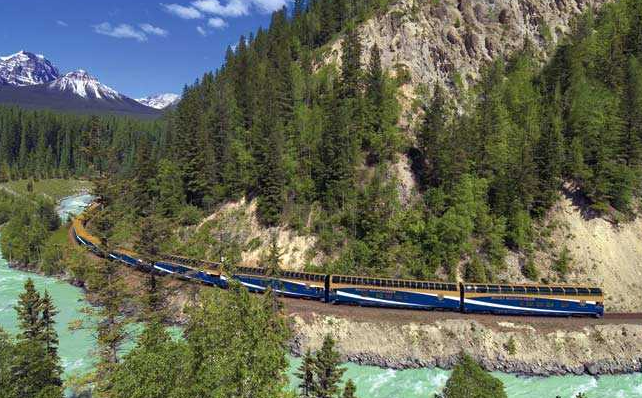 Moscow, Russia to Paris, France
This train travels along Europe's second-longest rail route once a week. Before entering Russia, you will go through Luxembourg, Germany, Poland, and Belarus and be prepared to view many beautiful landscapes. The sleeping cars are contemporary, and you can expect to sample a little bit of each nation you pass through on the journey, thanks to the Polish buffet and Russian dining options.
In Italy, from Levanto to La Spezia
The Cinque Terre comprises five vibrant, historic communities stretching Italy's eastern coastline. It frequently competes with the Amalfi Coast for the title of most picturesque location in the country. The Levanto to La Spezia voyage stops at all five villages and goes via olive trees, plunging cliffs, and an abundance of wineries, though you can trek between the villages.
Switzerland's Chur and Italy's Tirano
This is the train trip of your most fantastical summer Alpine dreams, departing from Chur or Landquart. Before descending into Italy's Tirano, the highest train in the Alps will take you past glaciers and breathtaking scenery. It is considered as one of the Best Scenic Rail Routes in Europe.
Belgrade, Serbia to Bar, Montenegro
This day-long rail ride promises 435 bridges, 254 tunnels, and a variety of dramatic and artistically stunning scenery with two daily trains in each direction. The route, which may be divided into several segments with appealing stops like Serbia's Prijepolje and Poega and Montenegro's capital of Podgorica, winds along the Adriatic coast of Montenegro before crossing over the Serbian Alps.
In Scotland, from Glasgow to Mallaig
The West Highland Line in Scotland passes by lochs, moors, and impressive mountains. For those devoted Harry Potter fans, the train also crosses the Glenfinnan Viaduct between Fort William and Mallaig, which was utilized to convey the Hogwarts Express in the Harry Potter films.
Ljubljana, Slovenia to Vienna, Austria
This self-guided tour takes you from Austria's prosperous capital city to Salzburg, the location of The Sound of Music, through the winding Austrian countryside. After devouring Wiener schnitzel and exploring the nearby picturesque lakes, cross the border into Slovenia and continue to Bled, where you'll find Lake Bled. From Bled, head to the Slovenian capital of Ljubljana to experience the picturesque city.
Germany from Offenburg to Konstanz
The charming route, also known as The Black Forest Railway (or Badische Schwarzwaldbahn in German), weaves its way through Germany's the Black Forest, passing through Hansel and Gretel-style villages, thick vegetation, and beautiful landscape. As the birthplace of the Danube, one of Europe's longest rivers, Donaueschingen makes an excellent pit break.
London, UK to Istanbul, Turkey
You can still travel along the original Orient Express route even if it is no longer in operation. Eurail recommends travelling from London to Paris, Munich, Zagreb, Belgrade, Sofia, and Istanbul to other European cities. The journey will take three to four days to complete, but it is best to allow a week or two to see all the towns along the way and add on day trips. From Zagreb, Croatia's Plitvice Lakes make for an excellent day trip.
Bergen to Oslo in Norway
The 308-mile Bergen Line, also known as the "Bergensbanen," took 34 years to construct because it was built across some of Europe's most hostile terrain. The railway now rises to a height of 1222 metres above sea level and has four daily departures, making it one of Europe's most picturesque train lines. Expect to pass beautiful fjords, lakes, and woods as you weave through the nation. This train runs all year, even during the bitterly cold Norwegian winter.
Oslo, Norway to Moscow, Russia
This 11-day Arctic experience, offered by the German business Lernidee Trains & Cruises, takes travellers from Moscow in Russia, via St. Petersburg and Murmansk, to Oslo in Norway. The Murmansk & Beyond route debuted this year and has two trips scheduled for 2020 and four for 2021. It will take travellers via Russia to the Arctic Circle before they pass the Norwegian border and take a flight to Oslo.
The French city of Nimes, Spain, Barcelona
The section between Nimes and Barcelona is the most exciting part of this train trip, whether you begin in Paris, which will only add 1.5 hours to your Train Journey in Europe, or in the ancient Roman city of Nimes. The train line follows the Mediterranean coastline as it passes through the magnificent Camargue marshes, with salt lakes on one side and the sea on the other. Before arriving in Barcelona, you proceed leisurely along the Pyrenees Mountain range.
In addition to offering you 5.5 hours of leisurely views. At the same time, yet likely faster than flying, this is an excellent option for travelling between France and Spain aside from the great towns at the beginning and conclusion of your trip.
You can also click on the button below for more information. Visit our blog and YouTube Channel for more details.
What is the longest train journey in Europe?
The Trans-Siberian Express is the train that travels the furthest. On this trans-European train journey, passengers pass across numerous time zones.
Are European railroads beautiful?
You may enjoy breath-taking views of the mountains and beautiful lakes on one of Europe's picturesque railways. From the luxury of your seat, sit back and take in the stunning views of Europe.
Which historical scenic trains are the most well-known?
Aerobus Venice Simplon-Orient.
The Orient Express, arguably the most famous train in the world and one of the Best Scenic Rail Routes in Europe, has just been reinvented by Belmond to evoke the Golden Age of Travel.