Retirement is a sentiment. It's the admiration and satisfaction of having worked for a life-time and the excitement to spend the rest of your days in peace and content. NRIs all around the globe dream of retiring comfortably in India, preferably in their hometowns, relishing the bygones of their childhood, while some of them plan to select a small town to settle in, perhaps by the hillside or the shore. Many dreams! Many Preferences!
Top 10 Places to retire in India for NRI in 2023
In this article we will explore this sentiment by providing our picks for the Top 10 Places to retire in India for NRI in 2023. We will deliver to the basic necessity that a good place in India to stay after retirement holds.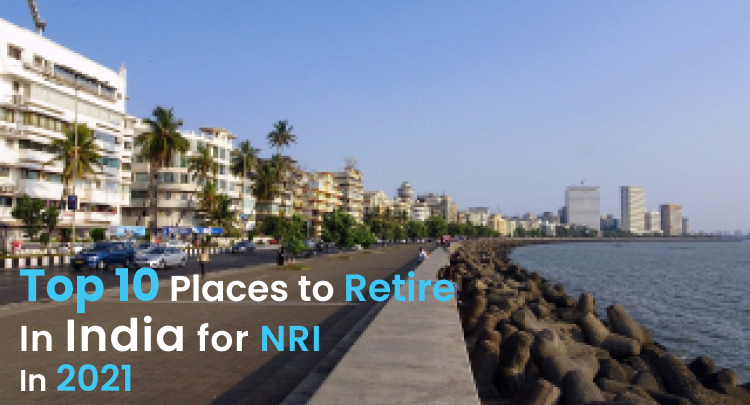 We will break it down into segments taking a journey through the Retirement Havens in India followed by the best small towns to live in India. We will also answer the question, "How much money do you need to retire comfortably in India?" In the zeal to find a good place in India to stay after retirement for you, we have visited almost all of the underrated heavens in India promising a beautiful retirement.
Glance through the Top 10 Places to retire in India for NRI in 2023. Starting with the top 5 Retirement Havens in India:
Retirement Havens in India: Top 5
Coimbatore, Tamil Nadu: "The Textile Capital of India", Coimbatore is the second largest city of Tamil Nadu. With a bustling cosmopolitan culture, Coimbatore is a low pollution city. The cost of living is low and healthcare is exemplary here. The weather here is uniform throughout the year and the great connectivity of the city with a rapid infrastructure growth are also reasons why Coimbatore is the best place to live in Tamil Nadu after retirement. Also, one of the best in India.
Pondicherry: Nearby to Tamil Nadu, the French Colonial Settlement Pondicherry is an Indian Union Territory. Famous for its crystal clear beaches, French style cafes and Architecture and a laid back lifestyle, Pondicherry has recently established many retirement homes around the city like Aishwaryam, Covai and Serene Pelican. Pondicherry offers a healthy and active lifestyle with an impressive infrastructure, healthcare and serene spiritual connect.
Rishikesh, Uttarakhand: Resting on the foothills of Garhwal Hills by the banks of the holy ganga, lies the small hamlet, Rishikesh. Temples are scattered like stars on the incessantly calm skies of the city. Filled with the aura of alternative healing and medicine centres, the spiritual city of Rishikesh can be a perfect abode for retirees inclined towards a spiritual way of life.
Jaipur, Rajasthan: The Pink City, Jaipur. Great Medical Facilities, well-connected, picturesque travel destinations, a reasonable standard of living, delicious food, friendly people and the beauty of the town brings in more footfalls than ever. The weather though can incline towards the warmer side, with a calm and peaceful environment.
Kasauli, Himachal Pradesh: Hill Stations are always an escape. Imagine living with your loved ones in a cottage by the hillside, where you wake up to the scintillating mornings with a warm cup of "chai" in your hand cosying up in your blanket while relishing the decisions of your life. If you can see yourself in this imagination, Kasauli is the place for you. Established as a british colonial hill station, an assortment of pristine nature, cosy cafes, cold winters and pleasant summers, inclined at 1,800 m, Kasauli, is one of India's best retirement destinations.
Our top 5 Retirement Havens are amongst the most underrated destinations for retirement in India. NRIs from all around the globe can opt for these destinations and add another layer of happiness to their retirement life.
And that's not all, for our NRI Buddies who prefer a secluded heaven for themselves to cherish the time spent with family, away from the hustle-bustle of the town. We have another list coming up.
In the next segment, we will take you through the most tranquil small towns in India where NRIs can look for a calm, serene and satiated retirement. Here we have picked the top 5 small towns in India that we think are perfect for NRIs as a retirement destination.
Best Small Towns to live in India: Top 5
Bhopal, Madhya Pradesh: The City of Lakes, the land of Raja Bhoj, sparkling from cleanliness and exponential growth potential, Bhopal. The capital city of MP awaits you. A place where you can spend your life post retirement enjoying the extravagance at a very standard cost of living. The infrastructure, medical care facilities and education opportunities are growing multifolds with the city promising a glorious retirement in times to come.
Ranchi, Jharkhand: One of the most rapidly growing cities irrespective of its political backdrop is Ranchi, the capital city of the natural crown of Jharkhand. Irresistible weather backed by an expanding infrastructure and healthcare growth. Neighbour to the industrial catalysts such as Jamshedpur, Bokaro and Tata, Ranchi is all set to grow immensely in the times to come.
Mussoorie, Uttarakhand: At peace with self, with the scenic flutter of mankind, and the gods above. You can live life content at 2,005 metres breathing in the air of the Queen of Hills, Mussoorie! For NRIs who are planning a getaway retirement, away from the chaos of the cities, with a window opening straight into heaven. We say, you know the place.
Pune, Maharashtra: It's not always the case that underrated venues ace the acclaimed hot spots! Pune, in Maharashtra is the epitome of the fact. Ranked as the most livable city in India in the "Ease of Living Index" in 2018, Pune has evidently claimed the title with development in all spheres. Greenery, broad roads and an old-world charm of cafes, lovely gardens and home food makes it too good to say no to. Pune also has a low cost living, impressive medical facilities, a very rich culture and profound art with iconic religious destinations. As they say, the place to be!
Sri Nagar, Jammu and Kashmir: The summer capital of Jammu and Kashmir, Srinagar is one of the most exquisite destinations for retirement for an NRI. Get a picturesque view of the Kashmir Valley by the river Jhelum. Dive in the essence of a completely natural environment, with lush green gardens, waterfronts and houseboats. It's like retiring in the heavens on the earth.
India is an abode to the most beautiful sceneries, gifted with a weather of all sorts that you can enjoy at the most extreme destinations. However, planning your retirement in India can become a costly affair as per the planned destination. In the next segment we will try to address the budget requirements and co-relate them with the Retirement Havens and the beautiful small towns in India.
How much money do you need to retire comfortably in India?
Finding a good place in India to stay after retirement is not an easy job. Every place has its own special magnetism that pulls people towards them. Putting a number on this sentiment can't be justified. However, to give an idea, the major metro cities will drain at least 1.5 Lakh to 3 Lakh per month depending on the cost of living of the chosen city. Also, the same amount can be brought down to 1 Lakh on the higher end if you want a decent retired life in small towns. Again, some NRIs can drag this up to 3 Lakhs even in a small town.
The trick here is understanding your living standards and choosing a place of retirement and the amount necessary as per your requirements and then working for it. You can double up your savings if you know the right channels of investments. SBNRI can guide you through top 5 investment opportunities for NRIs in India. You can also visit our blog for more insights on investments.
The entire journey from leaving one's home and returning is full of a hurricane of emotions. We, at SBNRI treasure them and aim to make your life easier and more convenient until you retire peacefully and enjoy the benefits with a smile on your face.
GREAT NEWS! Now connect with our SBNRI Experts directly on WhatsApp using the button below.