Jaipur is renowned as the "Pink City" thanks to its lovely dusty pink color. An 1876 cultural heritage when the city was painted pink to embellish the welcoming ceremony of Queen Victoria's husband, Prince Albert, it is counted today as one of the most visited places in India. Also, Jaipur is not just pink but full of fascinating, aesthetically pleasing tourist attractions. Let it be history, arts and crafts, science, or scenery. Jaipur has it all! So, let's explore the best 10 places to visit in Jaipur, when to visit, when not to, and what to do during your stay!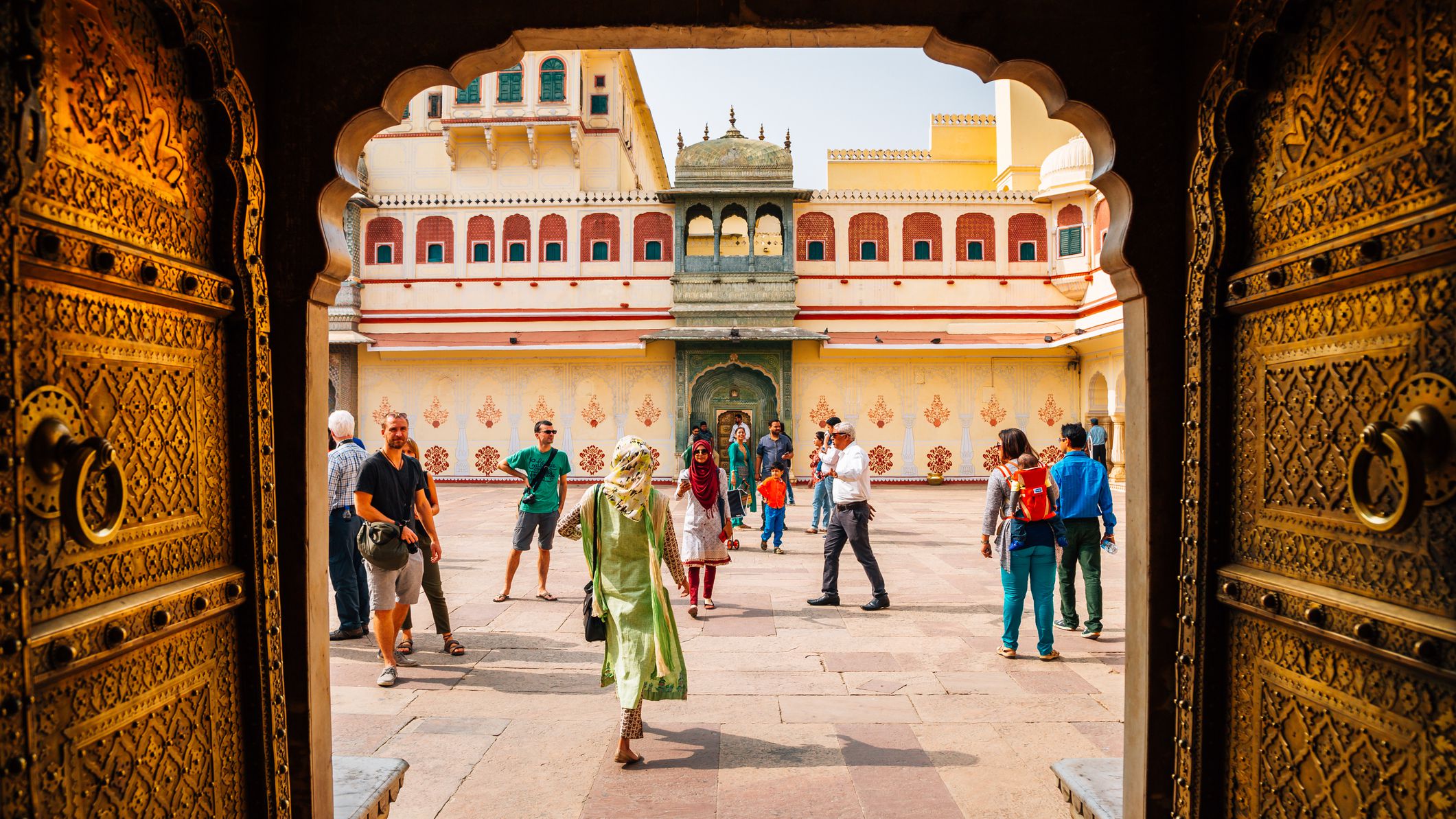 10 Places to Visit in Jaipur
1. City Palace
Things to do: visit Chandra Mahal, shop handcrafted products, take a walk
Opening Timings:

9:30 – 5:00 (morning to evening)
7:00 – 10 (night viewing)
Best Time to Visit: October to March
Seasons not Recommended: Summer (Mid-March to Mid-July)
The center of attention in the Pink City is City Palace – a glorious architecture symbolizing the Rajput and Mughal taste constructed in the old times (somewhere between 1729 and 1732 AD) by Sawai Jai Singh II. Travel freaks obsessed with nostalgia love to explore the finest artworks amidst splendid engravings, art galleries, breathtaking courtyards, royal residences, and captivating gardens.
The Chandra Mahal is a museum in City Palace showcasing handcrafted aesthetic products that reflect the kingdom's rich, traditional heritage – the most popular are the royal garments worn by Maharaja Sawai Man Singh II and Maharaja Sawai Madho Singh I.
2. Nahargarh Fort
Things to do: visit Jaipur Wax Museum, take pictures, enjoy a picnic, enjoy the night view, take a walk
Opening Timings: 9:00 – 4:30 (morning to evening)
Best Time To Visit: October to March
Seasons Not Recommended: Summer (March to July)
Another historical place in Jaipur representing the cultural heritage value of artistic abilities in the eighteenth century, the Nahargarh Fort, is a masterpiece on its own. It was constructed by Jai Singh II in 1734 and served a long list of purposes; it was included in the city's defense circle, the royal family's hunting retreat, and a shelter for British wives to seek refuge during the Sepoy Mutiny of 1857.
Today, it stands proud of its glorious past and is referred to by Sudarshangarh, Nahargarh, and the Abode of Tigers. Visit the fort, absorb its history, take aesthetic pictures, and let the time bless your day.
3. Hawa Mahal
Things to do: walk on slopes, enjoy fresh air, take pictures in the windy atmosphere, visit the archeological museum, climb at the top of the Mahal
Opening Timings: 9:30 – 4:30 (morning to evening)
Best Time To Visit: September to February
Seasons Not Recommended: Monsoon (July to September; humidity)
It wouldn't be wrong to let the Hawa Mahal claim all the beauty of Jaipur, for its stunning five-storied pyramidal architecture offers an awe-striking experience to visitors. The Mahal was constructed in 1799 by Maharaja Sawai Pratap Singh and is a true reflection of its other beautiful name, the "Place of the Winds," as the Mahal's 953 windows speak for its well-built ventilation system.
Yet the most striking thing in Hawa Mahal is its absence of stairs between stories; you can only "walk through" the five-story building via slopes. In such a unique structure, make sure you are all pumped up to enjoy the astonishing Hawa Mahal!
4. Jantar Mantar Observatory
Things to do: inspect geometric devices, gain knowledge, ask questions, explore the scientific world
Opening Timings: 9:00 – 6:00 (morning to evening)
Best Time to Visit: October to February (at noon if you want to see readings on the measurements)
Seasons not Recommended: Extreme Summer (also at dim light and during nights)
Enough of the historical places, the next best place to visit in Jaipur is Jantar Mantar Observatory. Tourists feel inclined towards its innovative, unique significance surrounding diverse, exciting subjects. The keen interest of Maharaja Jai Singh II in architecture, philosophy, astronomy, and astronomy resulted in its construction, and now it has one of the world's largest sundials.
Anyone interested in visiting a fascinating yet peculiar place should come to Jantar Mantar Observatory, for it has the most extraordinary geometric devices famous for their acute time measurement and constellations' and orbits' observation. Every year, the place is visited by many astronomers and architects worldwide, and if it excites you, know that it's time to visit!
5. Pink City Bazaars
Things to do: walk through the Bazaar, take pictures, shop for jewelry, Lehariya Saree, Bandhani Dupatta, Blue Pottery, and more!
Opening Timings: 11 – 10 (morning to night; not open on Sundays)
Best Time To Visit: All yea
Seasons Not Recommended: None
Now that is something breathtaking! The Pink City is the other name of Jaipur, and so the Pink City Bazaars simply means the markets inside the city. However, what most visitors don't know is the five primary bazaars – Johari Bazaar, Kishanpole Bazar, Bapu Bazaar, Nehru Bazaar, and Tripolia Bazar – joining in making one big Pink City market while each is dedicated to a particular thing.
You can find almost anything in these bazaars; for instance, get yourself precious gemstones in Johari Bazaar, find a fitting shoe in Nehru Bazaar, feel the beauty of jewelry in Tripolia Bazar, get awed by the wooden sculptures in Kishanpole Bazar, and explore the textile goods in Bapu Bazaar.
6. Albert Hall Museum
Things to do: visit the Egyptian mummy, enjoy concerts/rallies/festivals, take a walk, enjoy restaurants
Opening Timings:

9.00 – 5.00 (morning to evening)
7.00 – 10.00 (night)
Best Time To Visit: October to March
Seasons Not Recommended: Extreme (Mid-March to Mid-July)
Jaipur is the home to museums as you can find one everywhere. Still, nothing stands before Albert Hall Museum – the oldest museum in Rajasthan, the epitome of Indo-Saracenic style architecture, and home to exciting tourist attractions. The museum takes its name from the Prince of Wales, Albert Edward, constructed in 1887.
People finding solace in art often come to the Albert Hall Museum to explore captivating artifacts and painting from all over India. Thus, if you feel like appreciating all the Indian culture at once, Albert Hall Museum is the best place to begin with!
7. Jal Mahal
Things to do: enjoy boating, get awed by peculiar, migratory birds, take pictures
Opening Timings: 9 -5 (morning to evening; restricted access)
Best Time To Visit:

October to March
April to July

Seasons Not Recommended: Monsoon (June to September)
Jal Mahal is exactly what its name stands for amidst the deep blue Man Sagar Lake! It is a breathtaking five-storied palace while the four of them stay dipped in the water. Visiting such a spectacular attraction would be exciting, and boating in the surroundings offers a picturesque view of the palace since it is off-visitors due to security concerns.
8. Galtaji
Things to do: visit shrines, pay respects to lords, shop for blue pottery
Opening Timings: 5:00 – 9:00 (morning to evening)
Best Time To Visit:

February to March
October to December

Seasons Not Recommended: Summer (April to July)
One of the best architectural delights you can visit in Jaipur, Galtaji (also known as Khole Ke Hanuman Ji), is surrounded by Aravali's enchanting hills, rich vegetation, and fresh springs. The place is also considered sacred, for the springs provide the water for seven kunds. Also, Galtaji is full of shrines dedicated to various religious deities, including Lord Hanuman, Brahm, Lord Vishnu, Lord Rama, etc.
9. Jaigarh Fort
Things to do: visit the artillery museum, explore historical military weapons, take a walk, take pictures
Opening Timings: 9:00 – 4:30 (morning to evening)
Best Time To Visit: November to February
Seasons Not Recommended: Summer (March to July)
Anyone visiting Jaigarh Fort would know instantly what the place is famous for. Also called the Fort of Victory, it is one of the most renowned tourist attractions in Jaipur because of its big, world's most giant cannon called Jaivana. Back in the old days, the fort held great importance as Rajputs' defensive spot and served as the storehouse of weapons! Today, the fort is celebrated for its military-related history, significance in various wars, and rugged beauty!
10. Jantar Mantar
Things to do: inspect and explore astronomical instruments, ask questions, take a tour
Opening Timings: 9:30 – 4:30 (morning to evening)
Best Time To Visit: October to March
Seasons Not Recommended: Summer (April to July)
The place is just as peculiar as the name! Yet unlike the popular myth, Jantar Mantar is an astronomical observatory with a history of its own. Maharaja Sawai Jai Singh II constructed it in 1734, and the place's most famous heritage is the awe-striking architectural astronomical instruments.
These instruments – called Jantar Mantar back in the old days – held great significance as the Maharaja used them to study space. Apart from that, the place is also home to one of the world's largest stone-made sundials!
Final words
Hopefully, now you know the best 10 places to visit in Jaipur; where to go and what to do on your next visit. It indeed is a breathtaking place with a blend of history, present, science and art.
Foreigners and NRIs visiting Jaipur or any other parts of India for that matter may have several questions related to remittances, repatriation or any financial transactions conducted by NRIs in India. If you have any queries about the rights of PIOs, OCIs, and NRIs, simply download the SBNRI App from the App Store or Google Play Store.
You may use our app to invest in mutual funds/stock market, NRI account opening, tax filing, etc. To ask any questions, click on the button below. Also, get all the essential details from our YouTube channel and blog section.