It is but a part of life to relocate. The only constant thing in life is change is what they say. Moving to India is something that will definitely change things. It will affect your way of life, your beliefs and culture. Relocating to India is an emotion one can't help but express spontaneously. In this article, we will explore the various aspects of moving to India while briefly compiling a checklist to make sure you check the boxes before you leave.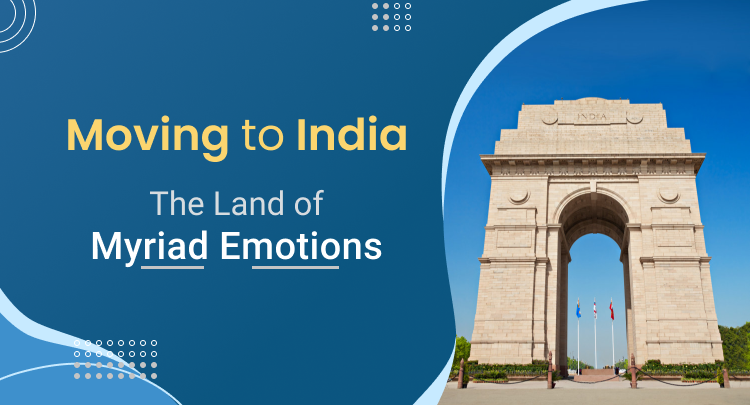 Relocating to India
If we go by the numbers, the highest probabilities lie within the NRI and OCI diaspora for relocating to India. There is a huge number quantifying the fact that many NRIs and OCIs at some point in time consider moving back to India. They have their own, many reasons. But the feeling that unites them all is belongingness.
India is a land of dreams. Many dream here and go abroad to fulfill them. Once, at the point of saturation, comes the thought of relocating to India, and such thoughts combine together to propel the process of moving back to India. A well-earned retirement in your home town is worth it. Or maybe you want to pick a place you have always wanted to spend your retirement at and go there instead. All you like, you can do. It's all relieving as you come back home.
Also Read: Top 10 Places to retire in India for NRI in 2020
Relocation Checklist India
Once you have decided to come home, it's just planning. You pack your desires, leave the boring paperwork on us! As an NRI/OCI there are multiple factors scattered within the purview of your Residential Status, Banking, Investments, Insurance, Taxation and other sustainability factors for you and your family which we will cover in this brief checklist. So here we go:
Be aware of the intricacies of the Residential Status as per FEMA and Income Tax Act. You need to grab hold of the RNOR Status in particular to benefit from it as much as you can. Acing your status and capitalizing on the benefits will make the transition seamless.
Sort your bank accounts in India. Being an NRI/OCI means you had the NRE, NRO & FCNR Bank Accounts and Deposits. As you transition from a non resident to a resident, so will your bank accounts. Aim for a smooth transition by understanding what needs to be done beforehand and then do it without any stress.
You will have to manage your investments in India as well as the ones done abroad. Inform the banks/fund houses about the change in your status as soon as you land and set in. You need to sort your Real Estate investments too or go for a fresh investment in Indian Real Estate. Plan the shift accordingly.
Get Insured! A proper health and life insurance goes a long way providing security to family against emergencies and guarantees a fixed source of income post retirement for an independent lifestyle that you have always aimed for.
Sort your taxes! It's really essential. Change in Residential Status will bring in changes in the taxes you have to pay in India. For a resident, his/her global income is taxable in India. Make use of the RNOR Status till you have it and prepare well for later.
Sustain your stay in India by carrying out proper documentation for proofs such as Aadhar and PAN Card. Find a job/start a business in India beforehand if you have some years left before retirement. Ensuring a fixed source of income is necessary to sustain yourself and your family. Find good schools for your children and make sure they get a proper education.
Read for a perfect relocation to India: NRI returning to India: Top 3 Tips – 2023
Moving to India: The Top Countries NRIs/OCIs Return From
NRIs and OCIs are scattered all around the globe. Here, let's pick the top two spots where the density of people with an Indian Origin supersedes the others. What are the country specific things that need to be done will be covered in this segment. Let's unfold:
USA: Moving back to India from USA is very sought after as per our data. Many NRIs and OCIs in the US are keen on devising a checklist of what changes they will encounter post their return to India. Moving to India from USA has certain aspects that are specific and need to be kept in check. Head over to our article on Moving Back to India from USA: Checklist 2023 to get a clear image of what needs to be done.
UAE: The gulf countries houses a plethora of NRIs and OCIs doing all sorts of jobs. With the recent shift in the global economy and the job sector at the hands of the pandemic COVID-19, many of them are returning to India with the motive of spending the rest of their lives here with their family and plan a decent life. For NRIs/OCIs moving to India from UAE, aspects like taxation are confusing. Find out about the solutions to the many problems that you may encounter while moving back to India in our article Moving Back to India from UAE: Checklist 2022-23. 
Moving to India: How to Make it Hassle-Free?
What appears hard and draining isn't always so. SBNRI understands the struggle that you might have to put up with as a result of lack of knowledge and inadequate planning. Our experts are there to help you out with anything to everything while you move back to India from abroad.
Sort your Residential Status, Finances, Sustainability Factors and much more with just a click. Click on the button below to get in touch with our expert and clear every doubt that you have in your mind before going ahead with moving to India. We are here to make the transition as smooth and hassle-free as possible for you. Also, visit our blog and Youtube Channel for more details.