Real estate accounts for a major portion of the overall investments in India. Assured and reliable profits and higher returns are some of the key factors that lead to growth in investment in real estate. Moreover, real estate is a tangible and risk-mitigated asset that provides regular cash flow through regular rentals. The value of properties tends to go up over time, offering higher cash flow along with capital appreciation. There are two types of real estate – commercial real estate and residential real estate. While residential properties were preferred in the past, the trend has shifted in the past 5-6 years with investors leaning towards the commercial real estate market in India.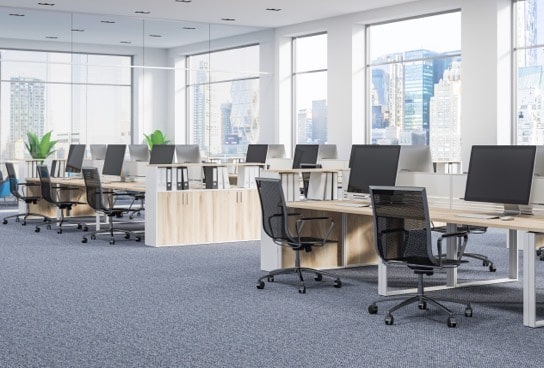 NRIs who want to invest in commercial real estate in India or ask any question related to the same can schedule a call right away.
India Commercial Real Estate Market Trends
As per India Brand Equity Foundation (IBEF), the real estate market is expected to grow to USD 1 trillion in 2030 from USD 200 million in 2021. As per a study by Mordor Intelligence, the Indian commercial real estate market is expected to register a CAGR of more than 13.85% during 2019 – 2028. Rapidly rising Indian economy, growth in the IT/ ITeS sectors as well as reforms (industrial corridors, FDI policy, RERA, REITs) made by the government are the key factors behind higher demand for commercial real estate space.
India Commercial Real Estate Type
As opposed to residential real estate where houses are built for the purpose of staying in, commercial real estate is meant only for business-related activities. Type of commercial properties in India is segmented depending on how a property is being used. Following are the properties that fall in commercial real estate.
1. Office space
2. Industrial and logistics
3. Retail stores
4. Multifamily properties
These categories can also be further classified. For example, the retail real estate can be categorized in the following sub categories: Restaurants, hotel & resorts, healthcare centers, etc.
Commercial Real Estate Developers and Investment Companies
Top commercial real estate developers
DLF Ltd
Oberoi Realty
Godrej Properties Ltd
Housing Development and Infrastructure Ltd (HDIL)
IndiaBulls Real Estate
Supertech Limited
Brigade Group
Unitech Real Estate Pvt Ltd
Prestige Estate Projects Ltd
Top commercial real estate investment companies, agencies, associations, etc. in India:
MagicBricks
Assetmonk
h-Bits
Sulekha Properties
99acres
Propertywala
RE/MAX India
JLL India
Anarock Property Consultants
Awfis
Why Investing in Commercial Real Estate is the Best Bet in 2023
Here are some top reasons why investing in commercial real estate is an ideal option for Indians, including NRIs.
Pent-up Demand
Despite the short-lived trend of work from home, the demand for commercial properties is increasing because of the flexibility, comfort, and convenience offered by offices. Moreover, there is increasing demand for offices by businesses across industries, including IT, manufacturing, BFSI, startups, and even boutique businesses, etc. to accommodate their employees. Also, multinational companies are opening their data center offices and large commercial offices in Tier 1 cities in India.
Higher Returns
Commercial properties generate higher rental income over a long period of time as compared to housing properties. Grade-A commercial properties are already yielding high returns. Return offered by residential properties range from 3-4%, on the other hand average return on commercial properties is around 8-10% in the Indian market.
Constant Cash Flow
Commercial properties are leased for a longer period of time, from 5 to 10 years. The longer lease periods ensure regular cash flow and rental income for investors, at the same time there is no need to worry about searching for new tenants in months or a few years. Commercial real estate also offers lucrative capital appreciation over a period of time.
Commercial real estate is a fast and gradually developing market in India. So, have you started planning to invest in commercial real estate in India and make changes in your portfolio yet?
If you are confused or reluctant about investing in India due to lack of understanding of the Indian market, SBNRI will help you build a stable portfolio in an easy way.
To ask any question related to NRI investment in India, you can download SBNRI App from the Google Play Store or App Store. You can also use the SBNRI app for investment in stock market/ mutual funds, Pre-IPO, Asset Finance, Commercial Real Estate, Indian Startups Funds, NRI account opening, etc. To ask any questions, click on the button below. Also, visit our blog and YouTube channel for more details.