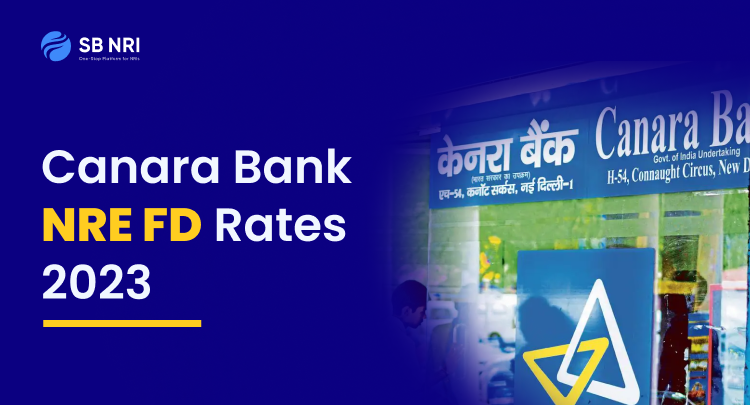 Canara Bank offers a range of banking services to its non-resident customers, including Non-Resident External (NRE) fixed deposit (FD) accounts. NRE FDs are an attractive investment option for NRIs in India as they offer competitive interest rates and easy repatriation of funds. In this blog, we will delve into the details of Canara Bank NRE FD rates 2023 along with the features and benefits of NRE FD accounts.
Canara Bank NRE FD Rates
Take a look at the Canara Bank latest NRE FD rates.
| Tenure of Deposit | Interest Rate (p.a.) on Deposit Less than Rs. 2 crore | Interest Rate (p.a.) on Deposit Less than Rs. 2 crore and above to less than Rs. 10 crore |
| --- | --- | --- |
| 1 year | 6.90% | 6.15% |
| 444 days | 7.25% | NA |
| Above 1 year to less than 2 years | 6.90% | 6.25% |
| 2 years to less than 3 years | 6.85% | 6.25% |
| 3 years to less than 5 years | 6.80% | 6.25% |
| 5 years to 10 years | 6.70% | 3.65% |
Canara Bank NRE FD Rates
Note– The above given Canara NRE fixed deposit rates are subject to periodic change and are effective from August 12, 2023.
Premature Withdrawal
Canara Bank allows premature withdrawal after the completion of 1 year with a 1.00% penalty. Hence, the deposit will earn 1% less than the current rate applicable for the relevant slab or 1% less than the rate at which the deposit was made initially, whichever is lower.
Canara Bank also offers the facility of partial withdrawal of deposits in units of Rs.1,000 keeping the rest of the deposit to earn a contracted rate of interest.
Canara Bank NRE Fixed Deposit: Key Takeaways
| Particulars | Details |
| --- | --- |
| Definition | Allows NRIs to deposit their foreign earnings in India and earn interest on those deposits. |
| Tenure | 1-10 years |
| Currency | INR |
| Taxation | Tax-free |
| Minimum Deposit | Rs. 1000 |
| Premature Withdrawal | Allowed after completion of 1 year with 1.00% penalty |
| Partial Withdrawal | Permitted |
| Loan against FD | Available up to 90% of the deposit amount |
| Repatriation | Freely repatriable |
| Joint Account Facility | Available |
| Nomination Facility | Available |
| Auto-Renewal Facility | Available |
Canara Bank NRE Fixed Deposit: Key Takeaways
Canara Bank NRE FD: Features and Benefits
Let us explore the key features and benefits of Canara Bank NRE Fixed Deposits:
Competitive Interest Rates

Canara Bank provides attractive interest rates on NRE fixed deposits, ensuring that your funds earn a steady return on investment. The interest rates are subject to change and vary based on the deposit tenure and amount.
Repatriation of Funds

One of the significant advantages of Canara Bank NRE fixed deposits is the ease of repatriation. NRIs can repatriate both the principal amount and the interest earned on their NRE FDs without any restrictions.
Tax Benefits

The interest earned on Canara Bank NRE fixed deposits is tax-free in India. As an NRI, you are exempted from paying taxes on the interest earned, making it a tax-efficient investment option.
Flexible Tenure Options

Canara Bank offers a range of tenure options for NRE fixed deposits, allowing you to choose the duration that best suits your financial goals. The deposit tenure typically ranges from as short as 1 year to as long as 10 years.
Auto-Renewal Facility

Canara Bank provides an auto-renewal facility for NRE fixed deposits. If you opt for this feature, your deposit will be automatically renewed for the same tenure at the prevailing interest rate upon maturity, ensuring continuity of your investment without any hassle.
Nomination Facility

Canara Bank allows you to nominate a person who will receive the deposit proceeds in the event of your unfortunate demise.
Joint Account Facility

Canara bank also offers Joint account facility in which the account can be opened in the names of two to four individuals (NRIs), given that all the account holders are individuals of Indian nationality or origin. It is also possible to open the account with a resident relative, as defined on a "former or survivor" basis.
Who can Open Canara Bank NRE FD Account?
Individuals/Entities of Pakistan and Bangladesh shall require prior approval of the Reserve Bank of India (RBI).
Documents Required
Given below is the list of documents required to open a Canara Bank NRE FD Account:
Application Form.
Copy of PAN Card / Form 60 (if the applicant does not have PAN Card).
2 copies of photograph of depositor.
Proof of Identity
Proof of Address
Any other related documents as applicable to proprietorship concern, Partnership Firm, Company, HUF etc.
How to apply for Canara Bank NRE Fixed Deposit Account
On opening the Canara Bank website, NRIs need to find the 'NRI banking' section.
Select 'Deposit Products' from the drop-down menu.
Click on 'Download account opening form'.
Once the form gets opened, fill in the application form accurately.
Choose the type of deposit account you want to open. In this case, click on the NRE FD account.
Once the form gets completed, send it along with the necessary documents to the desired designated Canara Bank branch in India.
As soon as your documents and form are received and verified by the bank, your NRE fixed Deposit account will be opened.
Apply for NRE Fixed Deposit Account with SBNRI
SBNRI is an online one-stop platform for services on all major NRI specific products including FD accounts for NRIs.
To get end-to-end assistance with NRI Account Opening and booking other Fixed Deposits and info about the latest Canara NRI FD Rates, you can connect with our expert using the button at the end of the article. You can also browse through the NRI Account Opening grid that we have prepared specially for NRIs.
Other Products and Services Offered by Canara Bank
Listed below are the products and services offered by Canara bank that cater the needs of NRIs:
NRE FD
NRO FD
Remittance Facilities
Investment Facilities
Canara Bank NRI Fixed Deposit Calculator
NRI FD Calculator is a tool that helps investors in calculating the interest they would earn on NRI fixed deposit investment upon maturity. NRIs can use the calculator to find out the interest they would earn and the maturity amount at the end of FD tenure.
You can take the help of an expert to compute returns on your Canara Bank NRI FD and much more. At SBNRI, you get direct access to field experts who will take care of your individual process personally and assist you throughout the way. Just click on the button below to get in touch with our expert now. Also, visit our blog and YouTube Channel for more details.
FAQs
What is the interest rate for NRE fixed deposit in Canara Bank Indian Overseas Bank?
Is NRE FD a good investment?
Unlike other investment options, NRI Fixed Deposit offers guaranteed returns that are not affected by market fluctuations. As a result, you earn guaranteed returns, even as your principal amount grows steadily, without risk. For NRIs seeking smart investment avenues, NRI FD is the best option.
Which bank gives the highest interest rate on NRE FD?
What are the current FD rates in Canara Bank?
Can we have 2 NRE accounts?
Yes. NRIs can open multiple NRE savings bank accounts.