As August commences, the season of the festival arrives. From the middle of every year till its end, there are many regional and national festivals across the country. One such festival is Rakshabandhan or Rakhi, on the 11th of August this year.
Rakshabandhan is a festival where girls or women tie a thread on their brother's wrist to mark the strength and purity of their relationship and love between them. The thread also symbolizes that they are bound together for life as siblings or cousins and will take a stand for each other whenever needed.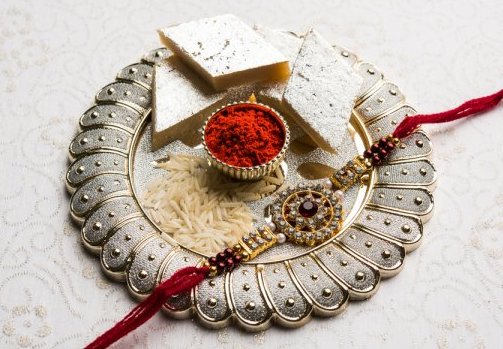 With the festival so close, many boys are confused about what they should gift their sisters for Rakshabandhan. Some give money while some hand over a handful of chocolates. But that has been like this for many years, and now this idea has become quite common. We are here to introduce a few new and unique ideas as Raksha Bandhan gifts.
Five Rakshabandhan Gift Ideas for Sisters Above the age of fifteen:
It is appropriate to check the budget before giving any gifts. Below are multiple types of gifts, both high and low-budget ones. You can take help from any of these while choosing a Rakshabandhan Gift Idea for your sister.
Giving a combination of gifts is sometimes better and cheaper than giving single items. One category of gifts could be gifting accessories to your sisters. Make a combination of bracelets, earrings, and perfume.
These can be purchased from any store at low prices as well. But always look out for the attractiveness of the gift. Girls like wearing bracelets and such ornaments like necklaces and earing.
Get an affordable yet graceful set of these accessories that will suit them well.
When buying the perfume, try to get something with a sweet and fruity smell, like those of flowers. Girls are often fond of flowers, which lift their mood even in the worst times.
You can make a personalized gift for them as well. For instance, think of a memory that you both would always want to relive. Gift your sister a photo frame related to that memory; she will always nurture it. You can even make a customized garment or coffee mug out of it.
With this, gift a basket with fresh flowers and a few chocolates or sweets. You can also write a poem or a short letter for her which you can quietly slip inside that basket. Girls annoy their brothers but love them to bits that might even cry after reading that letter. And those tears shed would be the ones out of happiness and love.
Apart from their family, girls are madly in love with clothes. Even after buying hundreds of dresses of all types, they still have no clothes to wear for an outing and are always confused. Finally, after finding something to wear, they always doubt whether they are looking good or not. So, now as brothers, it is our job to add an extra piece of clothing to their wardrobe and make them look good and confident.
First, toggle through your sister's interests and the type of clothes she wears. After that, please find the one dress she is currently drooling over (within your budget). Once you find such a dress, try to find it online or in a nearby store or mall. Look out for the material of the clothe and whether they would suit her or not. Keep it a surprise from her. After she ties the rakhi, hand her the bag which has the dress. She will start jumping with excitement.
Nothing would be a better gift for them than gifting a set of scented candles. Odor has a significant impact on a girl's mood and their interest in that thing or person. Something which smells lovely and sweet is what girls usually look for. Thus, their best gift would be a set of perfumes or exotic, scented candles. You can find them at any gift shop near your house, or searching online would be the best option.
Most girls are fond of their skin and hair and want them to be in the best shape. Consult someone who has expertise in the field of cosmetics or hair products and appliances. But before buying any of these, check the company of the products your sister uses because these products have a human impact on the skin. Once you have verified everything, buy the product she does not have and surprise her with her favorite product.
These were some innovative gift ideas for rakhshabandhan this year, which you can gift your beloved sisters. But before ending the article, let's look at the FAQs.
To ask any questions related to the rights of NRIs, PIOs, and OCIs, you can download SBNRI App from the Google Play Store or App Store. You can also use the SBNRI app for investment in stock market/ mutual funds, NRI account opening, tax filing, etc. To ask any questions, click on the button below. Also, visit our blog and YouTube channel for more details. 
FAQs
How to understand if the product is good or not?
Consult with someone who has some expertise in that particular field. You will be guided and given good service if you go to a store. But if you are finding something online and having this issue, look for the reviews and ratings of the products. It is recommended if the product has a rating of four or higher out of five, provided several people have given a rating.

What if we find two similar products and cannot decide which one to give?
If you have a lot of bucks with you and want to spend them on your sister, then you can buy both items. But if you wish to give any one gift, ask others about both the products. While purchasing online, there is an option of comparing two products. The one which has the upper hand, buy that one.

What to do if my sister does not like the gift?
In that case, first ask her if she would like to have the gift or not. Decide accordingly after getting her answer. But if you want to keep it a surprise, then it is better to search through everything thoroughly, like her interests and the things she could put to use now, etc.