Do you enjoy riding a motorcycle while admiring beautiful landscapes or urban environments? If so, you must know what truly happens while preparing for a thrilling and secure trip. Some might believe that a brief car trip is usually safe, but that is untrue! Whether you are a seasoned rider or a beginner, safety should always come first. Therefore, investing in high-quality motorcycle protective gear is a good idea. Do you know what makes these gears best? They don't sacrifice fashion for security. You are aware of this, of course! You'll look as stylish as ever, thanks to them. Therefore, don't wait any longer and prepare for an adventure by getting your bike and equipment. Let's see what are the must have gears for every bike riders.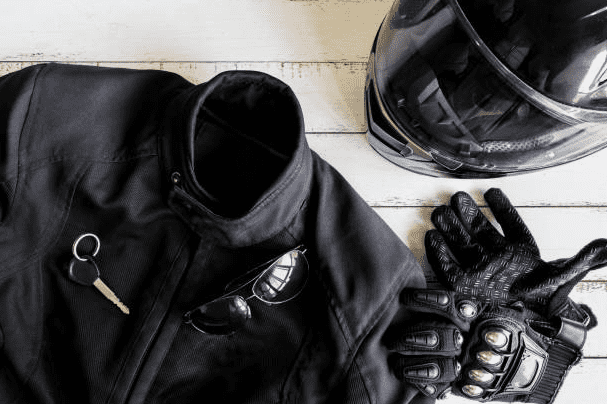 The Value of Riding Equipment
Riding gear is the only thing that can keep you safe and cushion the shock of an accident, which is just as crucial as your life.
Helmet
Even if everybody is aware of this, we must nonetheless mention it. It might not be the best option, even though you might enjoy riding your bike with the wind in your hair and dust in your face. Take a helmet, then! The variety of helmets that are sold on the market may amaze you. You can select an item that is both cozy and protective. Full-coverage helmets are advised because they offer complete head and face protection.
Motorcycle Pants
Most people don't think of this as a necessary piece of motorcycle riding gear. Yet why? Do you believe your lower body needs the same protection as your upper body? A good pair of riding pants protects your knee, thighs, and behind. And if you believe that wearing jeans will protect you, it may not be the best course of action, especially on lengthy trips. The market is filled with various leather and textile motorcycle pants from different brands. Again, they also have fantastic looks!
Motorcycle Vest or Protective Gear
The very best motorcycle gear available! These jackets have cushioning and back, shoulder, and elbow protectors. They are pretty stylish and keep you warm in the chilly weather, in addition to being made to provide a safer riding experience.
Now, before purchasing a motorbike jacket for yourself, you must quickly perform some study. Many options include body armor, airbag jackets, and full-weather coats. Narrow down your choices based on your needs, then get one for yourself! For the best prices, you may also order online.
Boots
Motorcycle boots are a trendy accent to your riding attire. Everyone loves boots! With safety measures in mind, these boots were explicitly created. They are typically composed of leather, which provides excellent friction and safeguards your foot bones. Ensure that the motorcycle boots you choose feature over-the-ankle protection. Don't sacrifice comfort, either! Select items that offer both comfort and durability.
Sunglasses For Riders
Once more, a stylish complement to your cycling attire! They are just as important as they are fashionable. You must be thinking why you would need goggles if you already had a helmet.
There is always a chance that dust, dirt, or other particles will get into your eye, regardless of your helmet. Get yourself a pair of motorcycle goggles for an extra layer of protection in front of your eyes. Select an outfit that goes with your jacket and style!
Plugs For The Ears
Although they may not be as fancy as the other riding gear, no one should undervalue their significance. The truth is that many don't appreciate its value until after a long ride.
But why would anyone wish to drown out the sounds of automobile horns? Here's the deal: they allow you to hear everything else while blocking wind noise. Your ears could be harmed by the wind noise even when wearing a high-quality helmet. So why not spend money on earplugs?
Toolkit
Undoubtedly one of the most essential items for riders, especially when traveling outside your town. Depending on your travel, you can choose between a simple kit with a torch, one spanner, a leatherman, and comprehensive equipment. You don't want to end up stranded in the middle of the road, far from a garage.
Knee And Elbow Guards
Okay, time for a new safety measure! Don't worry; they will just enhance your excellent factor! For the ideal rider's packing list, you should include knee or elbow protectors, riding pants, and jackets. Compact and lightweight, these are simple to adjust to your body and won't cause you to sweat or feel uncomfortable while traveling.
Weather-Related Protection
Riders using two wheels are subject to severe weather. Even if rain/winter liners are included with the jackets/pants, they are insufficient. Riding might be challenging if your equipment is not entirely waterproof.
You can acquire an extra raincoat, winter coat, or pair of pants to protect yourself from such circumstances and the extreme weather. Additionally, one-piece rain suits that are simple to wear are available.
Packable Water Bottle or Backpack
Choosing the proper backpack to hold all your necessities is crucial when embarking on a daring expedition. Your bike vacation packing list can benefit from including a hydration backpack. These bags have a tube and water bladder that may be utilized even with the helmet on. As a result, you need not worry that you will become dehydrated when running.
Conclusion
The proverb with the initials ATGATT states that wearing riding gear is essential (All The Gear All The Time). Regardless of what you ride, accidents can happen and are unpredictable. High-quality riding gear may be able to save your life in the unfortunate event of an accident.
So always remember to dress appropriately when you're riding. Riding gears is required whenever you ride a motorbike or scooter, regardless of how long or briefly you intend to ride. Spending money on high-quality riding equipment is worthwhile because it might one day save your life!
You can also click on the button below for more information. Visit our blog and YouTube Channel for more details.
Which bike riding gear is essential?
Along with a helmet, a few more gears are essential for bike riding gear.
Which is the most essential riding gear?
A helmet is the most critical biking gear necessary.
What five pieces of gears do you need to ride a motorbike?
The five common gears needed to ride a motorbike are: gloves, helmet, jacket, boots, and pants.