A Garden is a relaxing location to spend quality time with yourself or with your family and hence needs to be well decorated to enjoy each moment spent there. The procedure is an adventure to have the lavish style at home. If you happen to be a resident of Dubai, here is the collection of some of the Garden Décor Ideas for Indians in Dubai that can be your choice too.
Let's move forward together to feel the essence of beauty with nature on spot via the Garden Décor Ideas in your garden in Dubai.
A Huge Natural Stone in the Garden
If you see a big boulder with its natural features of shaping placed in the center of your garden amongst the plants. The décor can make the surrounding statement of WOW! The naturally placed rock can modify the styling of your garden which can be the attraction to drag you back on site again. Even stone planters crafted in any shape of creativity can also be part of your beautiful garden.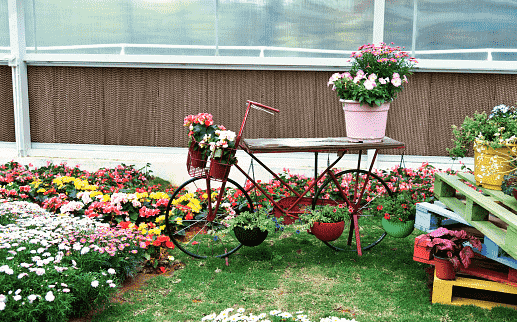 Observation Deck With Floor Decking in the Garden
The beautiful view of natural bodies like birds, and colorful plants surrounding your manicured lawn can be a worthy scenario for you. To get such a view you can have an observation deck built around a tall tree present in your garden and lounge in the shade to feel the relaxing air. You can have the floor decking in case your garden is unpaved. It can be kept beneath the dining set and can be used to suit some big cushions and candles that can showcase the cost-effective Garden Décor Ideas for Indians in Dubai.
Wall Paintings on Your Garden Wall
You can choose the unique traditional tribal patterns or any other Indian art form to decorate your garden wall. Even the modern art forms can also be taken into account in the décor ideas to enhance the beauty of the garden.
Cool Furnishing Ideas
You can have the choice to decorate your front side or backyard of your garden with some cool furnishing items to make it a wonderful-looking site. Peep into a few of the ideas listed below to make a change to your same garden space:
Decorative Shading Items
Sunny days can be irritating due to the harsh sunshine but in the presence of shading items, you can enjoy that too. You can use either gazebos or parasols to get the decorative shade to just have the warmth of sunlight.
Gazebos is looking like your movable curtains. There can be various types available either removable or constructed ones. A temporary one can be the better choice for décor.
Parasols are like big umbrellas with tall stands in the middle. It's portable that can help you move from one location to another and also can close if the weather is favorable.
Cushions
There can be some colorful cushions that can add feathers to the cap in case you have plain furnishing. Even you can have some customized flower pots in your garden to pair with the cushions in the surroundings. Customized flower pots sound nice! You can customize them by putting different prints of paints or watercolor, drawing smiley faces with actions, or writing your name or any inspiring quotes.
Metal Sculpture in the Garden
You can put a metal sculpture of your choice in the mid of your garden to give an elegant look to it. You can even ask the manufacturer to get the customization done based on your conditions. It can be one of the Garden Décor Ideas for Indians in Dubai.
Swings in the Garden
Swings are liked by children and adults as well as senior citizens and can be the best option for garden décor. It's not mandatory to have the swing in front or at the back side of the garden but enjoyment concerns.
In case you are feeling bored out of your daily schedule, get relaxed on the swing with the blowing breeze at the ideal spot. You can have a variety of choices in a swing like a sofa and but swing chairs can be a suitable choice for all age groups in less space.
Bottom Line
You can increase the beauty of your garden with the décor options discussed above. The small space of your garden can also get the swing fitted into it within your pocket-friendly budget. It is one of the multi-user facilities as parents, grandparents, and kids all can enjoy as per their schedule with the modern styling of décor.
You can also click on the button below for more information. Visit our blog and YouTube Channel for more details.
Can a fountain be one of the options for garden décor?
Yes, you can build a fountain in the stone garden as per your wish to make the evening site full of colorful lights. It can be heaven to visit.
The Terrace Garden can also be modified with the décor ideas?
Of course! You can opt for some customized pots or hanging pots in case of a very limited garden area to make it the most beautiful place full of colorful plants. In fact, there is huge scope of modification or customization with terrace garden ideas.
Can we have the option of colored stones to decorate the garden?
It's up to your choice to have the colored stones and it can be the best match if you have a fountain in between the garden.