World-famous Dubai is a famous visitor terminus. However, Indian visitors find this city easy to access, explore, and fall in love with. Several factors contribute to this. There are many must-visit temples in Dubai. You will surely want to return to this Emirati city again and again because of its brilliant climate. The best part of visiting Dubai is visiting religious temples in Dubai. There are several Hindu, Sikh, and Jain temples in Dubai. Yes, that's correct! In Dubai, you will find cultures and practices from all over the world. Let's read more in this blog.
Shiva Temple
Shiva temple is a must-visit temple. And it is situated on the top floor and is a famous destination of worship for Hindus in bur Dubai. There is a Krishna temple and the Dubai Museum nearby. You might forget you're in Dubai once you enter the temple. Sai Baba and Ganesha are among the Hindu spirits in the shrine. Hindus are not the only ones who can visit. You can see this place as long as you think of God and would not hurt the community's beliefs. Shiv Ratri is a night of celebration in honor of Lord Shiva. Shops sell flowers and sweets for the deity in front of the temple.
Shree Krishna Haveli (Shrinathji Temple)
Near the Dubai Museum in Bur Dubai are the Shree Krishna Haveli temples in Dubai. Shree Krishna is prayed to in his child form by devotees. People come to this temple to pray either at sunrise or after sunset. In this temple, prayers are held round the clock.
Devotees get Prasad only after the aarti. A temple like this is the best place to relax and rejuvenate. And it is a must-visit temple.
Throughout the day, Lord Krishna wears different clothes and jewelry. A morning and an evening darshan begins at 5:00 am and end at 7:30 pm. A strong aura stems from the temple to all who enter its doors. Devotees benefit mentally and physically from it. The community of Bur Dubai believes that meditation at Shree Krishna Haveli can relieve stress and disturbances of all kinds. Except on Janmashtami, there are no crowds at the temple.
It is not allowed to offer Prasad or milk to the deity at this temple. The temple office still accepts donations.
It is said that the tiny God has a lot of power and is very cute. Devotees will have a heart full of happiness when they leave the temple.
Gurudwara Guru Nanak Darbar Sikh Temple
Peace, warmth, and hope are the sole goals of Guru Nanak Darbar Dubai.
Incorporating modern and ancient designs, the Sikh Temple welcomes people of all faiths.
For the largest distribution of saplings in 2018, the Sikh Temple is a Guinness World Record holder.
Additionally, in 2017, the temple hosted 101 races for a continental meal and won a Guinness World Record.
Every week, 12000 people from around the globe visit the temple.
ISKCON Dubai
Among the must-visit temples in Dubai is ISKCON. ISKCON leaders from around the world attend several events and meetings held at this place of worship in Karama. At ISKCON's or Krishna's temple in Dubai's eatery, Govinda, you can eat a sattvik meal. It is possible to spend at least half a day exploring this temple complex's many activities. You can visit it every day between 5 am and 7.30 pm.
Shirdi Sai Baba Mandir
This temple is dedicated only to Shree Shirdi Sai Baba devotees in Bur Dubai. Many devotees come here to purify themselves from sins and evil deeds. A deity cleanses the heart and mind to bring peace and purity. People sing Slokas and Sai Bhajans during prayers. The temple also houses holy imprints in addition to the deity's statue.
The Hindu Temple
During Diwali 2022, Dubai will welcome its newest must-visit temples. This temple combines influences from both India and the Arab world. Jebel Ali will be the location. However, the design will follow the Hindu shastras and Indian temple architecture. This temple will be among the lovely Hindu temples in Dubai. All holy and non-religious people are welcome to visit this tourist attraction.
BAPS Hindu Mandir, Abu Dhabi
Swaminarayan temple will be must visit temple on your list if you visit Abu Dhabi. It is officially known as the BAPS Hindu mandir. The temples in Dubai lie 94 km away from Dubai in Abu Dhabi.
The only way to reach the location is by bus or taxi. A road trip will take an hour. There is no difference between Hindu festivals and international events in how they are celebrated. However, this temple is under construction, so you have to check before visiting it.
The bottom line
These are the 7 famous temples you must visit in Dubai. There are many guidelines for these temples. You must follow these rules when you are visiting temples in Dubai. In addition, Dubai Jain Derasar is also a must-visit temple in Dubai.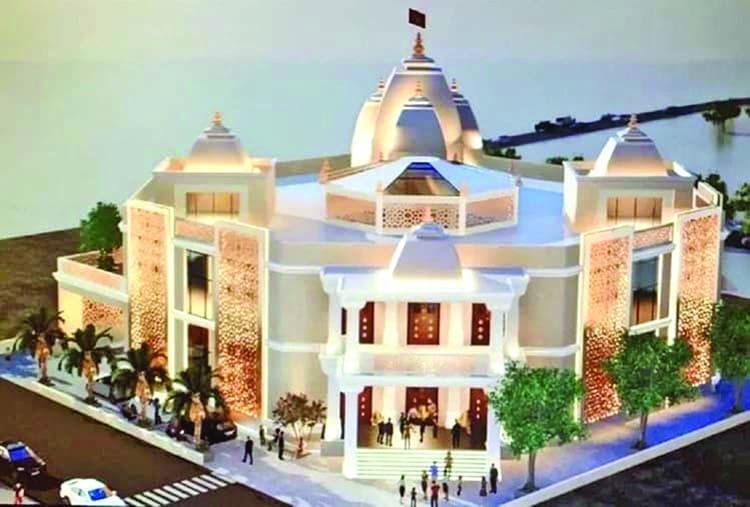 To ask any questions related to the rights of NRIs, PIOs, and OCIs, you can download SBNRI App from the Google Play Store or App Store. You can also use the SBNRI app for investment in stock market/ mutual funds, NRI account opening, tax filing, etc. To ask any questions, click on the button below. Also, visit our blog for more details.
FAQs
Do you know the time best for visiting the Hindu Temple in Dubai?
Dubai's winter months (November and December) are ideal for visiting, as it has a hot and humid climate throughout the rest of the year. In November and December, temperatures drop quite a bit while being relatively less crowded.

What makes the Hindu temple unique?
Hindu temples worship paintings of deities instead of idols. The only Hindu temple in Dubai, it organizes wedding ceremonies and holds daily worship. 

Does the temple allow photography?
Taking pictures inside the temple is permitted, but flash photography is not allowed. There is a prohibition against taking photos during Aarti timings.

Do Hindu temples have a dress code?
Visits to the Hindu Temple require modest and conservative attire. However, traditional Hindu clothing is not a requirement. Cover your head when entering the temple as a sign of respect. Long skirts and dresses are best for women and long pants. In men's clothes, casual clothes should include shirts, pants, kurta pajamas, trousers, and button-down shirts.