When people think about vegetarian or vegan food, often images of unappetizing, bland, and inedible food come to mind. After many centuries, however, Indian cuisine has perfected the art of vegetarianism. There is an infinite variety of scrumptious Indian vegetarian food. These dishes bring out the very best of the ingredients and provide the exact opposite of sparse and unappealing vegetarian diets.
Palak Paneer
Palak Paneer is a dish loved by everyone. Indians, people from all kinds of different countries, vegetarians, and non-vegetarians just can't live without this creamy and delectable dish. It is one of the recipes that is very healthy while being decadent at the same time. Palak Paneer is also a beautiful dish with curries in various different shades of green that are often embellished with bright peas. This dish is a real gem in Indian vegetarian food.
Recipe
The Spinach:
5 cup water
1 bunch of spinach
1 inch ginger
1 clove garlic
3 green chilli
Thw Rest of the Ingredients:
3 tsp oil
1 tsp butter
11 cubes of paneer / cottage cheese
1 tsp cumin / jeera
1 inch cinnamon
4 cloves
2 pods of cardamom / elachi
1 bay leaf / tej patta
2 tsp kasuri methi / dry fenugreek leaves
½ onion (finely chopped)
½ tomato (finely chopped)
¼ cup water
¾ tsp salt
¼ tsp garam masala
2 tbsp cream / malai
Instructions:
Take the spinach that has been blanched, 1 inch of ginger, 1 garlic clove, and 4 green peppers.
Use no water and blend until a smooth consistency is achieved. Keep aside.
Now heat 3 tablespoons of oil and 1 tablespoon of butter in a large kadai while roasting the spices until fragrant.
Add a half-onion and cook till golden brown
Next, add a half tomato and continue to sauté until the tomatoes become mushy.
Add 1/4 cup of water, 1/4 tsp. salt, and the prepared spinach paste.
Mix thoroughly and adjust consistency as necessary.
Now add the well-roasted paneer.
5 minutes of simmering is enough to give the paneer its flavour.
Add 1/4 tsp garam masala, 1 tsp kasuri methi, and 2 tbsp cream after turning off the stove. Mix well.
Serve palak paneer restaurant style with roti or naan.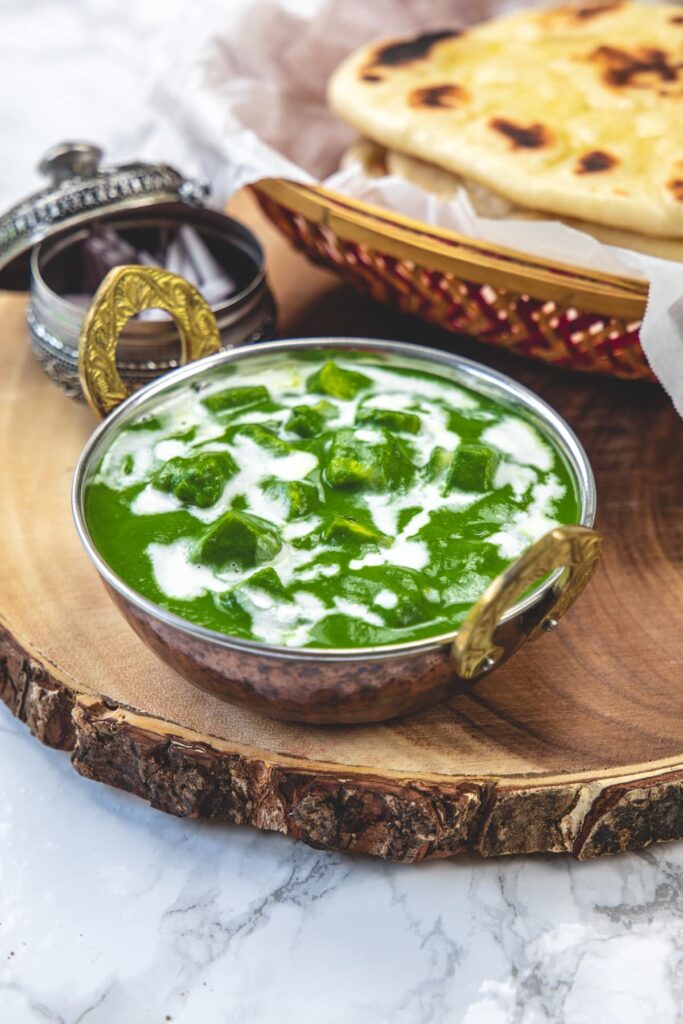 Choley (Chickpeas Curry)
Chickpea lovers worldwide adore this dish. Chickpea tastes wonderful just as it is – but with this assortment of spices and age-old cooking techniques, it is transformed into one of the most popular Indian dishes. There are various ways to cook chickpea curry. This recipe is tried and tested for a delicious dish. This piece is a favorite in Indian vegetarian food.
Recipe
Ingredients
To pressure cook:
Chickpeas/Choley: 2 cups + 2 tbsp
Cardamom: 5-6
Black peppercorn: 4-5
Bay leaves: 2
Cinnamon sticks: 2
Tea bags: 2
Salt: to taste
Water: 5 cups
Choley:
Onion: 3/4 cup, grated or pureed (from 2 small onions)
Tomatoes: 2.5 cups puree (from 4 medium tomatoes)
Cloves: 3-4
Ginger-garlic paste: 2 teaspoon
Chole Masala: 3 teaspoon
Cumin powder: 3/4 teaspoon
Paprika powder: 1/2 teaspoon
Red chili powder: 1/2 teaspoon or to taste
Salt: to taste
To garnish
Ghee (clarified butter): 1 tablespoon
Ginger: 1 inch, julienne
Dried fenugreek leaves (kasuri methi): 1/2 tbsp, crushed
Coriander leaves: 2 tablespoon, chopped
Garam masala: 1/4 teaspoon
Instructions:
The chickpeas should be covered with water and let to soak overnight. You should have about 5.5 cups of it in the morning after soaking a little more than 2 cups. Remove the chickpeas from the water you soaked them in.
1. Place the soaked and drained chickpeas, around 5 cups of water, 2 tea bags, bay leaves, cardamom, cinnamon stick, and a little salt in a pressure cooker. Cook under pressure for 1-2 whistles while using a hot flame. After that, reduce the heat to medium-low and continue to cook the chickpeas for an additional 10 to 12 minutes. The cooker should be turned off and allowed to cool. Check the chickpeas in the cooker once the steam has subsided. Your fingers should be able to press them into a paste. If this hasn't happened yet, shut the cooker and continue cooking for two more whistles.
2. Heat 2 teaspoons of oil in a wok. When heated, add the grated onion and cloves. Fry the onions until the raw smell disappears and they turn a pale golden brown.
3. Stir in the ginger-garlic paste, cook for 3–4 minutes or until the ginger-garlic smell is gone.
4. Add the tomato puree at this point, mix, and simmer for 12 to 15 minutes on medium-low heat. Cover the pan. The tomatoes must be thoroughly cooked until the raw smell is gone. Allow them to cook for around 15 minutes.
5. Add the salt, choley masala, red pepper flakes, paprika, cumin, and stir for 1 to 2 minutes.
6. Drain the chickpeas and add them to the tomato-onion mixture. Stir for about 2 minutes, until the chickpeas are completely covered with spice. Once the chickpeas have been drained, do not throw out the water. The water can go into the gravy.
7. Add water, cover the pan, and simmer it for about 30 minutes at on medium-low heat. After 30 minutes, the gravy will thicken. Add water as needed. Even though thin gravy with choley is less popular, if you want it, use more water than mentioned in the recipe.
8. To temper, add the ginger julienne to a skillet with 1 tbsp of ghee.
9. Fry the juliennes until they are golden brown in color. Be careful not to burn them. Then add it into the choley curry and turn off the heat.
Serve with plain rice, roti, or paratha. Choley and plain rice are a very common combo.
To ask any questions related to the rights of NRIs, PIOs, and OCIs, you can download SBNRI App from the Google Play Store or App Store. You can also use the SBNRI app for investment in stock market/ mutual funds, NRI account opening, tax filing, etc. To ask any questions, click on the button below. Also, visit our blog and YouTube channel for more details.
FAQs
Can palak paneer be cooked without blending the spinach?
Yes, it you don't want it pureed, you can leave it as it is.
What are the best things to serve palak paneer with?
Roti, naan or jeera rice are great with palak paneer.

What is the ideal way to cook chickpeas?
A pressure cooker works wonders for chickpeas.
Why are tea bags included in the choley recipe?
They are included for their color and flavor.