Kuwait is one of the most popular work destinations for foreign nationals. Approximately 70% of its population is made of foreign workers. Kuwaiti Dinar is the highest valued currency in the world and the country has the nineteenth highest per capita income in the world according to the world bank. A large number of Indians visit Kuwait every year for employment opportunities. All foreign nationals, except the citizens of Gulf Cooperation Council (GCC) member states, have to obtain a visa to visit Kuwait. Kuwait issues several different types of visas to foreign nationals, depending on the entry requirements and length of stay of visitors. Indians need to obtain a Kuwait work visa/permit to work there.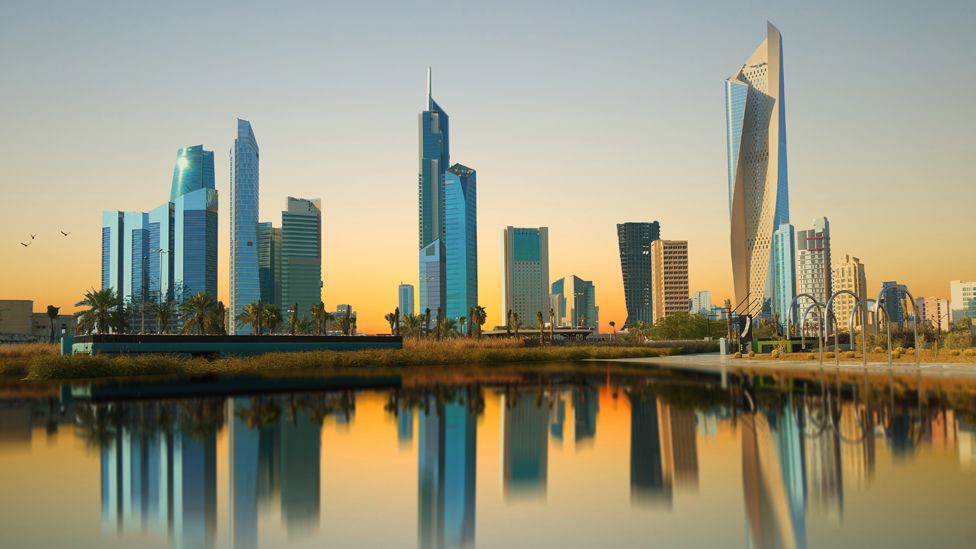 Also Read: Dubai Visa for Indians: Types, Eligibility & Fees
Kuwait work visa for Indian
Kuwait work visas are Iqamas, legal residency permits, issued to public and private sector employees of foreign nationals under Articles 17 and 18 of the Immigration Regulations of Kuwait.
The employer sponsor of Indian citizens being offered a job in Kuwait shall first apply for a work permit from the Ministry of Social Affairs & Labor. The employer will get a copy of your passport and no-objection certificate (NOC) from the General Administration of Criminal Investigation at the Ministry of Interior. The employer will then submit your details to the Ministry of Social Affairs and Labor.
The Ministry of Foreign Affairs in Kuwait will send a copy of your work permit to the Kuwait Embassy in India for endorsement. You will also receive a copy of the work permit which you have to take to the embassy. You also need to apply for an entry visa for Kuwait.
If you are on a visit visa in Kuwait when you receive a job offer in Kuwait, you must leave Kuwait to your own country for medical tests and endorsement from Kuwait's Embassy in your country. After that, you can return to Kuwait on a work visa.
Medical tests required to visit Kuwait include a blood test and an X-ray. The medical report will prove that you are healthy and don't have any epidemic disease. You will need to get a police clearance certificate (PCC) from the Regional Passport Office (RPO).
Also Read: Visa Status: Check Visa Status with Passport Number
Documents required for Kuwait work visa
Here is the checklist of documents required to get the Kuwait Visa for Indians:
Air ticket to Kuwait
Certified medical report
Valid passport with ECNR that is valid for at least the next 6 months
Original visa issued by the Kuwait Ministry of Foreign Affairs
Original work agreement signed by both employee and the employer
Photograph having a blue or white colored background
PCC
Driving license and experience certificate for drivers attested by the External Affairs Ministry
For cooks, a cooking experience certificate attested by the External Affairs Ministry
Fingerprint registration
Once you enter Kuwait, you will have to get your fingerprints registered for security clearance and residence at any one of the authorized fingerprint registration departments in Kuwait. You need the following documents to get a fingerprint certificate:
Filled application form
Valid visa – original and copy
Passport – original and copy
4 photographs
Medical report
Insurance receipt – original and copy
Letter of work permit from the Ministry of Social Affairs and Labour
Also Read: Indian Passport for NRI: Renewal vs Reissue
You may have several questions pertaining to a work visa or permit for Kuwait, you can get in touch with Kuwait Embassy in India. If you're looking for any assitance for NRI services such as NRI account opening, NRI Demat account, NRI investment or taxation, experts at SBNRI can help you out with everything. Download SBNRI App from the Google Play Store or App Store to ask any questions related to NRI services. Also visit our blog and Youtube Channel for more details.
FAQ
Do I need to get a visa to work in Kuwait?
All foreign nationals, except the citizens of Gulf Cooperation Council (GCC) member states, have to get a work permit before they come to Kuwait to work. Work permits are only issued to expats who have a valid employment offer.  
What is the basic salary in Kuwait?
The basic salary varies based on the job categories. The average salary in Kuwait typically ranges from 233.00 KWD to 964.00 KWD per month. 
How to go to Kuwait to take up a job?
Expatriates need to obtain a residency visa (iqama) to live and work in Kuwait. This visa is issued to individuals who have received a valid employment offer from a private company or government organization of Kuwait. The Kuwaiti employer needs to apply for a work permit on behalf of the expatriate employee. 
How can I check the status of my visa for Kuwait?
You can check the status of a Kuwait visa online on the official website of the Kuwait Government. You will need to enter your eVisa Reference Number and Passport Number to check the current status of your visa application.