Emigration checks can be stressful when you are not prepared for them. Sometimes, when traveling abroad with our friends, we have to do an immigration check even though our friends don't have to. And they get away without standing for hours in lines because they have a Non-ECR passport.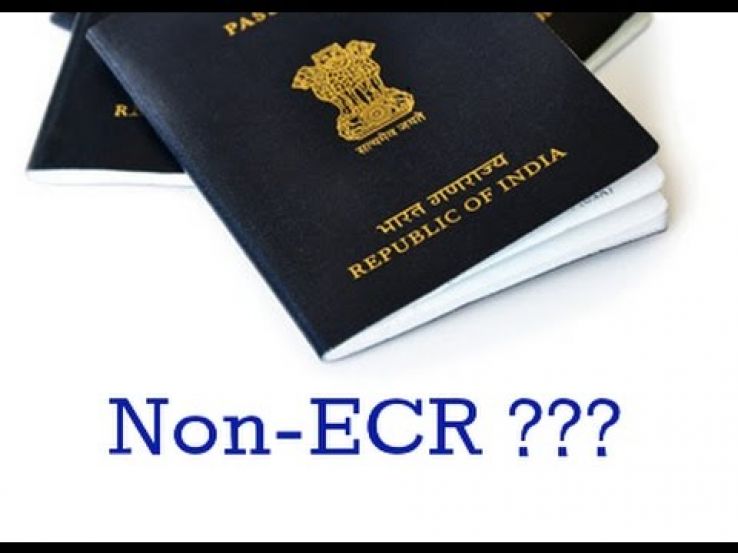 Also Read: Passport Police Verification: Final Step of Passport Application
So, today we will talk about the Non-ECR passport, the eligibility criteria, documents requirement, and how you can get it. We will also discuss how Non-ECR is different from ECR. Continue reading if you want to know about the Non-ECR/ECNR category and its benefits.
What does the Non-ECR Category Mean?
You need a traveling document, i.e., a passport when you visit a country issued by your country's government. The purpose of a passport is to identify the nationality of a person. Similarly, you have two passport options in India, mainly an ECR passport and Non-ECR passport.
A person's eligibility to get any of these passports depends on age, education, and marital status of a person. As this is a guide for the Non-ECR passport so let's discuss what it means. If you have Non-ECR, formerly called ECNR, you won't need to do an emigration check to work in some countries.
Your passport will automatically fall under the category of Non-ECR if you have matriculation or a higher degree. Non-ECR passport is strictly for Indian citizens who are qualified enough to work and travel in other countries. If you are applying for a passport and you think you fall under the category of Non-ECR, then make sure to take the necessary documents to the passport office.
If you have complete documentation and your qualification will be up to the mark, you will get a Non-ECR passport. And once you get the Non-ECR, you won't have to do the emigration check while traveling abroad for work or tourism purposes.
What is an ECR Passport?
ECR passport is the Emigration Check Required passport and it is only for people who don't even have a matriculation degree. In short, ECR is a verification procedure for unskilled workers who want to work abroad.
What is the Difference between ECR and non-ECR Passports? 
Now that we have discussed the details of the Non-ECR passport let's talk about how it is different from the ECR passport.
The first significant difference is that with a Non-ECR passport you can travel to various countries and work there without an emigration check. However, with an ECR passport, you will have to go through an emigration check if you want to travel for work purposes.
If you have an ECR passport, it doesn't mean that you can't work in other countries, but for that, you will need an emigration clearance that you won't need if you have a Non-ECR. The POE (protector of emigrants) officer will be responsible for the emigration clearance.
The primary purpose of emigration clearance is to protect the unskilled worker community of Indians from being exploited at the international level by making them go through a credentials evaluation. There are adequately certified agents who do emigration clearance.
You will need an emigration clearance to avoid fraud and exploitation if you want to work in the 17 countries list. The list includes Yemen, Iraq, Thailand, Qatar, Sudan, Libya, Jordan, United Arab Emirates, Lebanon, Malaysia, Oman, Afghanistan, Kuwait, Bahrain, Kingdom of Saudi Arabia, Syria, and Indonesia. 
Are you Eligible for the Non-ECR Passport Category?
Many people have eligibility concerns for a Non-ECR passport, so we will address them once and for all today.
The first and foremost requirement to get a Non-ECR passport is to at least have a matriculation certificate.
All children below the age of 18 are eligible for the Non-ECR passport; however, once they get 18 years old, they need to provide proof to qualify for a Non-ECR passport.
All taxpayers, including agricultural taxpayers, are eligible for Non-ECR passports. The spouses and children of the taxpayers are also eligible for Non-ECR passports.
Sea and deck cadets are eligible for Non-ECR passports.
All government officers, spouses, and children are eligible for Non-ECR passports.
People with polytechnic institute degrees, professional degrees, and permanent visas are eligible for Non-ECR passports.
Documents Required for Non-ECR passport
Now let's talk about all the necessary documents required to apply for the Non-ECR passport or if you want to convert your ECR into a Non-ECR passport. The primary documents you will need are your degree, matriculation certificate, and intermediate mark sheet.
Below are the Detailed Documentation Requirements for a Non-ECR Passport
All people above 50 years of age will require a birth certificate issued by the government of India and a school leaving certificate from the recognized schools in India.
All nursing graduates will require nursing certificates.
All people who have permanent Immigrant Visas to Australia, the UK, and the USA will need a PR/ immigration visa copy.
All people who only have done matriculation will need the matriculation certificate.
All diplomatic officials or diplomatic passport holders won't need to provide any document except their official diplomatic passport.
All children till the age of 18 will need to provide the birth certificate issued by the Indian Registrar of Births and Deaths. After the age of 18, passport re-issuing is necessary to prove eligibility for Non-ECR.
All government servants and their spouses must provide identity certificates and an attested copy of the marriage certificate. And the children of the government servants will need to provide birth certificates, identity certificates, school leaving certificates, and passport copies of their parents, who are government servants.
All the professional degree holders of India, including MBBS, Engineering, MBA, Lecturers, Scientists, Journalists, Advocates, etc., will provide their degrees or certifications.
If you need to know more about the documentation detail for a Non-ECR passport visit the official website of Passport India
Final Words on Non-ECR passports
Here we want to conclude our guide for the Non-ECR passport. And we hope that you got all the information required for the application, eligibility, and documentation of a Non-ECR passport. We keep updating valuable information on our website so stay tuned.
Indian passport holders living abroad, officially known as NRIs, as well as OCI and PIO cardholders, can approach SBNRI.com for any sort of online banking, investment, legal, and a host of other financial services.
For NRI services, including NRI investment in India, NRI account, NRI taxation, etc., you can download SBNRI App from the Google Play Store or App Store. To ask any questions, click on the button below. Also, visit our blog and YouTube channel for more details. 
FAQs
How to tell if your passport is ECR or ECNR?
Your passport will have a clear text stating 'ECR or 'Emigration check required' on it once you apply for it successfully and get it. If you applied for your passport before 2007, you might have a stamp on your passport, but if you got it after 2007, there must be an 'ECR' written in the text form.
However, if there's no clear notation mentioning 'ECR' on your passport, it means that the category it falls under is Non-ECR. And if your passport is ECNR you won't have to go through the emigration check.
Can you convert your ECR into a Non-ECR passport?
Yes, you can convert your ECR passport into a Non-ECR passport by following a simple method. The possibility is that over time you might be eligible for a Non-ECR even after you get your passport. So, if your age, qualification, or marital status changes, you can contact or visit official website of Passport India
What is emigration?
Emigration means relocating outside one's native country to improve lifestyle, the chance of employment, or education.  Most people do it for work purposes.
What is emigration clearance?         
Emigration clearance is given by the POE officers that allow the holders of the ECR passports to reside and work in countries outside India to improve their lifestyle. It is mandatory for people who have an ECR passport to get clearance under the Indian Emigration Act of 1983.

However, if you have a ECNR passport, emigration clearance is not for you, which means you don't have to stand in long lines at the immigration counters.
Is emigration clearance for tourism or business mandatory for ECR passport holders?
If you have an ECR passport and want to go abroad and work, you must go through emigration clearance. However, if you want to go abroad for tourism or recreational purposes in a few countries mentioned on the website of passportindia.gov.in, you won't need to do an emigration clearance. 
However, you must have your ECR passport, visa, and return tickets to your native country to show to the immigration counters at the international airports in India.
How to convert your ECR passport into a Non-ECR passport?
If you think that you fall into the category of Non-ECR passport holders, you need to convert your ECR into Non-ECR. 
– Firstly, you will visit the Indian passport office or their official website, and then you will apply for the re-issuing of your passport. 
– You will also have to check the 'YES' box when you read the eligibility question for a Non-ECR passport.
– Lastly, you will have to provide the necessary documentation to prove that you are eligible for the Non-ECR passport.