Every year a large number of foreigners visit India to experience its exquisite culture and enjoy beaches, wildlife, mountains, metropolitan cities, and islands in India. According to a Statista report, almost 3 million foreign tourists visited India in 2020, which increased in 2021 and will continue to escalate. So, today we will talk about the best ways to get an Indian Visa so that you can experience the richness of the country without getting confused about the traveling formalities.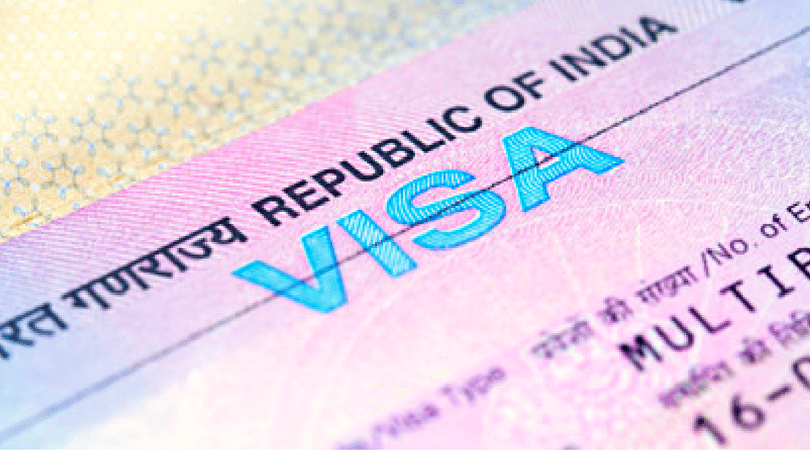 Also Read: Top 10 Places to retire in India for NRI in 2021
Why do I need a visa to visit India?
If you are a foreigner looking to visit a country other than yours, you will require permission from that respective country, i.e., a visa. Similarly, if you desire to travel to India, you will need a visa from the Indian government to tell you how long you can stay in the country.
However, if you hold the nationality of Nepal, Bhutan, and Malaysia, you won't require a visa to visit India.
What are the Best Ways to Get an Indian visa?
One of the best ways to get an Indian visa is to apply online and receive it through your email (E-visa). This is the cheaper method and you will get the Indian visa soon as well. However, if your country falls in the category of ineligibility that you can check here, you will have to apply for the regular visa.
The procedure and detail of both E-visa and regular visa are given below,
What are E-Visas, and what are the requirements to get them?
E-visas or electronic visas are the most accessible visa option if you are not in India. E-visas are cheaper compared to physical visas but have a shorter validity period. You have to go to the official website of Indianvisaonline.gov.in and apply for the Indian E-visa. Another essential thing to notice is that people from the United Kingdom cannot apply for Indian E-visa considering the covid-19 situation.
·       Fee for the Indian E-Visa
The fee for applying for an Indian E-visa depends on the type of E-visa, and you can conveniently pay it through your MasterCard, American Express, or PayPal. The fee for the E-tourist visa you have to pay is $35, for E-business and E-conference visa $79, and for E-medicine and E-attendant visa $59.
You don't have to do the bank proceedings or visit the desk in India and can conveniently get your E-visa sent through email. The banking charges are 2.5% if you are paying through credit/debit card and 3.5% if you're using PayPal.
The Indian High Commission will take one week after you send them your E-visa application, which can get reduced to 3 working days if you have an emergency.
·       Validity terms for E-Visa
The validity period of Indian E-visa was recently updated a few months ago. And now its validity depends on the type of E-visa you have applied for that ranges between 30 days to 5 years. For example, the validity of an E-business visa is 365 days if your stay time is 180 days during each visit.
But if you plan to stay longer in India then you will have to get yourself registered with the FRRO/FRO concerned. Similarly, for an E-conference visa the validity will be up to a month/30 days. You can visit https://indianvisaonline.gov.in/evisa/tvoa.html to get information about the validity periods of other E-visa types.
·       Indian E-Visa Requirements
The India E-visas has specific categories depending on your requirements. If you are a tourist who wants to visit different cities in India, you need to fill up the application form for an 'e-Tourist' visa. But if you have some business to do, go for an 'e-Business' visa, and if there is something related to medicine, you will apply for an 'e-Medical' visa.
Below are the main requirements you need to fulfill to get an Indian E-visa.
The passport that you provide to the Indian government during the submission of your application should have a validity of at least six months. And it shouldn't expire before that.
When the government of India issues you the E-visa, and you arrive at the airport of India, you will have to come with the same passport you submitted at the time of application. And there needs to be at least two blank pages in your passport. The same applies to the underage kids traveling with you to India.
If you are arriving through any commute other than airplanes, you can only access a few cities, excluding New Delhi.
When you arrive, you must have your Indian E-visa in printed form. If you want to apply for the E-visa right now, you can check out this application form and fill it accordingly.
How to apply for a Physical Indian Visa?
Before applying for the physical Indian Visa, you will have to make sure that your country falls on the eligibility list for the application procedure. Physical visas overcome the barriers like limited periods to stay and restricted places to go in India.
The validity of a physical Indian Visa is up to 1 year after the government issues the official document to you. And with the physical Visa, you can stay in India for three consecutive months/90 days.
Types of Physical Indian Visa
1 Tourist Visa
A tourist visa will be best for you if you want to visit India for a short period and go to several places or meet your friends and family in India. You can stay for six months in India with a tourist visit; however, it is the maximum period of stay. And the government will not allow you a re-entry after that for at least 2 months.
2 Medical Visa
The medical facilities in India are far better than in most countries, so a medical visa is becoming a popular option. If you want to get treated at an affordable rate, you can apply for a medical Visa.
3 Student Visa
Students who can't afford education in their respective countries and want to pursue a career in India have to apply for a student visa. The validity of this visa type depends on the course length selected by a student.
4 Employment Visa
People who have applied for a job/internship in India and have got it based on their talent and skill can apply for an employment visa. And after getting a Visa, they can smoothly work in India.
5 Entry Visa
The government of India issues entry visas in special cases to people of Indian origin or their children/spouses as they are not eligible for any other visa type.
If you want to visit India for conferences, you will have to apply for a business visa. Similarly, if you visit the country as a diplomat, you will require a diplomatic visa. Some other options that you can select from and apply for your Physical Indian Visa are,
Transit visa
Urgent Visa
Emergency visa
What are the documents to submit to get the Indian Visa?
The documents you need to provide so that the Indian High commission can issue you a physical Indian visa are,
Correctly filled application form with correct and genuine information.
Valid passport (valid till next 6 months).
Two passport-sized photographs.
The medical reports.
Proof of your nationality/citizenship.
Letter from the parent/guardian for minors.
Previous visa copy (if any).
Ensure the documents you provide are genuine and valid; otherwise, there can be severe repercussions.
Procedure to apply for a Physical Indian Visa
The two best ways to get an Indian Visa are by using the post or courier option if you can't visit India or making two round-trips to get your Visa. You need to keep in mind that it will easily take at least two weeks for you to get your Visa. So if you are thinking of getting it the same day you applied for it or submitted your passport, it won't be possible.
However, after two weeks, your Visa will get stamped, and you can collect it through the office or post/courier. Below is the detailed procedure to apply for the Indian Visa.
You can contact and gather the information from the nearest Indian agency, or you can directly visit the Indian Embassy in your country for the physical visa information.
Firstly, you will check if you are eligible to apply for the Indian Visa after going through all the requirements, including the documents.
Then you will fill in the application form carefully and then submit the documents, including your passport, along with your application to the Indian Mission.
After going through your application and documents, the government will issue you the Indian Visa that matches your eligibility.
The last step is to collect your Indian Visa through the Indian Mission office or post/courier.
Also Read: NRI returning to India: Top 3 Tips 2021
Foreigners, NRIs, PIOs, and OCIs can download SBNRI App from the Google Play Store or App Store to ask any questioned related to India. You can also use the SBNRI app for investment in stock market/ mutual funds, NRI account opening, tax filing, etc. To ask any questions, click on the button below. Also, visit our blog and YouTube channel for more details. 
FAQs
What kind of Indian visa should I apply for?
After going through and reading about all the Indian visa types, you need to select what suits your needs the best. If you want to study in India, you will have to apply for a student visa, but if you want to explore India, the tourist visa will be a great option, and so on.
Does the Indian High Commission accept hand-filled application forms?
No, the Indian High commission doesn't accept hand-filled application forms. You will need to do it online and then submit it for successful Visa proceedings.
Who should I contact if I get stuck with the Indian Visa procedure?
If you get stuck at any point while filling your application or submitting it, you need to contact the Indian authorities via email immediately.
Are documents essential to get a Visa?
The documents are critical if you want to get an Indian Visa because they represent you and the country you come from. If you don't provide the documents, you won't get permission to enter India.
Can I request my passport for traveling to other countries when my Indian Visa application is still pending?
If you want to withdraw your passport because you have to travel to another country or have some other need, you must submit a written application to the Indian High Commission. And they will dispatch your passport if your reason to withdraw is valid.
Can I request to alter the details mentioned in my Visa after getting it?
You can request to alter your visa type or any other detail before you get your Visa, and even for that, you will have to contact the authorities and request the changes. But once you have given your Visa online or in its physical form, you can't apply for any change.
Why didn't I get an Indian Visa?
You didn't get the Visa because there might be some flaw in the documents or application you submitted, or you might not be eligible for the Indian Visa because of your citizenship. Applications also get rejected when the purpose of Visa doesn't match with the information you have provided.
You can contact the Indian High Commission and ask them about the rejection of your application.