High mountain ranges, deserts, wooded valleys, and gorgeous lakes — who can resist? None can. You can get all these breathtaking views in Canada. It is a widely sought-after tourist destination because of its stunning landscapes, including its snow-capped mountains, calm beaches, aurora borealis, midnight sun, and an abundance of wildlife. Altogether, it is a nation where every tourist may find something they enjoy. If you plan to visit Canada from India, you will require a Canada visitor visa for Indian.
Canada is also one of the most developed countries, making it an excellent location for business and employment opportunities.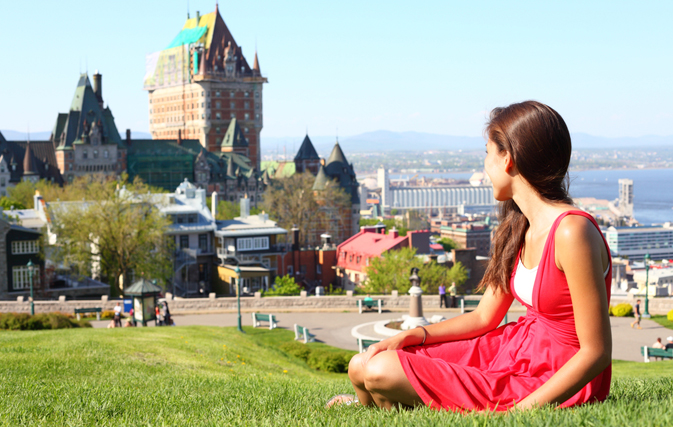 Types of Canada Visitor Visa for Indian
The Canada visitor visa for Indians enables you to stay in Canada for a maximum of six months. There are two kinds of Canadian visas available in Canada: single entry and multiple entries.
With a single-entry visa, Indians or other foreigners are only permitted to visit Canada once. In multiple entry visas, as long as the visa is valid, the holder can come and depart as many times as they choose.
Everyone who wants a visitor visa can apply for a multiple-entry visa, and only a few single-entry visas are given out in rare situations.
Points To Remember for Multiple Visa Holders
If you have multiple visas, then you need to remember these key points given below:
You can only utilize it for recreational or tourist activities.
This visa does not allow you to work or look for a job of any kind.
You can bring your family members, including your children, along for the trip.
The visa is issued within 27 days of applying to most cases.
What are the Methods to Apply for a Canada Visitor Visa?
In order to obtain a visa to enter Canada, you must apply at the Canadian Embassy or Consulate in India and pay Canada visa fees. You may apply for a Canada visitor visa for Indians online and in person at Canada's Visa Application Centre (VAC).
The processes outlined below can assist you in obtaining a Visitor visa for your next trip to Canada:
Apply for Canada Visitor Visa Online
Visit the official website of the IRCC (Immigration, Refugees and Citizenship Canada).
Select 'Immigration and Citizenship' from the 'Menu'
To obtain a visitor visa, fill out an application under the category "Visit."
Press "Apply for a Visitor Visa" and select "How to apply."
Select the purpose of your visit to Canada.
For example, if you want to get a Canada visitor visa to unite with your family member, tick the appropriate option and follow the instructions.
To apply online for a visitor visa, click on 'Sign up and apply button' to create an IRCC Portal account.
Click on the option you would like to apply for a visitor visa for.
To get an IRCC portal account, enter your email address.
Sign up for IRCC Portal by proving personal details, invite code, first & last name, telephone number, etc.
Fill out the Canada visitor visa application form.
Upload your documents.
Pay your fees.
Give your fingerprints and photo (biometrics).
The Canada Embassy/ Consulate will check your application.
If the application is approved, they will ask you to submit your passport.
Send your passport and follow the instructions shared by IRCC.
Collect your documents and get ready to visit Canada.
Apply for Canada Visa at VAC
Please complete the steps mentioned above for an online visa application and then select the "on paper" method of application in the drop-down menu instead of an "online" mode.
Make a list of all the documents you'll need to submit with your visa application and get them ready to go.
If you want to apply for a visa, you'll need to download and fill out a visa application form. Then print it off, and sign it.
Get an appointment at a Visa Application Center (VAC) to apply for a visitor visa and pay your visa expenses.
After receiving an invitation, go to an interview, and you'll get a visa if you pass.
What are the Canada Visitor Visa Requirements?
If you want to obtain a visitor visa to Canada, each applicant must provide a few supporting documents to meet the Canada visitor visa requirements. Following is the list of conditions:
A passport that is not about to expire in the next six months or so.
Documents proving your links to your nation of origin.
Financial documents that show that you have adequate money to live in Canada for the duration of your stay.
If you want to stay with your family, you'll need a letter of invitation from them.
Certificate of medical clearance if you need to have a pre-trip medical checkup.
What are the Eligibility Criteria for a Canada Visitor Visa?
Before submitting a visa application, you must meet several eligibility criteria for a Canada visitor visa, which include:
Applicants must verify that they possess adequate finances to maintain themselves and their families for the whole time of their visit.
Applicants must not intend to seek or perform a job on a Canada tourist visa.
Applicants should have no criminal record and completely comply with the nation's laws.
Applicants who could stay with their family or friends should also bring invitation letters from their sponsor.
You may need to fulfill additional entrance requirements based on your profile.
What is the Canada Visitor Visa Fee for Indians?
There is a visa cost for every application for a Canada visitor visa. Visitor visa applicants must submit visa costs to proceed with the application procedure. Online and offline payment opportunities are available for the visa costs, which may be paid using a credit card or Indian currency.
The Canada visitor visa fee for Indians is CAD 100 for single or multiple entries. If, in any case, you need to extend your visa, you have to pay visa extension fees, i.e. CAD 100.
Indian Rupee (INR) visa costs are approximate and subject to the Consular Exchange rate, which may fluctuate.
Processing Time for A Canada Visitor Visa for Indian
A tourist visa to Canada might take up to 15 days to be processed. According to the location of the application center, individual cases, and the documents submitted, the processing time may vary.
Before traveling abroad, you must have two things: a visa and travel insurance. To enter the country, you'll need a visa and travel insurance. So get to work on your itinerary and make the most of your time in Canada.
Is Insurance for Canadian Visas Important?
Many things could go wrong while in a new country, no matter how well you plan. Canadian Travel Insurance protects you from the risk of paying for medical expenses and other travel-related problems when you are in a new country that you don't know very well.
When you get sick or hurt while on vacation, having travel insurance gives you money to cover your expenses, making the whole thing less stressful.
How To Check Your Visa Status Online?
The processing time for a visitor visa to Canada is around 15 days. You can check Canada visa status online, though. For checking the status of your application for a Canada Visitor visa for Indian citizens; follow the procedures outlined below:
Visit the Canadian government's official website.
From the drop-down option, select 'Immigration and Citizenship.'
Click on 'Check your application status' under 'My Application.'
Drop-down menu: Select "visitor visa."
Sign in to your account and select your preferred method of submitting your visa application. Please link your paper application with your online account if you submitted your visa application by mail.
Check the status of your Indian visitor visa application for Canada.
NRIs living in Canada can visit SBNRI or use the SBNRI app available on Google Play and the Apple App Store to ask any questions related NRI investment, banking and NRI account opening.
You can also check out their blog and YouTube channel for more information.
FAQs
How long does the Canada visitor visa allow you to stay?
It allows you to stay for a maximum period of 6 months.
What are the kinds of Canadian visas available?
The two kinds of Canadian visas available are single entry and multiple entries.

What purposes are the Canada visitor visa meant for?
The Canada visitor visa is meant for recreational and touristic purposes.
Can you work on this visa?
Work is not permitted on a Canadian tourist visa.
How long does it usually take
for a Canadian visitor visa to be issued?
It usually takes up to 27 days for a Canadian visitor visa to be issued.