Cambodia visa on arrival for Indians: Cambodia is a South-East Asian country full of wonders. With more than 95% of the population of Khmer origin having a long-standing history, Cambodia's culture comprises a bold mark of Khmer. One of the most significant reasons why thousands of travelers backpack to Cambodia is to view the stunning temples constructed during the Khmer Era.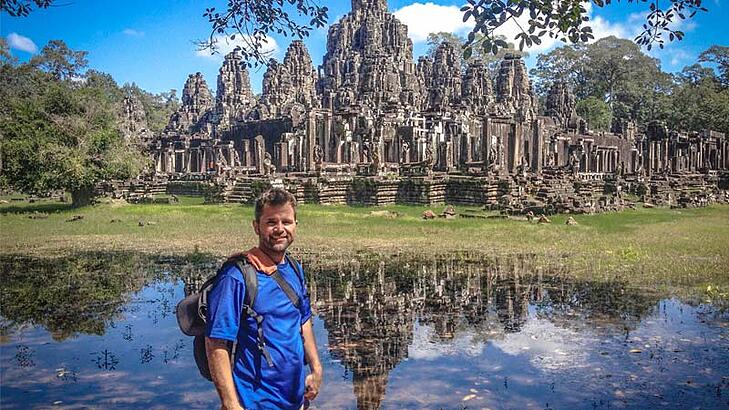 Unarguably, one of the most popular tourist destinations and largest spiritual monuments in the world is the Angkor Temple complex, which stood as the capital city of the prospering Khmer Empire. Besides being a temple, it's also an archeological site, one of the most attractive tourist sites, and a UNESCO World Heritage Site in Cambodia.
It is one of the countries that issues a visa on arrival for Indians. Here is everything you need to know about getting a Cambodia visa on arrival for Indian citizens this year to make all your backpacking dreams come to life.
What is a Cambodia Visa?
The small country of Cambodia is a popular destination for both businessmen and tourists around the world. A Cambodia visa allows people to visit this beautiful nation and enjoy everything it offers.
To visit Cambodia, almost everybody needs to have a permit. Except for a handful of visa-exempt nationals, the remaining countries are required to have the Cambodia visa. Be it for business or tourism purposes, this is a mandatory endorsement.
However, fortunately enough, obtaining a Cambodia visa for Indians is relatively easy. In fact, there is even a Cambodia e-visa available from India.
Cambodia Visa Types for Indians
There are two primary types of visas available for Indian citizens traveling to Cambodia:
· Cambodia Tourist Visa for Indians
The Tourist visa is the only kind of visa that is available online. It covers all types of leisure activities and vacations. Electronic tourist visa holders have to enter Cambodia within three months of the issue date. They are permitted to stay in Cambodia for up to 30 days.
Once in Cambodia, visitors can apply to extend their visa for an additional 30 days by getting in touch with the Department of Immigration in Phnom Penh.
· Cambodia Business Visas for Indians
Indian citizens can get a business e-visa for Cambodia. To apply, they need to either have:
Received an invitation from a registered organization or company in Cambodia
Accepted a job offer in Cambodia
Been sent to Cambodia for business reasons by a registered firm.
A Cambodia business visa has a validity of 3 months with a maximum stay period of 30 days. Business
Cambodia Visa on Arrival for Indians
Got sudden plans for visiting Cambodia? Well, there's no need to worry as Indian citizens can now simply opt for the Cambodia visa on arrival. The paradise of Southeast Asia offers all tourists a well-modified Cambodia visa policy.
Obtaining a Cambodia visa on arrival for Indians for a maximum 30-day stay period is the cheapest, most convenient, and time-saving alternative. This method is hassle-free, well-organized, and can take just 10 minutes to one hour, depending on the amount of tourist traffic.
The Cambodia visa fees for Indians at air crossings or land is Rs. 2,781 (INR). You might also be required to shell out an additional sum of Rs. 4,797 (INR) as a service fee.
· Where To Get It
In case you are receiving multiple offers by travel agents on handling your visa application process in India, you should decline them. This is because most of these services are scams. You can be detained, deported, and fined if you overstay your visa.
A fine of Rs. 695 (INR) will be charged on a daily basis for overstaying your visa's validity term. Here is the complete list of all the international airports in Cambodia from where Indian citizens can obtain a Cambodia visa on arrival at any time of the day.
Siem Reap International Airport
Sihanoukville International Airport
Phnom Penh International Airport
Here is a list of all the land ports in Cambodia where Indian citizens can obtain a Cambodia visa on arrival:
Tropang Kreal Border Post (Stung Treng)
Cham Yeam (Kom Kong)
Poi Pet (Banteay Meanchey)
Bavet (Svay Rieng)
· Documents Required
The essential documents needed for applying for a visa differ according to the type of visa you are using. As you land in Cambodia, you will need to head over to the customs desk and show the following list of documents:
Xerox copies of first and last pages of the passport.
A passport with a validity of at least 6 months. There must also be at least two unused pages in your passport for entry and exit stamps.
3 recent headshot photos of the size 4 x 6 centimeters. If you wear eyeglasses, you are advised to use transparent lenses as the photographs of people wearing colored lenses will most likely be rejected.
Proof of money amounting to your living expenses in Cambodia.
Cambodia Visa for Indians in Advance
If you are an NRI, it's suggested that you apply for your Cambodia visa at the nearest consulate in your country of residence or home country before your arrival if you intend to stay in Cambodia for more than 30 days.
You can apply it either via email or in person. The Cambodia visa fee for Indian citizens in advance is Rs. 2,433 (INR). Visas are usually processed within 5 working days. However, the visa processing time also varies from one consulate to another. Ideally, you will be granted a 60-day stay period.
· Where To Get It
You can get in touch with the Cambodia Embassy in India to obtain a visitor visa in advance. Here are the contact details for the Cambodia Embassy in India:
Address: W-112, Greater Kailash, Part-2, New Delhi – 110048.
Timings for Visa Submission: 9:00 am till 12:30 pm
Timings for Visa Collection: 4:00 pm till 5:00 pm
· Documents Required
You need to abide by some Cambodia visa requirements while applying for a Cambodia visa in advance. Some of the necessary documents will have to be submitted as part of the visa application process. Please note that all of the documentation required in the checklist below are compulsory for all the applicants:
A filled visa application form
A passport with 6 months validity, starting from the time of departure, along with at least two unused pages for entry and exit stamps.
3 recent passport-size photographs. The photo must strictly be 4 x 6 centimeters in size, and ideally, 80% of the area must be covered with the face in the photos.
For a business visit to Cambodia, you will be required to submit a cover letter on your company's letterhead stating the duration and purpose of the stay.
Proof of accommodation in Cambodia as well as your arrival and return flight ticket.
Personal bank statements of the past 3 months, which the bank has duly stamped.
With Cambodia offering visa on arrival services to Indian passport holders, traveling abroad is no longer an overwhelming experience.
How to Apply for Cambodia e-visa?
The Cambodia visa process for Indians is different according to the type. While, in general, Indian citizens can obtain a Cambodia visa on arrival, the tourist permit is also available in the form of an e-visa. Since April 2016, all Indian passport holders can get their visas online to visit the country of Cambodia.
With the new online visa system, Indian travelers can enter Cambodia without needing a visa by going to the Cambodia Embassy or at the airport. On the other hand, you might also choose to go with an offline application. Let's now have a look at requirements for the Cambodia e-visa for Indian citizens:
Visit the e-visa portal of the Government of Cambodia.
Fill in the application form with your essential details. You'll need to provide your travel details, basic details, and passport details.
Upload a scanned image of the first page of your passport and your photograph.
Pay the application fees online.
Submit your application.
How Early Should You Apply for Your Cambodia Visa
There's no compulsory rule on this matter. Still, as the online visa application process can take up to 3 days to process, we recommend you to apply at least 5 days for your Cambodia visa before your planned date of travel. For a Cambodia visa on arrival, you only need to ensure that you have all the essential documents with you before landing in Cambodia.
We hope this article about getting a Cambodia visa on arrival for Indians has been informative and helpful for you. If you have queries regarding the rights of OCIs, NRIs, and PIOs, you can just download the SBNRI App and get all the information you need. The SBNRI App is available on both App Store and Google Play Store. This app is also ideal for investing in mutual funds/stock market, tax filing, NRI account opening, and more. Feel free to contact us for any questions, or visit our YouTube channel and read some of our other blogs to get all the information you need.