CAD to INR
The Canadian Dollar (CAD) is the currency of Canada. Accounting for nearly 2% of all global reserves, CAD is the fifth most held reserve currency in the world preceded by the USD, Euro, Yen, and the pound sterling. Canadian NRIs can easily send money to their loved ones in India using the SBNRI platform. SBNRI has partnered with Nium: Global Payment Services to facilitate instant online funds transfer to India at a minimal cost. You can calculate CAD to INR rate in seconds using the online currency converter, before sending money to India.
1 CAD to INR Today
1 Canadian Dollar = 62.21 Indian Rupee
CAD to INR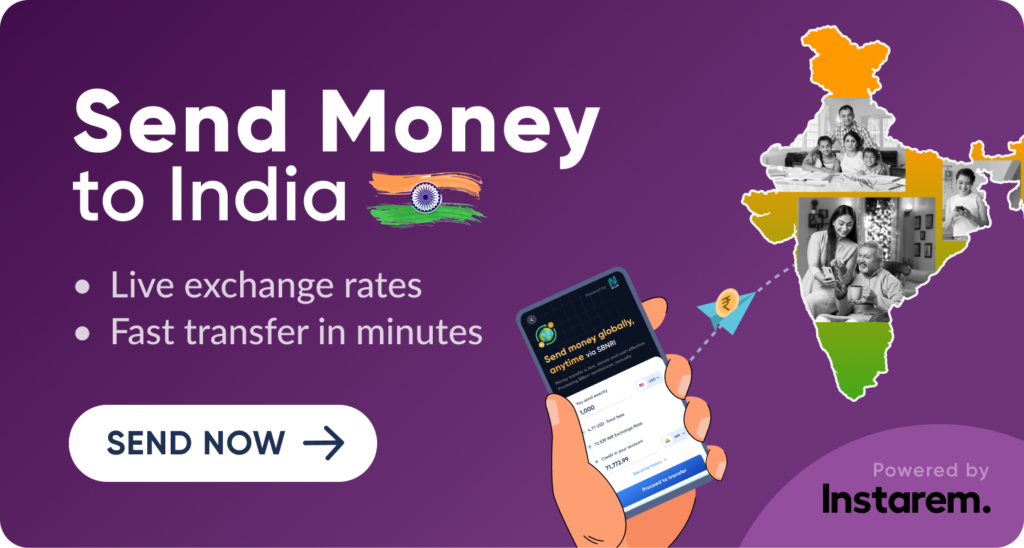 CAD to INR Rate (Canadian Dollar to Indian Rupees) Trend: March 2023
| March 2023 | Currency Exchange Rate: CAD to INR |
| --- | --- |
| 1st March Rate | 60.58 INR |
| 31st March Rate | 60.73 INR |
| Highest Rate | 60.73 INR (31 February) |
| Lowest Rate | 59.14 INR (12 March) |
| Average performance | Rising |
| % Change | +0.25% |
1 CAD to INR March 2023
Also Read: Best Ways to Send Money to India from around the World
Factors affecting exchange rates
Several factors such as inflation rates, terms of trade, government debt, deficits, economic conditions of countries, etc. play an important role in setting exchange rates. Amongst them, the key factors include the economic stability of both countries, inflation rate and terms of trade.
Also Read: AUD to INR: Convert Australian Dollar to Indian Rupees
Right time to convert?
The most suitable time to convert a foreign currency, in this case CAD, to INR is when the Canadian dollar is at its strongest i.e. when you get the most INRs for your CAD. In this way, your beneficiary will get a high amount in Rupees. Likewise, if you have to repatriate money from India to Canada, the best time is when INR is the strongest. Take sufficient time to watch currency movements; start monitoring at least one month before your holiday and buy when the rate is picking up and CAD is strongest.
CAD to INR forecast for August 2021
The opening exchange rate is Rs. 59.70, the minimum rate is Rs. 55.71 and the maximum rate is Rs. 59.70. The average rate for August is 57.92. The CAD to INR forecast at the end of the month is Rs. 56.56, and change for August is -5.26%.
How to get the best CAD to INR rates
NRIs can get preferential rates on CAD to INR currency conversion and several benefits when sending money from Canada to their loved ones in India by contacting SBNRI experts. At SBNRI, we keep a close eye on the exchange rate on a regular basis to help NRIs with their remittances and investment. You can download SBNRI App to connect with our experts. They will help you evaluate the optimal time for remitting money to India from Canada.
You can also click on the button below to ask any questions. Visit our blog and YouTube Channel for more details.