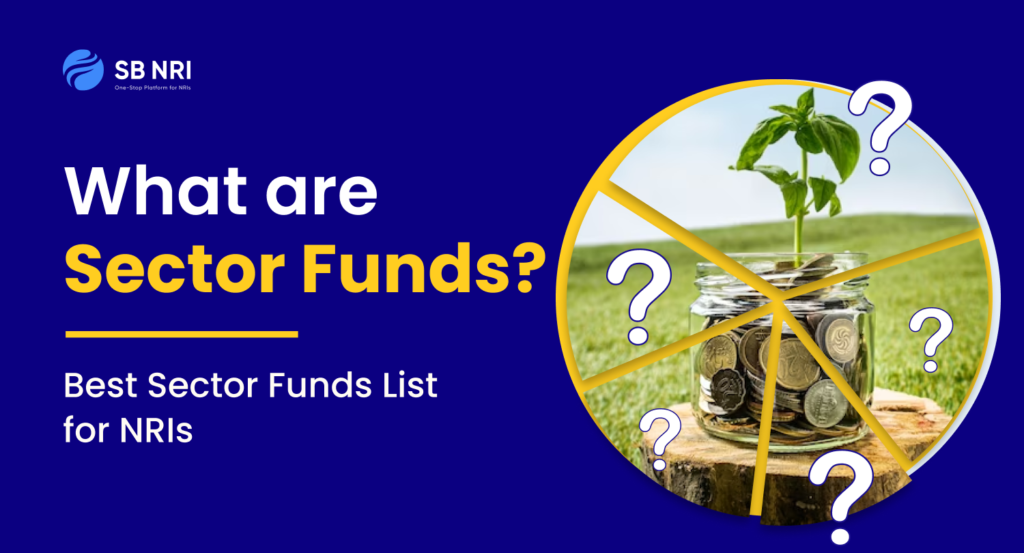 Mutual Fund investors are familiar with broad categories like equity, debt, or hybrid funds. But there is one lesser-known mutual fund that can be potentially rewarding for investors known as sector funds. In broader terms, sector funds are mutual funds that focus on one particular sector or industry in the economy. These funds are designed to provide investors with a tailor-made solution for growth and wealth generation from specific industries.
Looking to invest in sector funds and make gains as an NRI? Look no further. This article will deep dive into everything you need to know about sector funds, their benefits, and the best sector funds to invest for NRIs looking to invest in India.
What Are Sector Funds?
Sector funds or sectoral funds as it is also known is a type of equity mutual fund that invests in the stocks of the companies operating in a specific segment or industry. A thing to note is that sectoral mutual funds can invest in large-cap mid-cap to small-cap companies as long as they belong to the same sector. Sector funds are different from diversified funds as it does not spread the investment across various sectors but rather concentrate all the investments in one single sector.
For example, a Technology Sector mutual fund focuses on investing in technology-based companies like Wipro, Infosys, Tech Mahindra, and more while a Pharma sector mutual fund will focus on companies like Biocon. GlaxoSmithKline, Cipla and more. In a general view, this can be both an advantage and a risk basis the performance of the sector. There are cyclical performances in a few sectors in the Indian market and timing the investment in sector mutual funds accordingly can be a good investment choice. 
Also read: Investing in ESG Mutual Funds? Read this before you make a move
How Do Sector Funds Work?
The goal of sector funds is to pool investor's money into stocks of the companies within one particular sector. The fund manager focuses on building the funds in terms of best-performing stocks in the sector to help maximize the returns for the investors. As aforementioned, fund managers can invest in companies of all sizes, i.e. large-cap, mid-cap, and small-cap basis that belong to the same sector. As per SEBI guidelines, the sector funds need to invest at least 80% of the fund's total assets or value in the equity of the particular segment. 
Also read: Top 5 Tips for NRIs to Pick a Winning Mutual Fund
What are the Types of Sector Funds?
Sectoral mutual funds as the same suggests are divided based on different sectors and industries that they operate in. Below is the list of common sectoral funds based on their industry:
Technology Sector Funds: These funds invest in technology companies, including software, hardware, and IT services.
Healthcare Sector Funds: Healthcare sector funds focus on pharmaceuticals, biotechnology, healthcare services, and medical equipment companies.
Energy Sector Funds: These funds invest in energy-related industries such as oil, gas, and renewable energy.
Financial Sector Funds: Financial sector funds concentrate on banking, insurance, and other financial services companies.
Consumer Discretionary Sector Funds: Consumer discretionary sector funds invest in companies producing non-essential goods and services, such as retail, entertainment, and travel.
Consumer Staples Sector Funds: These funds target companies that provide essential products like food, beverages, and household items.
Real Estate Sector Funds: Real estate sector funds invest in companies involved in real estate development, management, and investment.
Industrial Sector Funds: Industrial sector funds focus on manufacturing, infrastructure, and industrial equipment companies.
Utility Sector Funds: Utility sector funds invest in utilities like electricity, water, and gas companies.
Natural Resources Sector Funds: These funds concentrate on companies involved in mining, forestry, and other natural resource-related activities.
Also read: Best Equity Mutual Funds for NRIs to Invest in 2023
Should you invest in Sector Mutual Funds?
Sectoral mutual funds help in leveraging the gains in a particular sector. This stands true for many sectors which have a cyclical nature and timing it right can help in wealth generation. But, since sector mutual funds are focussed on a single sector, this also makes it a risky option. It is advised that the investor make informed decisions whilst investing in sectoral mutual funds. That being said, this mutual fund also offers great benefits like:
Focused Exposure to High Potential Sectors: Sectoral mutual funds allow you to pool your investments in specific industries or sectors that have strong growth potential. This focused exposure can help in generating higher returns for the period. For example, if you have a bullish take on the technology sector, investing in technology sector funds can be a good investment take if the market performs as desired.
Portfolio Diversification: Sectoral funds provide a unique diversification option as rather than investing in individual stocks in the same company, you can spread your risk by investing in sectoral funds. This can help boost the overall gain when the sector performs well and also helps balance any poor performance of one particular stock in the sector.
Professional Expertise: Sectoral mutual funds are managed by experienced fund managers who specialize in the specific sector and have expert skillsets in analyzing and conducting in-depth research in the segment. This allows them to expertly pick the best-performing stocks and help you in wealth generation, something that would be hard with individual investment strategy.
Alignment with Market Outlook: For example, if you have a bullish take on any sector or industry in the market and are looking to align your investment in that particular industry, then sector mutual funds help you in making an investment aligned to your market outlook and make gains in the market.
Best Sector Mutual Funds List for NRI
There are multiple sectoral mutual funds in the market that an investor can choose from. We here have enlisted some of the best sectoral mutual funds for NRI investors to choose from. Let's check them out:
Best Sector Mutual Funds List for NRI
As of 26-Sep-2023
Also read: Best SIP to Invest in 2023 – Top 10 SIP Mutual Fund Plans for NRIs
Wrapping Up
Sector funds can be a valuable addition to an investment portfolio, offering targeted exposure to specific industries or sectors. However, they come with a higher degree of risk due to their concentration. To make the most of sector funds, investors should conduct thorough research, maintain a long-term perspective, and consider diversification across multiple sectors. By understanding the nuances of sector funds and their performance dynamics, investors can make informed decisions to achieve their financial goals.
Invest in NRI Sectoral Mutual Funds with SBNRI
NRIs can now download the SBNRI App and choose to invest in different NRI Sectoral mutual fund schemes in India with ease. You can also get detailed mutual fund advice from experts at SBNRI. Also, visit our blog and YouTube channel for more details.
SBNRI is an authorized Mutual Fund Distributor platform & registered with the Association of Mutual Funds in India (AMFI). ARN No. 246671. NRIs willing to invest in mutual funds in India can download the SBNRI App to choose from 2,000+ mutual fund schemes or can connect with the SBNRI wealth team to better understand Mutual Fund investments.
FAQs
Can NRIs Invest in Sector Funds?
Can NRIs invest in SIP of sector mutual funds?
Yes, NRIs can invest in either SIP or lumpsum investment in the sector mutual funds depending on their objective and risk tolerance.
Is it safe to invest in sectoral mutual funds?
Sectoral mutual funds are generally riskier than other types of mutual funds because the investments are pooled in one particular sector itself. The performance of the sector in the market will determine the performance of the fund.
How is a sector fund different from a thematic fund?
Sector funds and thematic funds may seem similar to the normal investor but they are vastly different. Sector funds invest in a particular sector or industry while thematic funds invest in a theme that can include 2-3 sectors. For example, Digital Thematic Funds can include banks, IT stocks, and fintech companies while Technology Sectoral Funds focus on technology companies only.