Established in January 1977 as an Offshore Banking Unit, SBI Bahrain branch is now known as the Wholesale Banking Branch (WBB). The retail operations of State Bank of India Bahrain started on January 2, 2007. SBI Bahrain has a total customer base of over 20,000. The bank caters to the banking needs of individual as well as corporate customers through respective banking divisions. The NRI community can also visit SBI Bahrain branches for their banking needs. 
An NRI can apply for an NRE/ NRO account by filling up the form.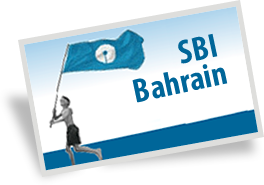 SBI Bahrain Branches
Addresses of SBI Bahrain branches are as under:
SBI Bahrain Retail Branch
| | |
| --- | --- |
| Address | State Bank of IndiaDiplomat City Tower II, Diplomatic Area Office No. 701, Building No. 705, Road No. 1708, Block No. 317 Manama, Kingdom of Bahrain |
| Telephone No. | 1754 8033 / 1753 0463 / 1753 1061 |
| Fax | 1753 1029 / 1753 2435 |
| Email | [email protected] |
State Bank of India Bahrain Offshore Banking Unit
9th Floor, Bahrain Tower,
Government Avenue, P.B. No: 5466,
Manama, Bahrain
State Bank of India Bahrain Full Commercial Branch (FCB)
P.O Box No. 10763, Bank Building,
60, Govt, Avenue, Manama 306.
Kingdom of Bahrain.
RIFFA Sub Office Bahrain
Shop no 2597A & 2597B, Road – 1355,
Block – 913, East Riffa,
PO Box No 10763, Kingdom of Bahrain
SBI Bahrain NRI Services
SBI Bahrain supports the NRI community in Bahrain by providing the NRI Services. Non-Resident Indians can apply for NRI account from Bahrain with State Bank of India and avail many other services as follows:
SBI NRI fixed deposits account
Remittances from Middle East
How to apply for SBI NRI Account from Bahrain
NRIs have two options to apply for SBI NRI accounts from Bahrain. They can either visit the SBI branch located in Bahrain or submit an online application form to the Global NRI Centre in India. Below are the steps for opening an SBI NRI account opening online:
Online
Fill out the SBI NRI account opening application form available online on the official website of State Bank of India.
Now download it and affix passport-size photographs.
Ensure that you provide the required dates, places, and signatures wherever necessary.
Sign the form and get it attested by any of the following entities – the SBI Foreign Office, a Notary Public, or the Indian Embassy.
If you are making an initial remittance by cheque or demand draft (DD), make it payable to "State Bank of India A/c [Applicant's Name]."
Send the duly filled and attested account opening form to the address mentioned on the form along with all the necessary documents.
Your NRI account will be opened once the bank receives the original set of forms and documents.
Offline
You can also apply for an NRI account at a branch in India or Bahrain. Followings are the steps for opening an SBI NRO or NRE account:
If you are in India, go to the nearest SBI branch.
If you are in Bahrain, you can visit the SBI Foreign Office or an associated Exchange House for immediate NRI account opening.
Documents Required
Documents required for SBI NRI account opening include:
ID proof
Overseas address proof such as passport, utility bills, rent receipt, etc.
Permanent address details (overseas and in India)
Passport-size photographs
PAN (copy) or Form 60 in the absence of PAN
NRIs need to self-attest the documents and then visit one of the following entities for further attestation:
Notary
Indian embassy/ High Commission in Bahrain
Overseas branch of an Indian bank in Bahrain
Foreign bank with an Indian presence
Contact SBNRI
Due to lots of information and documentation required to apply for NRI accounts, NRI account opening process is lengthy and cumbersome elsewhere. You can download SBNRI App to apply for an NRI account with minimal documentation in just 10 minutes.
SBNRI is a one-stop destination for NRI Bank Account Opening. You can also click on the button below to apply for NRI account opening and more information.