Sailors constantly move from one place to another and hence find it difficult to carry out essential financial transactions. Due to geographical barriers, it is hard for a seafarer to withdraw money, pay bills, invest money, etc. In this case, a seafarer account is ideal for sailors who spend many months at sea moving from port to port. We have picked up 10 best bank accounts for seafarers or merchant navy professionals to manage their finances with ease and convenience.
What is seafarer account?
A seafarer account or mariner account is an NRI account for seafarers, specially created to cater to all banking needs of sailors/ mariners of Indian nationality /origin. Non-resident seafarers/ merchant navy professionals can open a seafarer bank account to manage their finances with ease and convenience, even when they are away from home.
Income tax rules for Indian seafarers also vary based on their residential status.
Benefits of seafarer account
Following are the key benefits of opening a seafarer account:
Provides complete control to your finances
Preferential conversion rates on forein currency salary credit
Flexibility to open account in several different foreign currencies
ATM/ debit card for mandate holders
24×7 phone and internet banking
Tax exemptions on interest earned on seafarer NRE accounts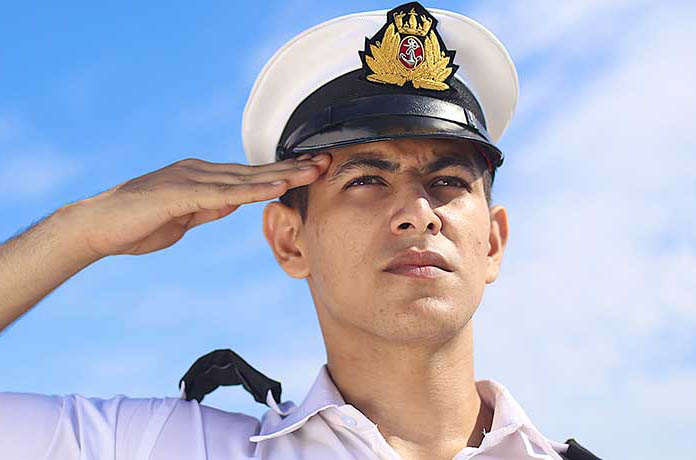 10 best bank accounts for Indian seafarers/ merchant navy 2023
Almost all leading Indian banks offer an NRI bank account for seafarers/ merchant navy professionals of Indian nationality /origin. Listed below are the 10 best bank accounts for Indian seafarers:
Seafarer account
Interest rate (p.a.)
Minimum balance
Axis seafarer account
3% to 3.50%
Rs. 10,000
IDFC First seafarer account
3.50% – 6.00%
No minimum balance
Yes Bank seafarer account
4% to 5.00%

Rs. 5,000 to Rs. 10,000
ICICI seafarer account
– 3.5% for end of day balance Rs. 50 lakh or above
– 3.00% for EOD balance below Rs. 50 lakh
– Rs. 10,000 at account level
– Rs. 25,000 at customer ID level
SBI seafarer account
2.70% p.a.
– Rs. 1 lakh for metro/ urban areas
– Rs. 50,000 for semi-urban/ rural areas
HDFC seafarer account
3.00% to 3.50%
Zero balance NRE account
Yes Bank seafarer account
4% to 5.00%
Rs. 5,000 to Rs. 10,000
Kotak Mahindra mariner account
3.5%
Rs. 10,000 monthly balance
Standard Chartered seafarer account
0.50% – 3.25%
No minimum balance
HSBC seafarer account
2.0% – 2.50%
Rs. 150,000 in a combination Savings, current and FD accounts
Federal NR Seafarer account
3.05%-6.00%
– NRO: Rs. 10000
– NRE: Rs. 5000
10 best bank accounts for seafarers
Key features of NRI accounts for seafarers
Following are some important features of seafarer accounts by top Indian banks for mariners or merchant navy professionals:
HDFC seafarer account
On-the-spot account opening facility.
Zero balance account for sailors. Hence, no need to worry about maintaining minimum balance.
Preferential interest rates on regular salary credits.
Higher withdrawal of Rs. 1 lakh per day and Rs. 5 lakh per day for shopping transactions.
Accidental death cover of up to Rs. 10 lakh and international air coverage of Rs. 1 crore.
NetBanking, 24×7 banking and ATM/ Debit cards for mandates.
There also a Free Mandate Holder facility.
ICICI seafarer account
Flexibility to open a mariner account in any currency, which will be maintained in INR.
Convenient access to your account across 14000 ATMs and 4500 branches all over India.
No tax on interest earned ICICI NRE savings account for seafarers.
24 x 7 phone and internet banking.
Attractive interest rates up to 4% per annum.
Principal and interest are Fully and freely repatriable to outside India.
SBI seafarer account
Open SBI NRE account for depositing overseas earnings in INR in India.
Account can be opened individually or jointly.
Interest earned on an SBI NRE accounts is exempt from Indian Income tax
Additional benefits on NRI Home loan and NRI Car loan
Waiver of various service charges
Note:
Crew members working for an Indian employer and posted overseas or on ship: Account can be opened either before leaving India or after relocating abroad.
Sailors working for an overseas employer and posted overseas or on ship: Account can be opened subject to following:

At least 10 NRE / NRO salary package accounts of employees of the same employer need to be opened in the first instance.
Axis seafarer account
Both NRE and NRO accounts are available
Free personal accident cover of Rs. 3 lakh on NRE debit card
2 free international withdrawal at ATM on NRE card
Free unlimited Axis Bank ATM transactions and 10 other bank ATM on NRE card
Free Unlimited Axis bank ATM transactions and 10 Free transactions at other bank ATM in India on NRO card
Yes Bank mariner savings account
Preferential inward remittance rates designed exclusively for mariners
Free international ATM withdrawals on Yes Bank
Low minimum balance starting from Rs. 5,000
Interest earned on NRE savings account is free from tax in India
Kotak Mahindra Bank mariner account
Interest is offered on the daily closing balance on your savings account at 3.5% p.a. and paid quarterly
Low average monthly balance i.e. Rs. 10,000 only.
24×7 dedicated helpline
Zero opening fee for online investment account
Global debit card can be used anytime, anywhere on all VISA ATMs and at merchant locations in India and overseas
Standard Chartered mariner account
Wire transfer facility to move funds into your NRE/ NRO account at attractive exchange rates
Income earned from this account is repatriable to a bank account outside India
You can give power of attorney to a resident Indian to operate the account related activities on your behalf.
No minimum balance requirement.
IDFC First seafarer account
Attractive seafarer interest rate up to 6% p.a.
Free Visa Signature debit card with no annual charges
No minimum balance is required for IDFC First seafarer account
Complimentary domestic airport lounge access, twice every quarter
Eligibility
International vessels
Merchant navy
Cruise liners
Oil rigs
HSBC seafarer account
Debit card with higher transaction limits
Preferential rates to transfer money internationally
Zero charges for withdrawal of money from ATM abroad
Access and track your NRE account 24×7
Federal Bank NR Seafarer account
With HSBC Visa Signature Imperio Debit card you can withdraw up to Rs. 75,000 per day from ATM, and Rs. 3,00,000 limit for POS/ shopping (for Fed NRE SEAFARER)
Preferential exchange rate for inward remittance
Minimal average monthly balance:

NRE seafarer: Rs. 10000
NRO seafarer: Rs. 5000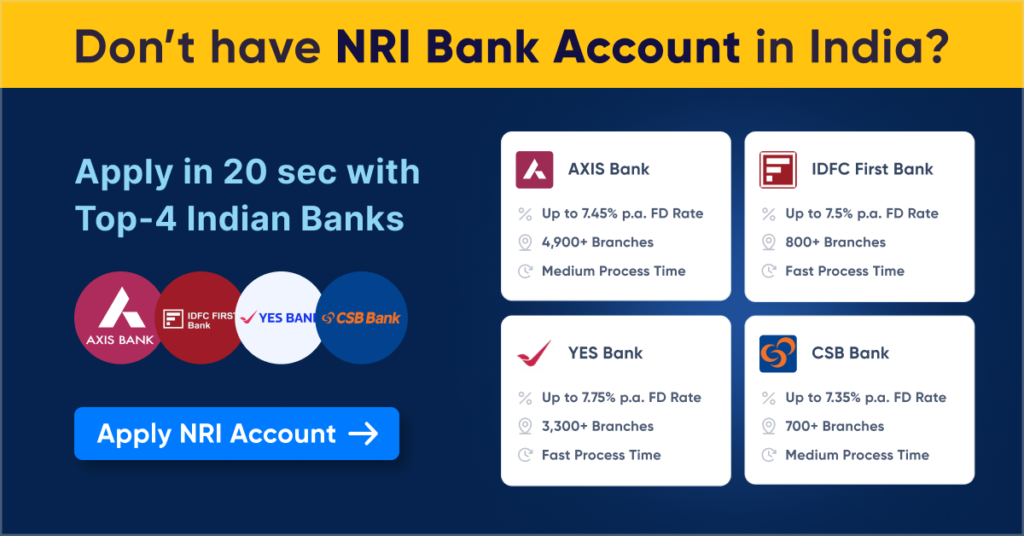 How to Open Seafarer Account
Seafarers can apply for a seafarer or NRI account online by clicking the 'Apply for NRI Account' button in this blog or using SBNRI App.
Click the 'Apply for NRI Account' button on this page.
Fill in the form and submit it.
One of the bank representatives will call you to help complete the application.
Or
Download the SBNRI App and sign in using your credentials.
Click on 'Open NRI Account' button and select the bank where you want to open an NRI account.
Use the in-app scanning feature to scan and upload KYC documents.
Click on 'Apply' and that's it.
Due to lots of information and documentation required to apply for a bank account for seafarers, NRE account opening process is lengthy and cumbersome elsewhere but you can download SBNRI App to apply for a mariner account with nominal documentation in just 10 minutes.
You can also click on the button below to open an NRI account. Also visit out blog and Youtube Channel for more details.
FAQs
Which is the best bank for a seafarer account?
The best account depends on your requirements and banks' terms. For example, in terms of interest rates on a seafarer account, Yes Bank (4% – 5% p.a.) and IDFC First Bank (3.50% – 6% p.a.) can be ideal options. Whereas, HDFC Bank, Standard Chartered and IDFC Bank offer a zero balance mariner account.
Can a seafarer open an NRO account?
Yes, non-resident seafarers can open an NRO account. Many banks including, Federal Bank, Standard Chartered Bank, Axis Bank, etc. offer both NRE and NRO accounts to eligible applicants.
Can seafarer have a savings account?
If a seafarer is an NRI as per Indian income tax laws, then it is illegal to have a normal savings account. They can convert a resident account into an NRO (Non-Resident Ordinary).
Can seafarers invest in mutual funds in India?
Yes, many AMCs (Asset Management Companies) allow NRIs to invest in mutual funds in India. However, only a few mutual fund houses allow US and Canada based NRIs to invest in India.