Indian Cuisine is one of the most interesting and flavor-rich in the world. The utilization of myriad spices and complex techniques from recipes handed down over the generations bring to life colorful and aromatic dishes. Little India in Chicago is full of Indian restaurants, clothing boutiques, and grocery stores. It is lively, colorful, and bustling. Little India is also home to the first Patel Brothers which is the largest Indian grocery chain in the U.S. Chicago also has the second-largest number of Indian Americans in any US urban area after New York City. In this article, we will be describing the 5 best Indian restaurants in Chicago.
Chicago serves as a global center for business, culture, industry, education, technology, communications, and transportation. The Airports Council International's recorded data places O'Hare International Airport in the top six busiest airports in the world. The Millennium Park, Navy Pier, Magnificent Mile, Art Institute of Chicago, Museum Campus, Willis (Sears) Tower, Grant Park, Museum of Science and Industry, and Lincoln Park Zoo are just a few of the city's landmarks.
India House
59 W Grand Ave, Chicago, IL 60654
+1 312-645-9500
Mid Range Pricing
Indian Cuisine
Vegetarian Friendly, Vegan Options, Gluten-Free Options
India House restaurant in Chicago has excellent reviews and serves some of the best Indian dishes for their lunch buffet. The buffet is offered on Fridays, Saturdays, and Sundays from 11-3 p.m. The restaurant's interior design and decor feature ambient lighting and a dramatic color scheme. The atmosphere created is distinctly Indian. The restaurant has a menu of 145 dishes for you to pick from. The most popular dishes at India House include fish curry, freshly baked smooth butter naan, and tandoori chicken. The restaurant also serves classic Indian desserts, carefully selected wines, and specialty Indian beers.
Notable DIshes
Chicken Keema Samosas
Jaipur Aloo
Malai Kofta
Chicken Palak
Rogan Josh
Goa Fish Curry
Salmon Curry
Shrimp Biryani
Mango Kulfi
Pista Kulfi
Vermillion
10 W Hubbard St, Chicago, IL 60654-4638
+1 312-527-4060
Mid Range Pricing
Latino and Indian Cuisine
Vegetarian Friendly, Vegan Options, Gluten-Free Options
At this fashionable and contemporary restaurant in the city's River North, Latino and Indian food come together. The restaurant's decor, which is entirely in black and white, is also decorated with exquisite artwork and fascinating lighting fixtures. The food is spicy and thrilling. The Portuguese lobster boiled in a Goan sauce with garlic, cloves, mustard, cardamom, and hot chilies is the restaurant's signature dish. You can choose from other menu items if you want non-spicy meals. Artichoke pakoras, which are cooked with a silky flour paste and served with a side of coconut milk and eggplant chutney, are among the greatest mouthwatering non-spicy foods. Vermilion offers both a healthy and delicious experience.
Notable Dishes
Crisp Kale Bhel Chaat: Mango, tamarind chutney, yogurt, puffed rice, and sev
Curry Leaf Tamarind Paneer: Indian cottage cheese, shallot kerala batter, slaw
Tellicherry Crab Masala: Complex seasoned crabmeat, kerala's finest pepper, watermelon mint slaw
Lobster or "Gobi" Portuguese: fresh lobster tail, stewed in goan gravy, lemon rice (a USA Today #1 worldwide)
Mango Cardamom Flan: Coconut foam – coconut crumble – fresh mango – cardamom perfect melding of a Spanish dessert prevalent in Latin America
Cumin
1414 N Milwaukee Ave, Chicago, IL 60622-9214
+1 773-342-1414
Mid-Range Pricing
Indian and Nepalese Cuisine
Vegetarian Friendly, Vegan Options, Gluten-Free Options
Cumin restaurant serves authentic Indian and Nepalese cuisine in a sleek and casual space. Helmed by chef Min Thapa, the restaurant's menu includes an array of entrees, salads, appetizers and desserts. Start off your meal with the vegetable samosa to get your appetite rolling. Try a little of everything at the restaurant's lunch buffet, which is available on Tuesdays through Sundays. Other menu highlights include the shrimp masala, simmered in rich creamy tomato sauce, and the chicken jalfrezi, cooked with Indian spices. Finish it off with some of Cumin's delectable homemade ice cream. Located in the heart of Wicker Park, Cumin hosts a full bar menu that features a wide selection of cocktails, spirits and wine. The bar also offers a selection of Indian beers.
Notable Dishes
Chicken Momo Chilli Fry
Shrimp Pakoda
Butter Chicken
Chicken Malai Tikka
Mango Kulfi
Rangoli
2421 W North Ave, Chicago, IL 60647
+1 773-697-7114
Mid Range Pricing
Indian Cuisine
Vegetarian Friendly, Vegan Options
Both Wicker Park and Lincoln Park are home to the expanding Rangoli, extending the delivery area for patrons of the restaurant's extensive menu. The bagara baingan, which has soft young eggplant swimming in a delightful nutty stew brimming with whole red chilis, is a must-have for spice lovers. Before tucking into the hearty yellow lentil stew or tarka dal, which is made with tomatoes and curry leaves, a mouthful of butter naan will be perfection.
Notable Dishes
Pav Bhaji
Keema Samosa
Chicken Pakora
Chicken 65
Malai Kofta
Mushroom Masala
Chicken Korma
Madras Chicken Korma: Tender chicken cooked with coconut milk, curry leaves, and spices.
Chicken Bagara: Chicken cooked with nuts and cashews in a rich creamy sauce.
Mango Chicken
Chicken Haryali: Chicken with green chilies, coconut milk, mint, coriander, and other spices.
Kashmiri Naan
Chia Chai Cafe
2770 N Milwaukee Ave, Chicago, IL 60647-1337
+1 773-360-7541
Mid Range Pricing
Asian (India, Nepal)
Vegetarian Friendly, Vegan Options
If you are a Chai lover, there are few finer places than Chia Chai to enjoy the fragrant, spice-infused beverage; you may flavor yours with dark chocolate, turmeric, blueberries, or lavender, among many other options. The food is rich and warm, with influences from Nepal and India. The pani puri is garnished with a tangy tamarind sauce, while the masala chicken pie is brimming with spice. But a swarm of vegetarian momos filled with red and yellow peppers, mushrooms, kale, and onions makes no order complete without them.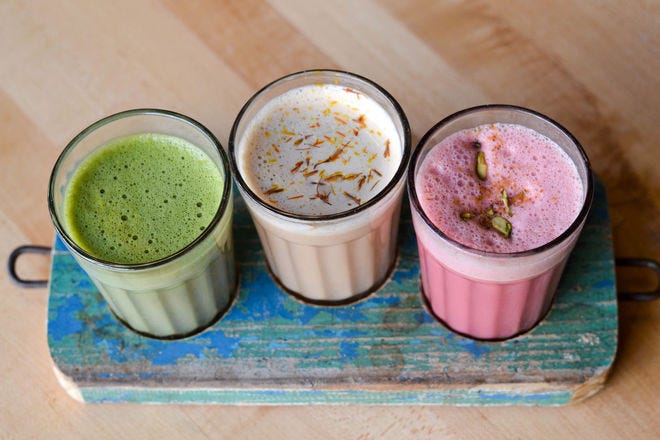 Notable Dishes
Hot Curry Wings: Crispy local farm chicken wings, curry, spices, hot pepper sauce, lime, honey
Deep Dish Lamb: A sumptuous tender lamb curry cooked in a deep dish with onions, ginger, garlic, cumin, cloves, cardamom, cinnamon, and curry leaves.
Kathmandu Chicken Momo: Local farm ground chicken, onion, ginger, garlic, spices
Vegetable Jalfrezi: Fresh veggie mix of red, yellow, green peppers, cauliflower, and green beans spiced with the house blend of carefully roasted spices
Mango Cheesecake
We hove that you have enjoyed this list of the 5 best Indian restaurants in Chicago.
To ask any questions related to the rights of NRIs, PIOs, and OCIs, you can download SBNRI App from the Google Play Store or App Store. You can also use the SBNRI app for investment in stock market/ mutual funds, NRI account opening, tax filing, etc. To ask any questions, click on the button below. Also, visit our blog and YouTube channel for more details.
Ask Indian Friend Now
FAQs
What kind of cuisine does Cumin serve?
Cumin serves Indian and Nepali cuisine.
What type of cuisine does Vermillion serve?
Vermillion serves Latino and Indian cuisine.
Where was the first Patel Brothers started?
In Little India in Chicago.
What is the best place for a chai lover in Chicago?
Chia Chai Cafe.