Ever since a girl turns five, she begins to weave dreams of her wedding dress. Somewhere between raiding her mother's closet and playing dress-up with her dolls, she imagines herself in her bridal outfit. But for Indian brides-to-be especially, those based overseas, choosing the wedding outfit of their dreams can come close to a hunting expedition. Choosing from a dizzying range of haute couture outfits or submitting to the timeless wedding lehenga is somewhat of Sophie's choice.
Regardless of whether the bride goes with conventional reds or ditches the cliché lehenga itself, bridal outfits continue to be showstoppers at every wedding. Instead of being bogged down by the choices before them, NRI brides should take pride in the rich diversity Indian bridal outfits offer. Besides, this is the gilded age of fashion where everything is in trend and nothing can go wrong. Here are five head-turning Indian bridal outfit ideas to take everyone's breath away.
Twirl into the Mandap in a Timeless Lehenga
A lehenga is the most desired and treasured first choice for Indian brides. Despite being seas apart from one's home country, NRI brides can retrace their rich Indian heritage by donning an ethnic lehenga. The glamour and flair of an Indian lehenga continues to be unparalleled worldwide. While a regal red lehenga remains the staple Indian wedding outfit, eccentric brides can explore pastels, ombre and deep shades with intricate details and exquisite embroidery. Besides experimenting with the colour palette, NRI brides can also go for subtle floral prints, chikankari work, unconventional fabrics and bold designs.
Evoke the Old-World Charm with a Regal Anarkali
Anarkali suits are the epitome of splendour and sophistication. NRI brides who want to ditch heavy lehengas yet look ethnic and feminine can explore the evergreen anarkalis. Anarkalis have made a roaring comeback in haute couture and are proving to be a timeless bridal outfit. Brides can choose to dazzle with a floor-length Anarkali or make a statement with short designer suits. Additionally, Anarkali dresses are rife with colours ranging from emerald green to blush pink and fabrics such as brocade, chikankari, chiffon, satin, silk and georgette, among others.
Fuse Indo & Western to Rock a Bridal Suit
For brides who list comfort at the top of their bridal outfit agenda, nothing tops an Indian suit. Whether it's a traditional Patiala suit, sleek churidars or a suave pant style suit, the options are plenty. Embroidered lehengas and full-length Anarkalis can be daunting for NRI brides, which is why suits are ideal for their bridal trousseau. Indian bridal suits come in an astounding variety of types, styles and embroidery. Brides can customise them to give a contemporary look or keep them traditional. Additionally, they can experiment with colours, fabrics and designs.
Drape Seven Yards of Grace & Elegance
Often passed on as heirlooms from grandmothers and mothers to their daughters, the appeal of an Indian saree is unparalleled. With emotions and sentiments enfolded in every pleat, sarees are the embodiment of an Indian bride. Sarees are an essential part of the bridal trousseau and offer a dizzying variety in both fabrics and styles. NRI brides can blend tradition and modernity with a saree embroidered with sequins, pearls and shimmer. Brides can embrace their roots in a kanjivaram silk saree or Banarasi saree or experiment with organza, brocade, chanderi and georgette.
Go Offbeat with Shararas & Ghararas
Indian bridal outfits are enjoying nothing less than a renaissance, with shararas and ghararas resurfacing in the haute couture. Whether NRI brides want to ace a bohemian vibe, dazzle in a blingy look or turn heads with sheer and chikankari designs, the options are endless. This flared-pants-and-short-kurti ensemble offers an extensive range of colours, fabrics, embroidery, prints and designs. Additionally, brides can customise sharara and gharara suits to achieve their dream bridal attire. Apart from being comfortable and unconventional, sharara and gharara suits are ethnic to a tee.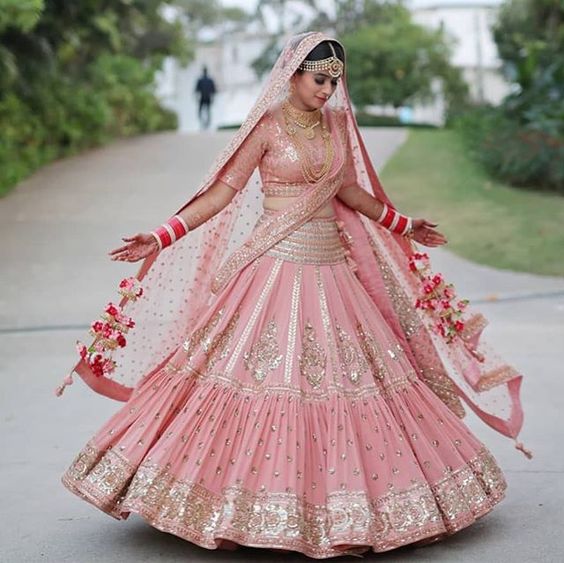 Wrapping Up
As D-Day draws near and stress levels tower over the roof, it's time to reach a verdict. Whether it's the unconventional sharara or the cliché red lehenga, opt for the outfit that reflects your roots, spirit and personality. It is recommended to purchase the wedding outfit six months before the wedding.
To ask any questions related to the rights of NRIs, PIOs, and OCIs, you can download SBNRI App from the Google Play Store or App Store. You can also use the SBNRI app for investment in stock market/ mutual funds, NRI account opening, tax filing, etc. To ask any questions, click on the button below. Also, visit our blog and YouTube channel for more details. 
FAQs
What are some of the types of bridal outfits available?
Lehengas, anarkalis, bridal suits, saris, shararas and ghararas are some of the bridal outfits available.
What is the conventional color for Indian wedding outfits?
Red is the conventional color.
What are some types of bridal sarees?
Kanjeevaram and Benarasi are some classic options.
What is the most comfortable type of bridal dress?
The bridal suit is the most confortable.