Salwar suit patterns change from location to location. In the Northern part of India, Patiala suit designs capture all the attention! There are various Patiala suit designs available on the market. You can go to the actual store or utilize the digital platforms of brands. This article is about the latest neck designs for Patiala suits.
Clothing is often a status symbol and compels them to choose something special to wear. Patiala suits once exclusive, as become a part of every wardrobe in the country. Ladies love wearing Patiala suits in different styles.
This article specializes in the latest neck design for different kinds of Patiala suits. The latest trends keep changing. We offer the latest looks.
Attractive Neck Designs on Patiala suits
Salwar kameez is one of the most comfortable outfits for ladies. Stylish necks designs add glamour and intricacy to these suits.
Here are a few innovative Patiala suit neck designs that are sure to great at your events!
Collar Neck Design
Collared suits are a classic all-time favorite and look especially nice on a Patiala suit. Three-quarter or full sleeves look particularly elegant with a collar on the neck of the kurta. This type of suit is great for everyday wear.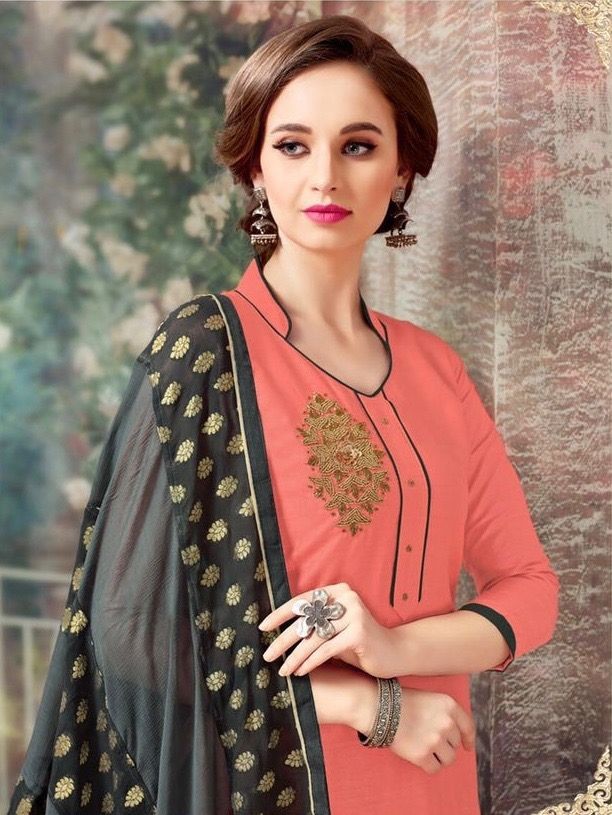 Boat Neck Design
Geometrical patterns are always the need and enhancer of various designs of dresses and are impressive on Patiala kurta neck design too. Spring got the chance to place the boat neck style on Patiala kurta with a dashing print on pure cotton or mixed material. A side chiffon dupatta with the accompanying jewelry and cosmetics can make you look awesome.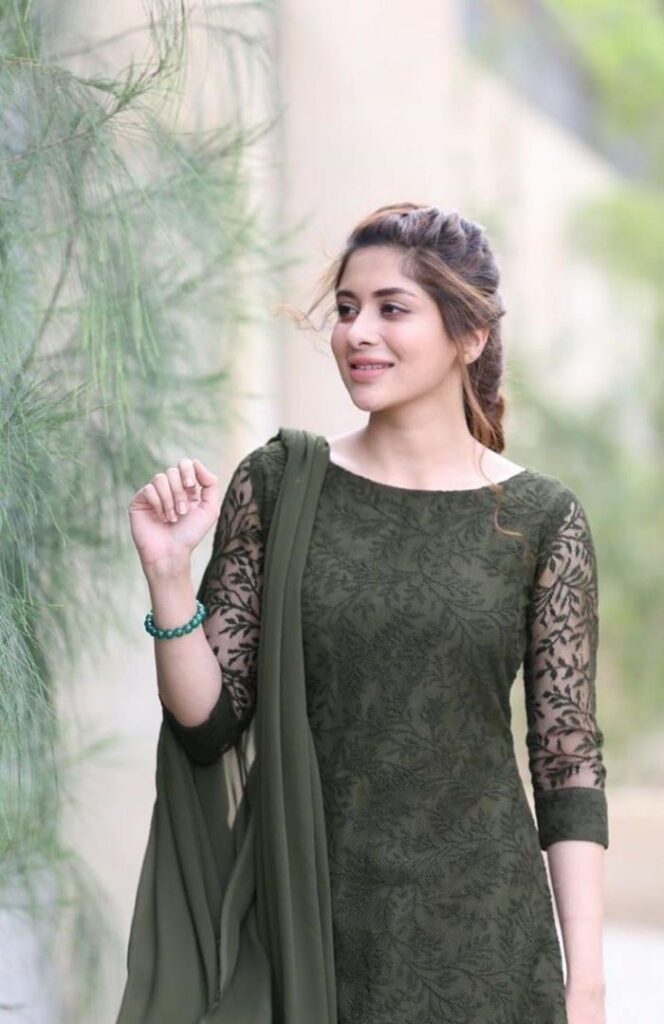 Chinese Collared Neck design
A style diva can have a light-colored embroidery on A-line calf length style with a Chinese collar can be one of the famous trends nowadays. You can select cotton or satin mixed to apply such design on it to have a lavish Patiala kurta with Chines or mandarin collar for the beautiful neck design.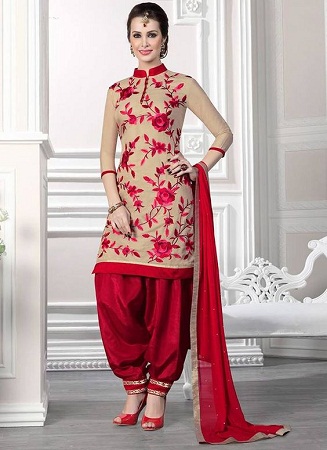 Rounded Neck Design
A rounded neck is a common design and suits maximum neck structures for all kurta necks and will do a miracle for a Patiala suit. You can have the mixed material or cotton material to have the neck design. The design can be best followed with the chiffon dupatta.
Keyhole or Rounded Hole Neck Design
Patiala kurta with a calf length, flowy sleeves design with a keyhole design cut in front with straight trim and side cut. The printed kurta can have a design with an excellent appearance.
Square Neck Design
The square neck again comes with a geometric pattern and can be used for Patiala for daily wear purposes. It looks beautiful with calf length. Again a soft chiffon dupatta will project the perfection of design on the kurta. This Kurta neck design can be ideal for a college-going girl or young woman.
Mirror Work Neck Design
We have seen the embroidered kurta with the mirror piping can look like a heavenly feel to women, Any design can be chosen for the neck based on cotton or any other soft material like silk, georgette, or silk.
Stunning Angrakha Neck Design
These neck designs are specially selected for big occasions like weddings, grand celebrations, etc. The design will go well with the spacious frill of the Patiala kurta to get the full beauty of the neck design.
Asymmetrical Neck Design for Patiala
A fabulous set of asymmetrical designs of the neck can be worth it for your kurta to make you the core attraction grabber. This type of neck design can be applicable with embroidery work and zari work fixed in dupatta.
Printed Scoop Neck Design 
When printed kurta gets the scoop cut design in it, the glory of beauty dignifies with the neck. The material can be your choice but printing material is the base of it.
The Bottom Line
You can experiment with many inventive neck designs. Remember to pick the right design for your neck structure.
To ask any questions related to the rights of NRIs, PIOs, and OCIs, you can download SBNRI App from the Google Play Store or App Store. You can also use the SBNRI app for investment in stock market/ mutual funds, NRI account opening, tax filing, etc. To ask any questions, click on the button below. Also, visit our blog and YouTube channel for more details.
FAQs
Can I find these neck designs online?
Yes, there are many websites that have neck designs. They offer a range of designs.
Which is the best material for a Patiala suit?
You can choose cotton or mixed material for a Patiala suit. You can also use softer options like silk.