As Indian women continue to travel to distant shores for study and work, many feel alienated from their roots. Weddings are a perfect time to revive the lost ties to one's culture and heritage. For NRI brides, jewellery is a great way to achieve this and can be turned into lifelong keepsakes to be passed over generations. Indian artisanship provides a melting pot where legacies and lifestyles can be distilled to handcraft bridal jewellery. Onto wedding jewellery styles!
For NRI brides seeking classic and timeless jewels, Indian wedding jewellery can perfectly reflect their personality, culture and upbringing. Choosing the right combination of earrings, neckpieces and other ornaments for NRI bridal trousseau requires much prowess. As the rich Indian land opens its treasure trove of exquisite Kundan, Polki and Meenakari pieces, what bridal trousseau essentials must every NRI bride possess?
Evoke a regal charm with a Rani Haar
An ode to the royal Indian heritage, Rani Haar is a storied necklace embellished with precious gems like diamonds, emeralds, ruby, kundan, etc. Resting in multiple intricate layers, Rani Haar lends an otherworldly charm to the Indian wedding dress. NRI brides can adorn this quintessential jewellery piece with a kanjeevaram silk saree or Marwari Lehenga.
Adorn your neck with a Choker
Choker is a perfect homage to one's Indian roots. A fitted necklace worn around the neck, Choker is an ethereal marriage of cultural charm with modern creativity. This handcrafted piece is conceived with rich colours and textures such as Kundan, Polki, pearls and emeralds. A piece of timeless wedding jewellery, Choker pairs well with any Indian wedding dress.
Wreathe your neck with a Jadau jewellery set
When it comes to finding opulent wedding jewellery, nothing can surpass the pride of a Jadau jewellery set. In Jadau, precious gemstones like uncut diamonds, rubies, pearls and emeralds are naturally embedded in gold casting and the back is decorated in Meenakari. Jadau jewellery sets are heirlooms to pass down the generations.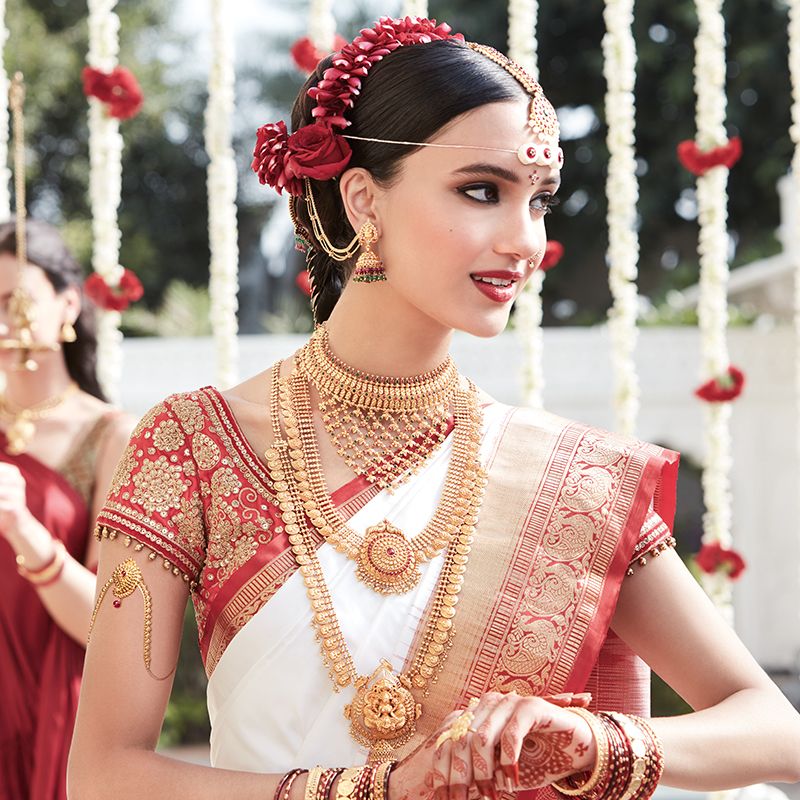 Chime in the jingle of Jhumkas
A classic pair of Jhumkas serve the purpose of the wedding but also beyond it. Indian Jhumkas boast a dizzying variety such as Polki, Kundan, Meenakari, pearls, gold and diamond. Jhumkas lend a touch of splendour to any Indian wedding dress. NRI brides looking to invest in statement earrings can choose Chaandbalis or chandelier earrings.
Carry an air of royalty with a Hathphool
Hathphool is an elaborate ornament distinctive of royal Indian weddings. It is essentially a two-finger ring linked to a gold string of gemstones which are then attached to a bracelet. This regal ornament completes the bridal look when paired with beautiful kaleeras and bangles.
Emblaze the moonbeam of a Maangtika
Maangtikas are an integral part of the wedding jewellery repertoire. This small piece of wedding jewellery rests atop the bride's forehead, adding to her beauty and grace. NRI brides with a broader forehead can don a traditional Mathapatti or circular Maangtikka. Recently, Mughal Passa has resurfaced on the wedding jewellery scene.
Achieving a fully traditional bridal look with a Nath
Nath or nose ring is one of the more peculiar items of Indian wedding jewellery. Naths come in various sizes and add an incredible flair to the bride's aura. NRI brides can find Naths in gold and silver, embellished with pearls, kundan, polki and gemstones.
Hum an exquisite rhapsody with Kaleeras
Kaleeras hold a significant place in Indian culture, especially the Punjabi culture. Kaleeras are embellished ornaments tied to the bride's bangles. The epitome of marital cheerfulness, Kaleeras are usually made out of gold, silver and copper. They have intricate leaf-like ornaments and embellishments that spell a feminine charm.
Crown your fingers with a vintage ring
No bride's fingers lay bare at her wedding and rings are an auspicious part of wedding jewellery. Brides' fingers are crowned with striking rings crafted in gold, platinum and silver. Bridal ring designs range from timeless wedding bands to intrinsic designs embellished with rich emeralds, diamonds, sapphires and rubies.
Sway to the feminine clink of Bangles & Kadas
Bangles and Kadas are a key element of the wedding jewellery repertoire and are worn in conjunction with Kaleerays. Today's contemporary bride has moved past Chudas and glass bangles and is stacking bangles, Kadas and Haathphool on their wrists and forearms.
Conclusion
Wedding jewellery can transcend time as they pass from one generation to another. Consequently, a bride must wisely pick the jewellery pieces she will adorn during the nuptials and leave them behind as a legacy.
To ask any questions related to the rights of NRIs, PIOs, and OCIs, you can download SBNRI App from the Google Play Store or App Store. You can also use the SBNRI app for investment in stock market/ mutual funds, NRI account opening, tax filing, etc. To ask any questions, click on the button below. Also, visit our blog and YouTube channel for more details.
FAQs
What necklace goes well with a Kanjeevaram silk saree?
Wear a Rani Haar if you're aiming for a luxurious look; otherwise, a choker can be a statement-making jewellery piece. 
How should I pair bridal jewellery with my Indian wedding dress?
Besides striking the right colour combination, try to balance the overall volume of your bridal attire. If appropriately matched, each jewellery piece is a statement of its own. 

Can you suggest some necklaces from South Indian jewellery?
Gold necklaces like Rani Haar and Kasu Haram are ideal for South Indian weddings.