Without buying for family and friends, a trip to Singapore would be genuinely incomplete. Thousands of travelers come to Singapore from across the world. Due to its many prosperous marketplaces and malls, it is appropriately referred to as the shopping capital of Asia. Several stores along the streets, alleyways, and high-rise shopping centers display a variety of accessories for Women in Singapore.
In terms of temperature, Singapore may be harsh. It may be boiling, ranging from 33 degrees Celsius during the day to 22 degrees Celsius at night, so bring light cotton clothing and flip-flops. When a lady ventures outside on a beautiful day or in the crowded streets after dark, she must have accessories that perfectly complement her attire, and there are many Indian Banks in Singapore so, no issues if you run out of cash while shopping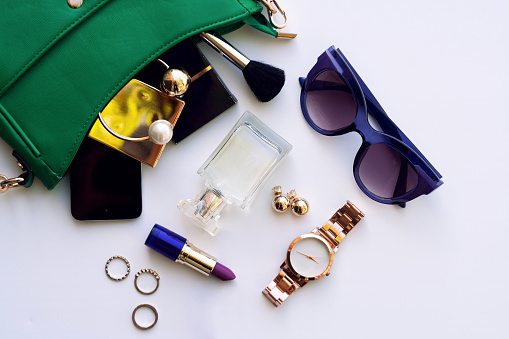 Accessories for Women in Singapore
Singapore has so much to offer in shopping that even a week wouldn't be enough to visit every store. We have put the top five Singaporean products you must get to make things easy. Take a look
Handbags
Singapore must be the final stop on your handbag shopping expedition. You may choose the bag that best suits your preferences from a wide selection of bags offered in Singapore. No matter which and what type of bag you're looking for a shopping bag, an office bag, or a beautiful party bag—you'll find it at Singapore's malls or local markets. You may visit Bugis Street, the Shoppes Complex, and the Clark Quay shopping center to buy bags
Jewelry
Try out trendy jewelry from Singapore's "Bugis Street" if you are not a die-hard admirer of fine jewelry and want something lightweight and movable. Jewelry accessories for Women, including earrings, necklaces, tiaras, and rings, come at various pricing points. To give these lovely items a unique touch, you can also request that the business owners modify lockets and pendants in their chosen style.
Asian Artefacts
If you don't bring home a Buddha statue, a Chinese lamp or vase, or decorate your living room, there is no reason to travel to Asia. There are many Asian artifacts and handcrafted goods available in Singapore. The local Singapore boutiques and stores provide anything from paintings to wall hangings, pots, vases, sculptures, and lamps. Make careful you haggle hard to avoid being charged a fortune. The "Asian Arts and Crafts" store and the "Ion Orchard mall" are two of Singapore's most significant locations to look for genuine Asian goods.
Watches
In Singapore, you may purchase fashionable wristwatches for both sexes at malls or street vendors. There are watches in every color, dial shape, and fashion in the vast range. "Watch Square" should be your first choice if you wish to explore an extensive selection of wristwatches in one location.
Garments
Shop for stylish clothing in Singapore's Instagram-worthy streets for incredibly affordable costs. Most Singaporean retailers may find men's and women's clothing sections. Additionally, some shops provide the first runs of branded clothing for less than half the original cost. A few retailers also offer discounts for large purchases. So, take your time locating and snatching up the most fantastic clothes offers. In the market of Singapore, "Bugis Street" is well known for offering cheap clothing. The stores here also sell additional accessories and home design products in addition to apparel.
Things to do in Singapore
The UV rays in Singapore may be relentless. Carry quality sunscreen for the beach and other outdoor activities.
Pack materials like linen, silk, polyester, and cotton. They are lightweight and appropriate for the climate.
You will walk around the city a lot, so bring comfortable shoes.
Although it may be sweltering outside, air conditioning is likely on inside to beat the heat, so it is better to have a lightweight Pashmina or cardigan with you.
When visiting places of worship, bring a scarf or sarong. Although Singapore isn't very conservative, you should dress modestly when entering places of worship.
Change into a new wardrobe or get some fresh air in the middle of the day to avoid discomfort brought on by the humidity. Maintain a deodorant at all times.
What can you do in Singapore?
Singapore is known for its shopping, so you may quickly find whatever you forgot if you visit. Singapore is a great place for traveling and shopping, and there are many more accessories to have like: You can learn about Singapore's distinctive literature in its native tongue and English. There are exquisitely crafted poems and novels about ancient times, from the use of Singlish to depicting the fascinating experiences of life in the city-state. These books will undoubtedly rank among Singapore's best and most educational souvenirs. A variety of local bookstores, including book malls, carry these books.
You may have seen the flight attendants from Singapore Airlines wearing this uniform. These costumes, which merge culture and exquisite cuts, look amazing on everyone wearing them, regardless of size and color. You may always get something customized for you from a store. Grab one of the numerous ready-made ones you can find at various locations and rock it like a badass.
Singapore will undoubtedly become heaven if you want to adorn your kitchen with lovely kitchenware. You can visit a store that is renowned for its excellent ornamental plates. You may purchase containers with a stylized map of Singapore's famous locations and other historical depictions. Such uniquely cultural mementos from Singapore will undoubtedly illuminate your home with their complex elegance.
We are all aware that Singapore's national emblem is the Merlion. Singapore is home to this incredibly recognizable monster hybrid of a lion and a fish. Additionally, many visitors congregate around this monument for their well-known keepsake photos. Merlion keychains are available in exotic styles, such as a gold pendant bar.
Get one of these photo books to glimpse Singapore inside a few pages if you're looking for some stunningly attractive gifts for women in Singapore. You may learn about literature in this book and some adorable images.
Singapore will never let you down when it comes to souvenirs, with a new selection of beautiful accessories. You may use our comprehensive guide to get the best accessories rather than scouring the entire world for them. You may show your loved ones how much you care by giving them this tiny bit of joy by gifting them some accessories.
To ask any questions related to the rights of NRIs, PIOs, and OCIs, you can download SBNRI App from the Google Play Store or App Store. You can also use the SBNRI app for investment in stock market/ mutual funds, NRI account opening, tax filing, etc. To ask any questions, click on the button below. Also, visit our blog and YouTube channel for more details. 
FAQs
Can casual t-shirts be an excellent option to have in Singapore?
Yes, casual female shirts and t-shirts both are excellent choices for Singapore.

What can be the outfit for beaches in Singapore?
Bikini/one-piece, sarong, cover-ups, and casual wear are the outfits that are considered beach wares.
Are sunglasses necessary for Singapore?
Sun shades are a must here. Singapore's sunshine is brutal, so pick your favorite shades.