Spices are parts of plants used primarily as flavoring agents. They come with antibacterial, anti-viral, and anti-inflammatory properties. Indian spice and its variety have been world-famous for ages.
Each spice has a distinct smell and taste. All cuisines make use of different spices. From tea to curry, all food items require spices.
Spices contain vitamins and minerals which are beneficial for human health. You get different spices from different parts of plants like flowers, barks, leaves, roots, etc.
Spices enhance palatability, and many chefs also use various spices as preservatives and coloring agents.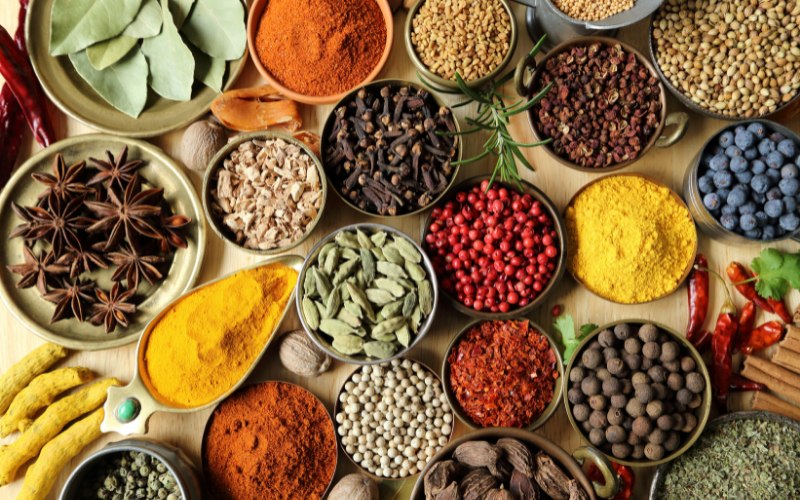 Indian Spices
India is best known for its exotic spices. These spices play a significant role in Indian dishes. They make the dish more flavorful and delicious.
Most Indian spices have medical significance. Perfume manufacturers often use spices to enhance the smell of perfumes. Spices have a holistic role in Indian kitchens. Most spices available in the world come from India. People all over the world regard India as a chief producer of spices.
Indian spices have pharmaceutical and physiological properties which are highly beneficial for humans. They counteract severe health conditions like diabetes, heart diseases, etc.
People can use these spices in various forms – grounded, roasted, fried, or chopped. You may also use spices as a whole or as a topping. Indian cuisines often use spice mixes which blend several spices to enhance the taste of a dish. Curry powder, garam masala, and other spice mixes are popular in Indian cuisines. People have been using these spice mixes for several years.
India trades in spices. Since immemorial times, India has been sharing trade relations with several countries worldwide. India is responsible for exporting exotic spices.
Where You Can Buy Indian Spices in the UK
There is a craze for Indian spices all over the world. The United Kingdom is no exception.
People of the UK love food made using Indian spices. There are several locations all over the UK where Indian spices are widely available. This article has some locations where you may get Indian spices.
1) Ealing Road, Wembley in London, England
Are you looking for a perfect place to avail yourself of all Indian Spices?
This place in London is certainly the most sought-after location where people can buy Indian spices. You can find crates of Indian spices lined up in shops in Ealing Road, Wembley. Buy Indian spices at a wholesale rate from this place. It is home to various cafes and catering businesses that use these spices to make flavorful dishes.
2) Southall in London, England
This place is another locality you can opt for when you need Indian spices and ingredients in the UK. It houses people belonging to Indian and Pakistan origin. All Indian spices come directly from Mumbai to this place. If you visit this locality, you can witness huge vessels containing Indian spices. You can buy vast spices or a small amount from the spice shops in Southall. Here, a wide variety of shops sell Indian spices of premium quality at a reasonable price.
3) Cambridge in Massachusetts, England
Cambridge lies across the river Charles in the United Kingdom. It is best known for blending rich culture with the availability of exquisite Indian spices. It is home to various grocery stores of Indian spices. Most of these stores offer organic products. Get the best Indian spices from these stores, which include Rhena Indian Grocery Store, Shalimar Food and Spices, etc.
4) Edinburgh in Scotland
Do you want to buy Indian spices at a pocket-friendly rate? Visit Edinburgh to avail yourself of top-notch Indian spices at a reasonable cost. It has various stores, namely Matthew's foods, where you can get a wide variety of Indian ingredients. Buy Indian spices in UK in any quantity from Edinburgh in Scotland. The stores in this place ensure the best ingredients at the cheapest rate.
5) Crawley in West Sussex
It is home to stores selling whole Indian spices, herbs, and ingredients. You can choose from a wide variety of spice mixes.
This place has stores selling everything from garam masala to turmeric. You will also witness some famous Indian food joints in this area. All food items and spices found here are authentic. Visit this place if you require any Indian spice in the UK.
6) Harrow in London, England
A popular place in London has well-stocked stores of Indian spices and ingredients. They have an excellent variety of Indian seasonings, spices, and herbs.
 The spice mixes are affordable and of good quality. This place also has several restaurants that serve Indian dishes cooked with Indian spices and ingredients. Enjoy Indian flavors and buy Indian spices in UK from this place.
7) Norwich in England
When you think of buying Indian spices in the UK, Norwich is one of the places where you can get all Indian spices and other ingredients required to prepare Indian food items. It has multiple huge stores selling spices. Explore the various grocery shops of Norwich to check their exotic collection of Indian ingredients. You may also visit various Indian restaurants located in this area.
8) Leeds in West Yorkshire
If you are looking for a one-stop solution for Indian spices in the UK, visit Leeds. It houses multiple Indian spice stores and Asian Supermarkets. Spices are available in abundance in this area.
You may try out lip-smacking Indian dishes from the restaurants located in Leeds. They offer fusion dishes by combining the taste of Indian cuisines. Incredible Indian food and spices make this area a buzzing place.
Final Words
Store the spices in a dry place away from heat and light. Keep them in airtight containers, especially during monsoons. Always buy spices of the best quality. Spices of lousy quality can lead to food poisoning. If you are looking for a convenient store to buy Indian spices in UK, you may consider the places mentioned above.
To ask any questions related to the rights of NRIs, PIOs, and OCIs, you can download SBNRI App from the Google Play Store or App Store. You can also use the SBNRI app for investment in stock market/ mutual funds, NRI account opening, tax filing, etc. To ask any questions, click on the button below. Also, visit our blog for more details. 
FAQs
Are Indian Spices available in the UK?
Yes, there are several stores all over the UK selling whole Indian spices.
Are Indian spices available online in the UK?
You may avail yourself of Indian spices by browsing the sites of several reputed stores in the UK that sell Indian spices.
Why are Indian spices famous in the UK?
People of the UK love the flavors and taste of Indian spices. Therefore, they love trying out a variety of Indian dishes.