Delhi is a magical city. As you get to know the city better doors open up and you can catch a glimpse of the wonder and immense beauty. Once you get used to the crowds and the traffic the historic city begins to unfold. The food and shopping are undeniably amongst the finest in the world. Delhi is a center of varied cultural influences. This article is about the best places for NRIs to visit in Delhi.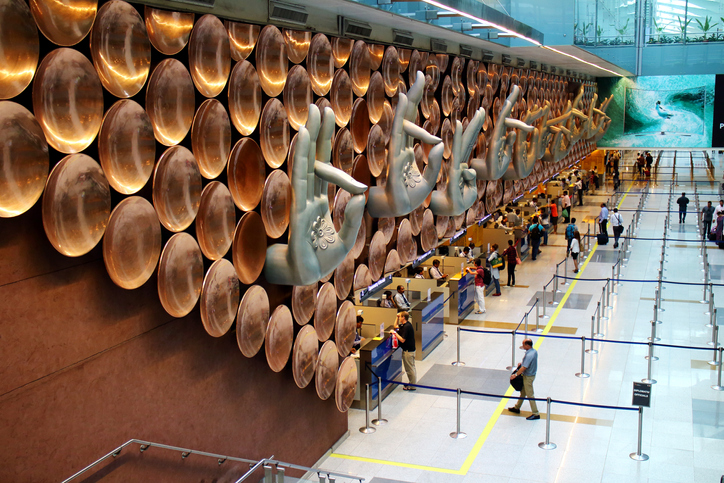 Dilli Haat 
Dilli Haat is run by the Delhi Tourism and Transportation Development Corporation (DTTDC). It has genuinely exquisite and well-priced handicrafts. There are so many treasures one can find here. High-quality carpets, juttis, lamps, chikankari, Kashmiri embroidered clothing and jewelry are all available.
Dilli Haat is particularly famous for high-quality momos. Hardly anyone can resist a steaming plate of momos with scrumptious momo sauce. It also offers various other types of other Indian regional foods. Assam, Bengal, and Kashmir are a few of the areas represented. 
Nearest Metro Station: Dilli Haat on the Yellow Line
Hauz Khas Village 
Hauz Khas Village is a posh complex built into the existing Mughal architecture. It offers wonderful places to eat, a wonderful view of a water reservoir, and a very nostalgic feeling. Naivedyam is a beautiful South Indian vegetarian restaurant that is styled like an elaborate temple. The food is prepared and served with much care and attention to detail. The restaurant also has wonderful beverages such as kokum and fresh pineapple juice. Yeti which calls itself the Himalayan Kitchen is yet another excellent place for spicy and exotic food from Nepal, Tibet, Assam, and Northeast India. Hauz Khas Village is an urban village that has been taken over by posh restaurants and boutiques.
Nearest Metro Station: Hauz Khas on the Yellow Line
Old Delhi Area 
The Old Delhi area is famous for its Mughal architecture. The famous Red Fort and Jama Masjid are here along with countless bazaars. Old Delhi is still a popular area for great deals, especially on clothing and jewelry. Visiting here is often like time-traveling to several centuries ago. The architecture and the vibe are distinctly different from other parts of Delhi. 
Nearest Metro Station: Chandni Chowk on the Yellow Line
Vasant Kunj Malls 
DLF Promenade Mall, Vasant Square Mall, Ambience Mall, and DLF Emporio are all luxurious high-end malls in Vasant Kunj. If you are looking for a glamorous shopping experience in Delhi, this is the perfect opportunity. You will find all of the major fashion houses here amidst a unique high-end Delhi atmosphere. Delhi favorites such as the Big Chill provide excellent and unique meals, coffee, and dessert options.
Easiest Way to Get There: Ola or Uber
Majnu Ka Tilla 
Majnu Ka Tilla also known as New Aruna Nagar is the Tibetan area of Delhi. It has a distinctly peaceful and welcoming vibe. It also has a plethora of excellent cafes and restaurants. The area also has beautiful shops that offer Tibetan artifacts. Prayer items, artistic cups, Tibetan clothing, and Buddhist literature are some of the highlights of this area. 
A notable fact about this area is that it is relatively small but gives way to a completely new world. Usually one would have to travel a considerable amount to encounter such a different environment. 
Nearest Metro Station: Civil Lines on the Yellow Line
Delhi has many different worlds coexisting within it. It is a particularly memorable city and has such a distinct character. If you take the time to discover them you will be pleasantly surprised. The ideal time to visit Delhi is in the wintertime. The city has countless other wonderful areas to visit. Akshardham is a marvelous temple complex. The Lotus temple is another such brilliant work of art.
Delhi is also a melting pot for people from all over India and the world. The influences all over the city are diverse and often unexpected. The city is also dramatically different in different seasons. Summers are scorching hot. The monsoon often sees heavy downpours. Winters are cold and pleasant during the daytime and bearable at night with adequate preparation. 
If you arrive in Delhi with an open mind you will likely come across more opportunities for great experiences. It is always possible to stumble upon something unique amidst your travels. Once you fall in love with Delhi, the memories and the nostalgia can last a lifetime. 
To ask any questions related to the rights of NRIs, PIOs, and OCIs, you can download SBNRI App from the Google Play Store or App Store. You can also use the SBNRI app for investment in stock market/ mutual funds, NRI account opening, tax filing, etc. To ask any questions, click on the button below. Also, visit our blog for more details. 
FAQs
Which is the best place for handicrafts in Delhi?
Delhi Haat is an excellent place for handicrafts in Delhi.
What is a favorite dish at Dilli Haat?
Momos are a very popular dish at Dilli Haat.
What is a good way to get to Old Delhi?
The yellow line is an excellent way to get to old Delhi. You can take it till the Chandni Chowk stop.
What is the name of the Delhi airport?
It is Indira Gandhi International Airport.