Delhi is full of beautiful homes and apartments. There is a tremendous variety in housing and architecture rivaling the best globally. It is also a particularly memorable city. Centuries of history engulf you here. No matter how much time you spend outside India, Delhi always has a special allure. It has a very distinctive culture and is undeniably one of the best spots on earth for variety in cuisine. All of this explains why Delhi-NCR is the top real estate investment region for UAE NRIs. Delhi, Noida, and Gurugram are top-rated locations for these NRIs.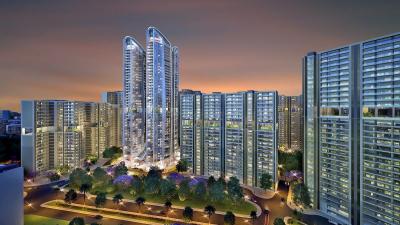 The working class and mid-range income UAE NRIs have been investing in Delhi the most of any Indian city. According to Square Yards, which is one of the fastest growing Proptech platforms in the UAE, Delhi NCR is the most popular area for real estate investments. It accounts for 56% of all properties purchased. The other top destinations were Bengaluru at 22%, Mumbai at 11%, and Pune at 6%.
Investment Range
Square Yards reports that the majority of properties purchased by NRIs in the UAE in 2021-2022 had a value of less than Rs.10 Million (1 Crore). 86% of purchases were less than Rs.10 million. Square Yards COO Kanika Gupta Shori pointed out that this proves that mid-range income homes sell like "hot cakes" compared to high-value properties. She said that this also suggests that NRIs would instead purchase multiple lower-value homes rather than make a single high-value investment.
More than half of NRI purchasers in the UAE are over 45, and most of them opt to purchase a property as part of their post-retirement plan, according to Square Yards research.
Shori stated that "The demographic data shows that our NRI buyers are mostly middle-aged, who buy these properties primarily for investment purposes. A major chunk of our NRI customers is more than 45 years old (53 percent). Others (41 percent) are in the age group of 35-44 years."
According to CNBC residential housing prices are continuing to rise by over 5% in the top 8 Indian cities. This is due to rising demand during the second quarter of FY22.
The top 8 cities where real estate prices have increased the most are listed in a joint analysis by real estate group CREDAI and industry specialists Colliers and Liases Foras.
Mumbai
Housing costs in the Mumbai Metropolitan Region increased by 1% to Rs 19,677 per square foot. According to the report, MMR still has the largest proportion of unsold inventory at 36%, and its unsold inventory increased by 14% in the previous year.
Chennai
During the June quarter, the average carpet cost in Chennai was Rs 7,129 per square foot, a 1 percent increase in real estate costs.
Bengaluru
With an average carpet price of Rs 7,848 per square foot, real estate prices in Bengaluru increased by 4%. However, Bengaluru's inventory overhang experienced the sharpest reduction, falling by 21% YoY.
Pune
Pune reported a 5% increase in housing costs during the preceding quarter, coming in at Rs 7,681 per square foot. Pune saw a 13% increase in unsold inventory.
Kolkata
Kolkata's residential property costs increased by 8% to Rs 6,362 per square foot.
Hyderabad
Housing costs in Hyderabad increased by 8% YoY in the April–June quarter, reaching Rs 9,218 per square foot.
Ahmedabad
During the April to June period, real estate prices in Ahmedabad increased by 9% YoY to Rs 5,927 per square foot.
Delhi
In Q2 of 2022, the average carpet cost was Rs 7,434 per square foot in Delhi-NCR, where residential prices rose by 10% YoY. The Noida Expressway in Delhi and The Golf Course Road in Delhi both experienced price increases of over 20% YoY. The number of unsold inventories increased by 14% in Delhi NCR.
No matter where all Indians live in the world, they always like to maintain strong ties with their motherland. It is an immense help that the Indian economy and real estate prices are appreciating at record levels. This is an incentive for NRIs to purchase real estate perhaps, especially in the cities which they feel most connected with. It is a matter of great pride for Indians everywhere that the economy is amongst the fastest growing in the world. The numbers projected by leading experts everywhere state that India will be least affected by the recession and has decades of solid growth ahead.
To ask any questions related to the rights of NRIs, PIOs, and OCIs, you can download SBNRI App from the Google Play Store or App Store. You can also use the SBNRI app for investment in stock market/ mutual funds, NRI account opening, tax filing, etc. To ask any questions, click on the button below. Also, visit our blog for more details.
FAQs
Which is the top destination for real estate purchases for NRIs from the UAE?
The Delhi-NCR region.

What percent of real estate purchases by UAE NRIs are for the Delhi-NCR region?
56% are for the Delhi-NCR region.

What are the other major Indian cities for UAE NRI real estate purchases?
Bengaluru at 22%, Mumbai at 11%, and Pune at 6%.

How much are real estate prices rising in 8 major Indian cities?
According to CNBC residential housing prices are continuing to rise by over 5% in the top 8 Indian cities.