More than ever before, women are exposed to high-end fashion. They constantly monitor the most recent fashion trends. The crop top lehenga patterns are a modern twist on the vintage lehenga. Women's fashion attire may be a frequently debated subject. But it is never sufficient.
Designers currently make every effort to match the clothes of celebrities. One hundred new blouse styles are available. Then, they apply the most recent appliqué and embroidered designs. Then, experiment with pairing your lehenga with elegant crop tops.
Especially, if you are living abroad and planning to attend any NRI event, try out such exquisite eastern designer wear. For sure, you will grab attention in any gathering. Your polished choice in Ethnic wear will be thoroughly appreciated as well.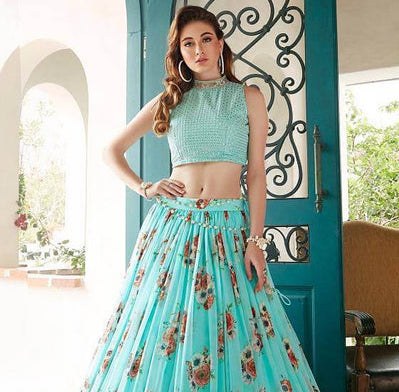 Wearing trendy hip western wear is common while you are living out of your country. But these Desi style lehenga sets can easily add a splash of elegance to your overall grooming. Especially if the NRI event is meant for some wedding or religious occasion, try out such eclectic designer wear to stand out in the crowd with ease. 
But prior to selecting your outfit avail some thorough information on diverse designs of such a lehenga set. 
Provided here are a range of contemporary themes and vivid colors.
• Designs for Crop Top Lehengas with Jacket
Crop tops and jackets look great with lehengas if you're a female who enjoys layering her ethnic clothing. The lehenga set includes a leather jacket and a long, feminine skirt. Then choose some of the best zardozi lehenga designs to match it.
• Designs for Bandhani Crop Top Lehengas
A crop top lehenga with bandhani prints is an updated version of traditional Rajasthani craftsmanship. Wear it next with a straightforward half-bun and silver rings or large hoops.
• Lehenga with a High Neck Crop Top
It is captivating regarding the color combination of purple and wine. A deep wine skirt and a purple high neck long sleeve shirt make a gorgeous combination for an exquisite look.
• Pastel Crop Top Lehenga Designs
Girls love wearing pastel outfits. A stunning lehenga with mirror work is one of the most well-known styles. Put this on if you want to command attention. The most sought-after prints in Indian or NRI clothing are floral ones.
• Crop Top Lehengas Inspired by Celebrities
Desires to resemble Bollywood celebrities? Then, it is advised that you wear a white lehenga with a crop top that has a matching design. & finish off your ensemble with a little Maang Tikka and a chunky necklace.
• Lehenga Skirt With A Peplum Top
Peplum tops are once again in style. Additionally, it gives your ethnic style an old-world appeal when worn with a lehenga. Generally, a peplum blouse is longer than a conventional blouse or crop top. A peplum top paired with a lehenga is the perfect attire to look elegant.
• Design for Net Crop Top Lehenga
The net material gives the entire ensemble a sheer, transparent appearance. Additionally, a lehenga made of net fabric seems even more gorgeous, thanks to the embroidery. This look is excellent for NRI events.
• Crop Top Lehenga in Black
Due to its seductive appeal, everyone loves the color black. Women who want to look thinner can achieve their goals by pairing a lehenga with a black crop top. A black crop top also often complements lehengas of all hues and patterns. Then, accessorize it with chic Kundan jewelry and Smokey eye makeup to inspire friends and make enemies envious of you.
• A shrug over a crop top lehenga
Wear a gorgeous lehenga with a typical tube or off-shoulder crop top. Feel free to embrace a long, flowing shrug; this look will liberate your inner fashionista. Women's ethnic clothing currently features shrugs as a major trend. Women wear them for brunch parties, NRI celebrations, informal evening dresses, and other wedding-related occasions. Then, add chic jhumkas, lovely bangles, and complementary juttis to round off the shrug and crop top lehenga outfit.
• High Waist Lehenga
Wear a high-waisted lehenga if you want to show off the physique you've worked so hard to; get a crop top and a skirt with prints. A lehenga with a high waist ensures that only a tiny area of your belly is exposed. So it is loved by many of the women out there.
• Lehengas with Cold Shoulder Crop Tops
Wear a cold-shoulder crop top in blush pink or lavender, with a simple skirt in a basic color. Put on floral jewelry to go with this. If so, it is perfect for you.
• Conclusion
These crop top lehenga designs will grab your attention for sure if you enjoy wearing traditional clothing and like to keep up with the most recent trends in traditional clothing. Select your favorites and buy them right away. All age groups can wear these as well because of their versatility. And these patterns will complement NRI events, weddings, family functions, etc., quite well.
To ask any questions related to the rights of NRIs, PIOs, and OCIs, you can download SBNRI App from the Google Play Store or App Store. You can also use the SBNRI app for investment in stock market/ mutual funds, NRI account opening, tax filing, etc. To ask any questions, click on the button below. Also, visit our blog and YouTube channel for more details.
FAQs
Can I get ideas about crop top lehenga designs online?
Yes. There are various ethnic fashion-related websites where you can gather ideas about the designs.

Are these suitable to wear in NRI weddings?
Of course. The majority of NRIs prefer to opt for such exquisitely designed lehenga sets on such occasions.

Can I get a ready-made lehenga set of my size online?
 Yes you can. You need to specify your size while ordering.