Most of the festivals get to start in the second half of the calendar. From nearly July to August, many regional celebrations begin in India, along with a few festivals celebrated across the country, like Rakshabandhan. Many continuous festivals start from nearly September to mid or October once Durga Puja or Navratri starts.  After Diwali, the only colossal festival left for the year is Christmas. It is a festival celebrated not only by Christians but by all or most people across the country. As the climate is considerably cold during the occasion, people, especially young children, often try out different clothing, from sweatshirts to jackets, hoodies, trousers, and accessories like multicolored and various types of gloves and socks, etc.  This Christmas, we are here to help all the parents while dressing their children to bring out the best possible look for them. We bring the top 5 ideal kids outfits for a Christmas party. 
Best Kids Outfits For Christmas Party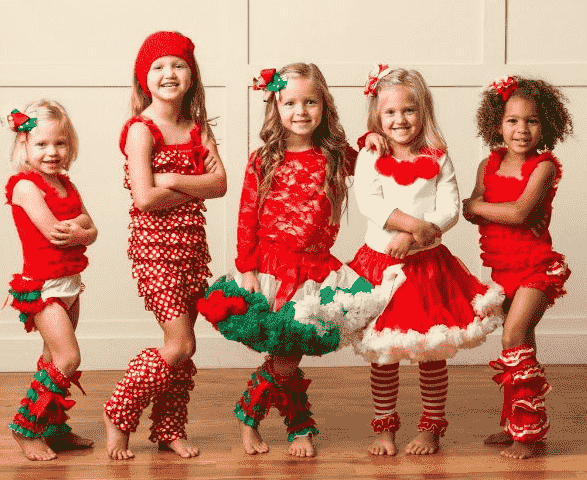 Children often must be present at Christmas parties in their schools or acquaintances' houses. Thus, we bring the five best Kids' Outfits for Christmas Party to grab all the attention.
Cherry Red Suit
The theme of Christmas cherry red and black is one of the best color combinations to put your kid into. Red looks attractive to young children, and red, the primary theme of Christmas, would be a perfect match for the occasion. Thus, putting your kid into a red suit or shirt with black trousers would be a simple yet sophisticated look for any Christmas party. 
Auro Mesa Christmas Knit Sweater Dress
It is a simple sweater with a sweatshirt look. It is not very overwhelming with designs; instead, it is cozy, comfortable, and best suited for cold weather. It has only one color of wool and no designer prints on the dress. Instead, it has a simple, basic look like a sweater. The cloth used is very comfortable and best suited for this weather.
Mubineo Plaid Overall Skirt Set
It is a two-piece dress that combines a regular top and a skirt. The woolen part of the dress, which is the upper part, makes it more appropriate as a winter dress. The check, plaid skirt gives it a simple yet graceful look. 
Single-Breasted Plaid Coat         
We can see how much Plaid design clothes are in demand when winter arrives, especially during Christmas. Thus, how is it possible if the most trending design does not combine with the most famous type of winter clothing? Therefore, here we have a plaid coat of a single color. With the material it is made up of, it can work on any winter day for an outing or any other occasion. With the primary colors as those for Christmas, it would be a perfect option for a Christmas party. 
Madeleine Skirt
As we all know, winter is the season of a few specific aspects like if we see at clothing, then winters are primarily famous for coats and sweaters, and skirts for girls or women. Thus, how would a Christmas party be if your kid did not wear a dress, especially a Madeleine skirt, for the party?
It is a simple, single-colored skirt, yet looks beautiful and elegant. It is a two-layered skirt made out of stretchy fabric, so there are not many issues of creases or the dress getting torn up. The color of the skirt is very bold and solid and leaves a significant impact of being attractive and elegant.
These were a few of the best dresses and dress ideas for kids. These outfits fit ideally if they have to go out on occasion, such as a Christmas party. The only thing that the parent must do is choose the color of the dress accordingly. If they buy the clothing for regular use, any color that suits the look is acceptable. But if it needs to be worn on the day of Christmas, then the color choice must be made according to the dominant and primary colors usually used at Christmas, such as red, green, etc.
You can also click on the button below for more information. Visit our blog and YouTube Channel for more details.
Are all these types of dresses available at online stores?
You can find these dresses and clothes in online stores or shopping apps as well as in malls because these types of clothes are generally made by top clothing brands, which have been pretty recognized in their job for the past many years.
Is adding accessories like gloves necessary to the Christmas party outfit?
It is unnecessary to add accessories, like gloves, socks, etc., to the outfit until and unless required. Christmas is celebrated when it is comparatively quite cold, and any types of clothes, such as socks, gloves, caps, etc., come in handy at some point. As a result, they are included in many outfits. But it is unnecessary to wear those if you do not feel the need.
Can I make my own Christmas outfit?
With your design skills, you can make your own Christmas outfit at your home. You do not necessarily need to rely on big brands and buy their expensive clothes if you can make good ones at your home at a lesser cost which matches the quality and design of the dresses made by the top brands.