Buying clothes for kids is not a 'kids' task, especially if you are looking something for pool parties with your little ones. But, choosing that adorable baby bikini and best kids swimming costume is a cakewalk if you have the right tips by your side. Because, buying high-quality, perfectly fitted, and comfortable swimwear for your kids is as important as getting right toys for kids and it will set them for endless fun in the sun. Keeping all of your expectations in mind, we have listed down various types of swimwear costumes for kids. That can be soft on their tender skin, and have cute bright designs and unique patterns.  
Kids Swimming Costume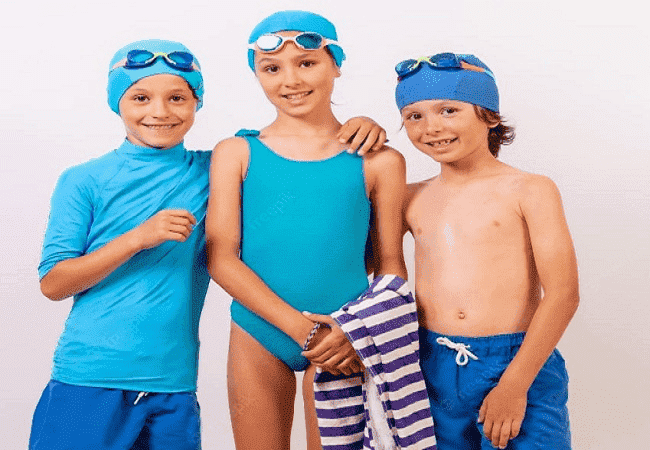 Bodysuits resemble onesies that you buy for your newborns, except that little opening at the bottom. They are close-fitted and go all the way up to the neck, and are super soft, inclusive, and well-made swimsuits. They often come in fresh summer hues and the cutest prints. With this you can style your kid with a pair of trendy glasses which can influence other kids in order to create that perfect summer vibe. You can find a number of options available for girls and boys both in these types of kids swimming costume.
Baby Bikini
They are specific for a girl child. It is a two-piece dress, which is considered to be the perfect choice for a lot of parents out there for their daughters to have fun on a sunny day at a beach outing. They come in pretty colors, prints, and patterns. These two-piece swimsuits look just spectacular on kids and make their daughters quite photogenic in appearance. You can also find a variety of bikinis for your baby girl, like padded, unpadded, long, short, etc, based on the comfort of your little princess.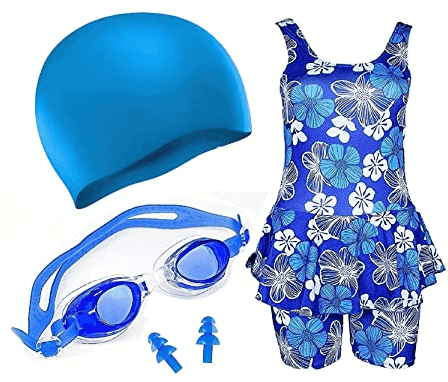 Swim Shorts
The most comfortable costume option out there for your little rockstar boy. They are quite like trunks or briefs that are made up of spandex or polyester material, which makes them waterproof and water-resistant. But, if you like to dress up your son and wouldn't want to give up on style, then you can combine these trunks with a swimming t-shirt, along with a cool pair of glasses. Also, if you think that they are like just any other trunk that comes in solid color, then you are a bit wrong because you can find plenty of colorful and bouncy pattern options as well.
Bandeau Top
One of the most famous and iconic swimwear for baby girls, it has acquired a lot of popularity in recent years. It's a single-piece top, made up of waterproof material, that covers the chest area of your child. It is a great kids swimwear option, if you are looking for something that can be used on a long-lasting basis, as it has an elastic quality, which helps the costume to get adjusted around the chest area easily. Also, its strapless design has a trendy off-shoulder appeal to it, with its unique designs and comfortable fit.
Rash Guards
As the name suggests, Rash Guard is a type of costume that gives a complete body protection to your kid with its full sleeves' suits. It's really good to prevent any rash on sandy beach outings and saves your kids from unnecessary tanning during the pool parties. They offer end-to-end coverage from wrist to the knee length area. You can couple the rash Guards with the spandex leggings to cover the entire body if that goes well with the comfortability of your child.
Now, you can take two different approaches when it comes to buying a swimsuit for your child. Firstly, you can visit a physical store and determine the proper fit and size for your child and try different types of swimsuits on them. Once, you are clear with the type of fit, size, and comfort of your kid. Then now, you can try buying such costumes online. Because, the availability of options for kids swimming costumes are huge on online websites and shopping portals. Also, as you have visited the physical showrooms earlier, you will now be able to draw comparisons better.
But, just make sure that, you never compromise on the quality, fabric, and comfort of these types of clothing, just to get a slightly more fashionable design. 
These swimsuits are made up of which fabric?
They are largely made up of Spandex, Polyester, synthetic fiber, or nylon largely. That is why they are good to go with water activities.
What kind of maintenance is required for these costumes?
A good quality costume ensures that it doesn't get corroded in the salty water on the beaches and the chlorine-enriched water of the swimming pools. So, in order to avoid this, try buying something that can be worn multiple times during the season. So, you can buy a costume that is slightly bigger in size, which your kid can wear even as they grow old.
What is the best way to buy these clothes?
You don't always need to buy a single piece of clothing, it's better to buy two-piece clothing for a swimming costume.