The U.A.E has a large Indian expatriate community which mostly lives in Abu Dhabi and Dubai. Abu Dhabi is the capital of the U.A.E. and Dubai is the most populous city within it. Dubai is known for its glitz, glamour and luxury. The Indian expats work in several areas here including healthcare, banking and education. Islam is the official religion and Arabic is the national language here. The U.A.E is rich in oil and natural gas reserves. With so many Indian expats in the U.A.E, it is only natural that they would want their spouses to join them. Today at SBNRI, we will be explaining how to get a residence visa for your spouse in the U.A.E.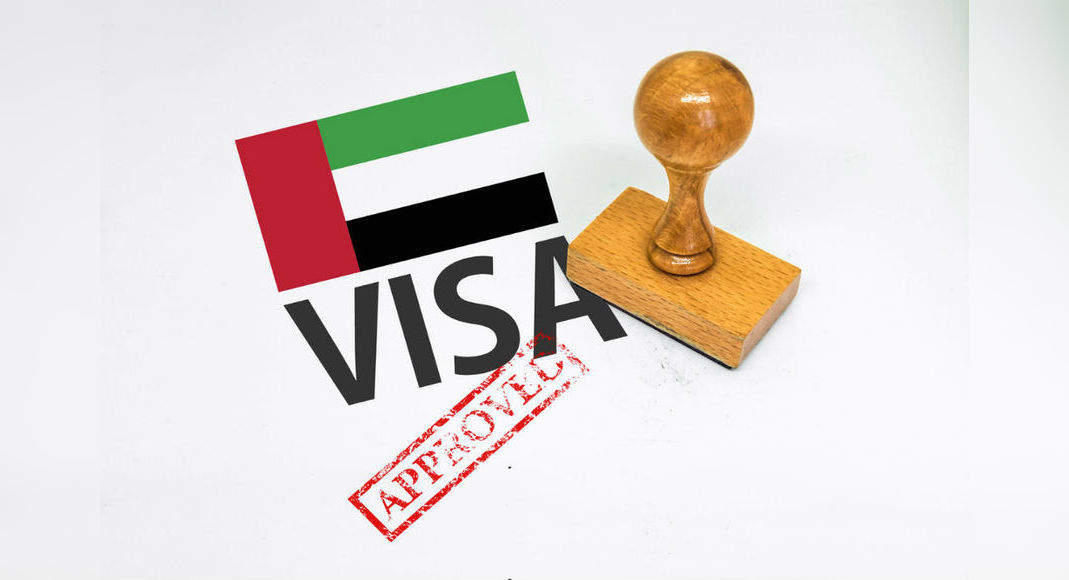 In this article we will be covering the following U.A.E residence visa requirements for your spouse:
The rules for a husband sponsoring his wife
The rules for a wife sponsoring her husband in Abu Dhabi and Dubai
The list of documents required for a spouse residence visa in the U.A.E
Process for applying for residence visa for spouse in the U.A.E
Medical fitness requirement
Validity and renewal of Residence visa
The Rules for Husband Sponsoring Wife
Expatriates who are residents themselves and have a monthly salary of AED 4,000 or AED 3,000 plus their accommodation expenses are eligible to apply for a residence visa for their wife.
2. The Rules for Wife Sponsoring Husband
In Abu Dhabi
A wife sponsoring a residence visa for her husband in Abu Dhabi must be employed as a teacher, doctor, engineer, nurse or be in any position in the medical sector. Her monthly salary should not be less than AED 10,000 or AED 8,000 in addition to accommodation expenses.
In Dubai
In Dubai a woman can get approval to sponsor her husband even if she does not work in the above-mentioned categories, provided her salary is higher than AED 10,000. She must also get special permission from the DNRD. The DNRD is the Department of Naturalisation and Residency Dubai.
3. List of Documents Required for Spouses Residence Visa
Online application or typed by a registered typing office in UAE.
Passports (both original and copies) of husband, wife and children.
Passport size photograph of spouse and children.
Salary certificate (for government employees) or attested work contract (for other employees).
Medical clearance certificate for the spouse and children above 18.
Legalized marriage certificate attested by the UAE authorities (either married in UAE or in India).
Attested tenancy contract.
Copy of spouse's employment certificate or company contract.
Latest utility bill (electricity, water, etc.).
4. Process for Applying for Residence Visa for Spouse in the U.A.E
An expatriate resident has 30 days to apply for a residence visa after their spouse enters the U.A.E (through any permit). The following process will need to be completed.
Have your spouse take and pass the medical fitness test and receive a medical certificate from a government approved health center in the UAE.
Go to an authorized typing center, and have all the above documents typed out. Receive typed out application and pay the requisite fees.
The typed residence visa application, entry permit, medical certificate and all other necessary documents need to be submitted to the GDRFA . The GDRFA is the General Directorate of Residency and Foreigners Affairs.
Submit the typed residence visa application for your spouse along with the entry permit, medical certificate and all the documents required for the residence visa at the GDRFA to get it approved.
Please ensure that your spouse and children take and pass the medical fitness test in order to obtain a medical certificate from a government approved health center in the UAE.
5. Medical Fitness Requirement
In order to grant or renew a residence visa, the U.A.E requires both men and women above the age of 18 to pass certain medical and fitness tests in government approved health centers.
Whether it be the first time applying or a renewal of a visa all applicants will be tested for two communicable diseases, HIV and pulmonary tuberculosis. HIV will be tested for by blood and pulmonary tuberculosis through an x-ray of the chest. Those that are found to have either of the diseases will not be granted a residence visa. The U.A.E authorities will immediately deport those that have been found to have the diseases.
Residents who are found to have dormant or inactive pulmonary tuberculosis are granted a one-year "Health fitness certificate for Residence ". This is subject to treatment and follow – up by the Department of Preventive Medicine or the equivalent of a government health authority. If you are suffering from any communicable disease or suspect that you might be, you are advised to get tested in your home country first.
Validity and Renewal of Residence Visa
The validity of the residence visa is about 2 years. The process for reapplying for a residence visa is similar to applying for a fresh residence visa. The sponsoring expatriate's visa status is linked with the spouse's visa. If the sponsoring expatriate's visa is cancelled so is the spouse's. 
A period of 30 days is given for the sponsor to renew the spouse's visa. If the sponsor fails to do so, the spouse will become illegal and a fine will be levied.
To ask any questions related to the rights of NRIs, PIOs, and OCIs, you can download SBNRI App from the Google Play Store or App Store. You can also use the SBNRI app for investment in stock market/ mutual funds, NRI account opening, tax filing, etc. To ask any questions, click on the button below. Also, visit our blog and YouTube channel for more details. 
Can children be sponsored for a residence visa in the U.A.E ?
Yes, the process is similar to the spouse residence visa.
Can parents be sponsored for a residence visa
in the U.A.E ?
Yes. Parents can be sponsored for a residence visa in the U.A.E.

Can anyone sponsor their spouse ?
No, the person needs to make above a certain amount in order to sponsor their spouse. This amount is different for men and women.