Because of the immigrant-friendly policies, comfortable lifestyle, and the high living standard, thousands of foreigners including Indians seek to become permanent residents and get their PR card each year. The Canadian Government has been issuing more PR cards every year. Here we will explain how to get permanent residency in Canada, including eligibility for permanent residence, Canada PR application, fee, immigration level plan, etc.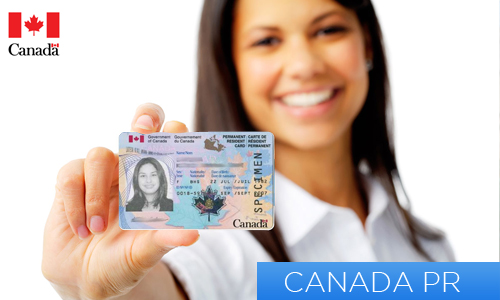 What is a Canadian permanent resident visa?
A Canada permanent resident visa is an immigration visa to Canada that allows its holders to stay in Canada permanently. A permanent Canada visa is just like the Green Card is for the United States. It is a multiple entry visa valid for 5 years and allows you to move to any province of Canada, and live, study and work there.   
Who is a Canadian permanent resident?
A permanent resident is someone who has been granted permanent resident status through immigration to Canada. A permanent resident can work and settle in Canada. Permanent residents are not Canadian citizens but citizens of other countries.
After spending 3 years on the PR card, you can apply for Canadian citizenship.
New Canada Immigration Level Plan 2022 – 2024
Recently the IRCC released the latest immigration level plan 2022 – 24, which aims to invite 1.33 million permanent residents to Canada. As per the plan, Canada has set a target to invite the highest number of immigrants i.e. 431,645 in 2022. Below are the targets for the upcoming 3 years:
| Year | Immigration Level Plan (No. of Permanent Residents) |
| --- | --- |
| 2022 | 431,645 |
| 2023 | 447,055 |
| 2024 | 451,000 |
| Total Permanent Residents | 1.33 million PRs |
  Latest Canada Immigration Level Plan
Categories of Canada permanent residents
Basically there are 5 main categories of Canadian permanent residents as under:
Canada express entry
In 2015, the government of Canada introduced an economic immigration program called express entry to manage applications for permanent residence for foreign workers who can fill positions where eligible Canadian workers are not not available.
Eligibility criteria for Canada express entry programme:
Age under 40 years
Minimum graduation in any stream
2-3 years of work experience
English language skills
Financial stability
Business immigration
Immigrants and newcomers who have experience in owning, managing, or investing in businesses can invest and find employment in Canada through Canada's Business immigration program.
Family class immigration
Citizens of Canada and permanent residents can sponsor their family members to immigrate to Canada through several family sponsorship programs as under:
Family class sponsorship
Spousal sponsorship
Children sponsorship
Sibling sponsorship
Parent sponsorship
Grandparent sponsorship
Canadian experience class
CEC or Canadian Experience Class is an immigration program designed to help temporary foreign workers and students apply for residency based on their work experience and education.
Provincial Nominee Program
Skilled, educated and experienced workers can contribute to the economy of a specific Canadian province or territory through the Provincial Nominee Program or PNP. Each province and territory has its own streams and programs to target students, skilled workers, business people and semi-skilled workers.
Canada PR application process
Here is the step by step procedure to apply for permanent residency in Canada:
Complete your education credentials assessment (ECA)
Get the required IELTS score.
Create a profile for express entry and file your application online.
Apply for provincial nomination program.
Collect your Invitation to apply (ITA).
Your medical and criminal background checks will be conducted by the CIC.
Collect your confirmation of PR status.
Submit your passport for visa stamping.
How to get Permanent Residency in Canada
Based on age, education, work experience, adaptability, language proficiency and a job offer in Canada, you need to score 67 points.
Your work experience should be mentioned in the occupation list of Canada, known as 'National Occupational Classification'. Once your qualification is confirmed, you can apply for a visa card.
How to get permanent residency in Canada from India
Steps to a get permanent resident visa of Canada from India are as under:
Check your eligibility, you need to score 67 points to qualify.
Apply for education credential assessment from WES.
Clear IELTS and get the referral letters from the employer(s).
File the application in the express entry, tick mark on all the provinces.
The IRCC will conduct draws twice in a month. Get Invitation to apply (ITA).
You will get 60 days to collect all the required documents and apply for the final stage.
At the end, the CIC will ask you to go through the medical exam.
Once the application and documents are verified, you will have to submit the passport in the Canadian Embassy or consulate of India.
Canada permanent resident visa eligibility
While the eligibility requirements for Canada permanent resident visa vary based on the visa category or program, the minimum requirements to immigrate to Canada are:
You need to score 67 points out of 100 points.
Your work occupation should feature in Canada's demand list.
You need to score 6 bands in the IELTS exam for express entry and provincial nominee program, 5 for Quebec, and 4.5 for Saskatchewan Immigrant Nominee Program.
Your financial position should be stable to support your application and stay in Canada.
You need to share papers of your education, language proficiency, employment, etc.
Canadian Permanent Resident Card Points Required
A Canada PR visa applicant need to score at least 67 points out of 100 points as per the point-based system mentioned below:
Age: 12 points
Education: Max 25 points
Work Experience: Max 15 points
Language Skills: Max 28 points
Adaptability: Max 10 points
Arranged Employment: Max 10 points
Documents required for Canada PR visa application
Depending on the attributes you are claiming points for, you need to submit documents and some other documents.
Education certificates or transcripts
Job experience certificates
Qualifying WES report
IELTS score card
Skill assessment test
Valid passport
Medical certificate and police clearance certificate
Proof of identity
Education credentials assessment (ECA)
Canada permanent resident visa fees
Typically, the Canada PR visa fee is paid in the later stages of the process. Canada permanent resident visa fee is CAD $1325 per application.
You will have to pay an Education Credential Assessment (ECA) fee in the initial stage of the process of Canadian Permanent Residency. ECA fee is 285 Canadian dollars per applicant.
Canada PR visa fees from India
The Canada Permanent Residence visa fee in Indian rupee is Rs. 73,980 per application and Rs. 15,500 for education assessment credential.
Processing time
There is no fixed timeline to process a permanent residence visa for Canada. The selection and approval of the PR considerably will depend on your CRS score. However, the processing times after receiving ITA ranges from 4 to 6 months.
NRIs, OCIs, or Canada PR visa holders of Indian origin may have several India-related queries. To get tailor-made answers/ solutions, you can download SBNRI App from the Google Play Store or App Store. You can also use the SBNRI app for investment in stock market/ mutual funds, NRI account opening, tax filing, etc. To ask any questions, click on the button below. Also, visit our blog and YouTube channel for more details.