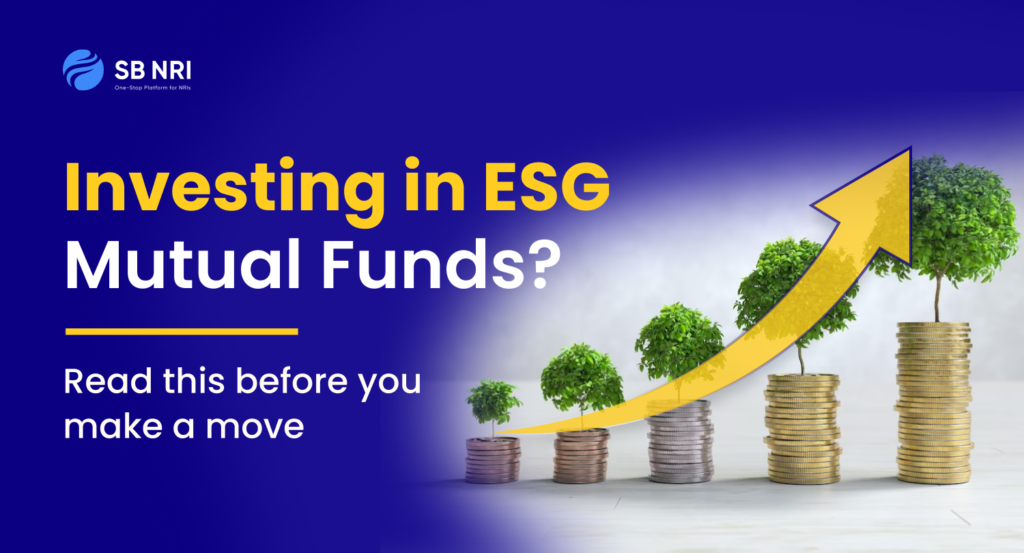 In recent years, the concept of ESG mutual funds has become mainstream. It's not as if ESG mutual funds are just entries in the mutual fund types, but the idea of investing in companies that follow the model of sustainable investing is growing in the minds of people. So what are ESG mutual funds for NRI and is investing in NRI ESG mutual funds the same as any other fund type? Let's discuss. 
What is ESG?
The entire idea of ESG metrics moves beyond just the financial metrics that we look at during investing. The full form of ESG is Environmental, Social, and Governance which showcase the idea of investing in companies that have a holistic approach and practice in their business activities. Let's break down the concept of ESG further:
Environmental (E): The term environmental focuses on the concept of a greener environment by reducing carbon emissions, energy efficiency, commitment to renewable energy, and more.
Social (S): The social factor focuses on areas like labor practices, diversity, community interaction, gender equality, and human rights.
Governance (G): This term looks at regulatory conduct, complaints, internal controls, transparency, and ethical practices at the workplace and business operations.
What are ESG Mutual Funds?
ESG mutual funds is a type of thematic mutual fund based on sustainable and socially responsible mutual fund that meets the specific ESG criteria that we aforementioned. The ESG mutual funds focus on investing in companies that perform well in their business abiding by the ESG principles. This helps promote the social and environmental impacts whilst generating financial returns for the investors. 
Also read: What are Sector Funds? Best Sector Funds List for NRIs
How do ESG Mutual Funds work?
ESG funds are often rated with ESG Score. This is to determine the rating or assessment of their compliance with ESG metrics. These ESG scores are provided by research houses and fund houses based on evaluation, norms, and other guidelines. The scores can change with the change in norms and periodic revaluation, but it gives the investor a fair idea of the ratings of the fund. It should also be noted that the end goal of the fund is to generate wealth for the investors while investing in responsible businesses and ESG complaints. So any user looking to invest in ESG funds should note both of the criteria while making decisions. 
Also read: Best SIP to Invest in 2023 – Top 10 SIP Mutual Fund Plans for NRIs
Advantages of Investing in ESG Mutual Funds
Potential for Growth: ESG has gained prominence as investors are looking to invest in ethical businesses that align with their values. Though it is still just becoming popular in India, the scope for growth in ESG funds is great with the potential to deliver great returns in the future.
Diversification: ESG mutual funds add a great diversification strategy to have in your portfolio. As portfolio diversification is a must for risk aversion, more people are spreading their investments in various funds, of which ESG funds can be a great option. 
Professionally Managed: Many investors want to invest in ethical businesses that follow ESG metrics but have a hard time finding those by themselves. ESG mutual funds can help you get into investing in this field as dedicated professionals manage and handle the funds for you and help you in wealth generation. 
Risk Mitigation: ESG-compliant companies are known to follow robust ESG practices and are well within the compliance rules. This makes them less likely to go out of the business in the long run thus keeping your investment intact and growing with time. 
Also read: Top 5 Tips for NRIs to Pick a Winning Mutual Fund
Who should invest in ESG Mutual Funds?
If you're someone who wishes to grow wealth by investing in businesses and companies that have a positive performance and follow the environmental, social, and governance guidance, then ESG funds can be a good choice for you due to their ESG mutual funds performance. The funds can help you in growing wealth while also supporting the values of ESG.
ESG mutual funds can be a good option for NRIs looking to invest in Indian markets via mutual funds. They can get their NRI Mutual Fund KYC done and link their NRO/NRE account to invest in ESG mutual funds and other schemes. As an NRI, this can help you invest in ESG-compliant companies in India and generate wealth alongside.
ESG mutual funds should be a long-term investment option and a part of your diversification strategy. As is the case with any investment, it has its own set of considerations and limitations, but conducting proper research and making informed market decisions will allow you to pick the right ESG funds for growth.
Top ESG Mutual Fund Schemes List to Invest in
These are some of the top ESG Mutual funds for NRI to invest in:
Top NRI ESG Mutual Funds to Invest
*Data as of 24-Sep-2023
Invest in NRI ESG Mutual Funds with SBNRI
NRIs can now download the SBNRI App and choose to invest in different NRI ESG mutual fund schemes in India with ease. You can also get detailed mutual fund advice from experts at SBNRI. Also, visit our blog and YouTube channel for more details.
SBNRI is an authorized Mutual Fund Distributor platform & registered with the Association of Mutual Funds in India (AMFI). ARN No. 246671. NRIs willing to invest in mutual funds in India can download the SBNRI App to choose from 2,000+ mutual fund schemes or can connect with the SBNRI wealth team to better understand Mutual Fund investments.
FAQs
What are ESG Mutual funds?
ESG Mutual funds are thematic mutual funds that invest in socially responsible companies and ESG complaints.
Is it safe to invest in ESG funds?
ESG mutual funds invest in companies that are ESG-compliant making them less likely to go out of business in the long run. This means that risks are reduced for investors.
What is the full form of ESG?
ESG full form stands for Environmental, Social, and Governance which is a framework used to monitor the companies and assess their business practices and whether they are ESG compliant or not.
Can NRI invest in ESG Mutual funds?
Yes, NRIs can invest in ESG Mutual Funds in India once their mutual fund KYC is complete and linked to their NRE/NRO bank account.
What is the best ESG funds to invest in 2023?
ICICI Prudential ESG Fund is the best ESG fund for NRI to invest in 2023. The returns of the fund are 20.81% for 1 year and 16.08% since inception.
What are the benefits of ESG funds for NRI?
ESG funds invest in companies with robust ESG practices. These practices help the companies be equipped to handle environmental, social, and governance risks giving them a stable long-term future.