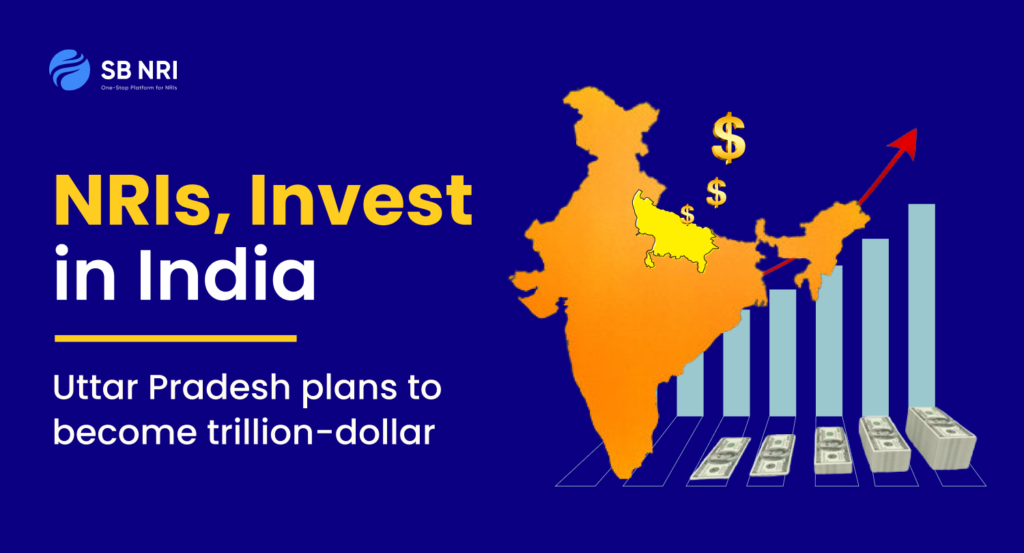 India has seen a significant increase in NRI investments in recent years primarily driven by growth potential, favorable market conditions, and streamlined compliances in India. The growth prospects in India are compelling and the positioning of the Indian economy on a global scale is on the cusp of rising to prominence. Connecting the dots, you're likely to see the reasoning behind such an increase in the number of NRI investors making India their preferred investment decision.
But hold on, we often talk about this, don't we? How India is faring as a great investment destination for NRIs and more. Let's break it down further this time and deconstruct the investment scene from the ground up. How about Uttar Pradesh (UP) setting in motion plans to become a Trillion-Dollar Economy? Sounds fascinating? Let's hear it out then.
Uttar Pradesh and the Dream of Trillion Dollar Economy
Uttar Pradesh, nestled in the heartland of India and the largest state of India, is rapidly emerging as an attractive investment destination for NRIs. The reason is its ambitious plans to become the next trillion-dollar economy. As part of the budgetary announcement for FY 23-24, the Finance Minister of UP, Suresh Khanna presented the plan for UP to become a self-reliant and trillion-dollar economy by 2027.
This gave way to plenty of discussions and encouragement among the NRI fraternity on potential investing opportunities and areas to take note of in Uttar Pradesh's upcoming growth journey. So how does the growth journey shape ahead and can this ambitious plan translate into reality?
How Uttar Pradesh is shaping the trillion-dollar economy? Must know for NRI Investors
Let's take a look at various infrastructural bases and levers that will potentially boost the overall economy of Uttar Pradesh:
Infrastructural Growth
Uttar Pradesh has significantly emphasized its infrastructure growth by way of expressways, airports, and industrial corridors. With over 1300 km of expressway already in usage and development, road connectivity and infrastructure have become a major ease. Add to the plans for having 5 international airports and multiple new industrial sectors, the areas like connectivity, and logistics are looking great.
Industrial Hubs
Uttar Pradesh has several industrial hubs like Noida, Greater Noida, Lucknow-Kanpur, and more. These industrial corridors and hubs have brought large-scale investments in sectors like IT, manufacturing, and services. The rise in commercial real estate and other streams of investment options in these areas is certainly there to see.
Ease of Doing Business
The days of governmental hurdles, bureaucratic hurdles, and policies hampering businesses are a thing of the past in UP. The state has jumped from 12th to 2nd in the ease of doing business rankings in 2020 which shows the business-friendly environment and investor-friendly policies being in action.
Agriculture
Agriculture contributes around 22% to the state GSDP of Uttar Pradesh. The modernizing and increased economic opportunities have also improved agri policies and brought forth technology-driven agriculture initiatives. The areas like managed farmlands and more are likely to grow presenting a good alternate investment choice to NRIs.
Tourism Initiatives
Uttar Pradesh is home to a rich cultural heritage which when marketed well can generate a great tourism boost. The state already has a ground-level tourism and hospitality industry which upon further investment can become a mainstream area generating vital levers like employment and push in the economy.
Talent Pool
The strategic location and connectivity to all major cities of India is already a major boon to the state of Uttar Pradesh. Couple that with the vast pool of talent of all levels, effective workforce solutions can be easily found. This is great for the growth of the economy where various levers require the manpower to push forth the activities to reach the end goal.
NRI Investing in the rise of Uttar Pradesh
Uttar Pradesh government in its announcement for the grand plan of trillion dollar economy shed a few important points. They mentioned the fact that the government will lay down an encouraging investment scene for NRIs and overseas people to be part of the economic growth. This bodes well for NRIs who are looking to invest in India's growth and build wealth for themselves whilst doing their part in the economic growth.
NRIs can play potentially an important lever in harnessing the growth journey by ways of investing in different areas and sectors. This can range from traditional investment choices to alternative investment classes as per the pick of the NRI investors in India.
Also read: NRI Investment in India: 10 Investment Options for NRIs in India 2023
Looking to Invest in India's Growth: SBNRI is here for you
Are you an NRI/OCI or PIO residing abroad and looking to invest in India? The investment scene in recent times NRIs have eased quite a lot and there are various investment options for NRIs to choose from. Investing in India's growth can help in wealth-building and provide you with a good opportunity to grab.
Want to know more about the investment opportunities in India? Download the SBNRI app and choose from different investment options. You can also get detailed NRI investment advice from experts at SBNRI. Also, visit our blog and YouTube channel for more details.
SBNRI is a NRI first trusted platform to start your investments in India. You can invest in various instruments with your existing NRE/NRO account or open a new NRI account with SBNRI's partner banks.