Yes Bank NRO (Non-Resident Ordinary) Fixed Deposits are term deposit accounts designed specifically for non-resident Indians (NRIs) and Overseas Citizens of India (OCI) to invest their income earned in India such as rent, dividends, pension, etc., and earn attractive interest. NRIs can maintain their savings in Indian Rupees (INR) in NRO FDs and earn interest on their funds. Yes Bank NRO fixed deposit rates currently range from 3.25% to 7.75% p.a.
Yes Bank NRO Fixed Deposit Rates 2023
Yes Bank NRE FD rates and NRO FD rates are the same, depending on the tenure. Following table shows Yes Bank NRO fixed deposit rates effective from 3rd July 2023 on an amount less than Rs. 2 crore are as under: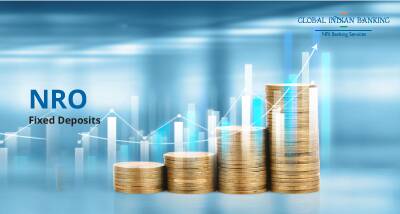 | Tenure | FD Rates (p.a.) | Annualized Yield |
| --- | --- | --- |
| 7 to 14 days | 3.25% | 3.25% |
| 15 to 45 days | 3.70% | 3.70% |
| 46 to 90 days | 4.10% | 4.10% |
| 91 to 120 days | 4.75% | 4.75% |
| 121 days to 180 days | 5.00% | 5.00% |
| 181 to 271 days | 6.10% | 6.24% |
| 272 days to less than 1 year | 6.35% | 6.50% |
| 1 year to < 18 months | 7.50% | 7.71% |
| 18 months < 36 months | 7.75% | 7.98% |
| 36 months to <= 60 months | 7.25% | 7.45% |
| 60 months to <= 120 months | 7.00% | 7.19% |
Yes Bank NRO FD Rates
Note:
Contact Yes Bank NRI customer care for interest rate on NRO fixed deposit equal to or above Rs. 2 cr.
Interest rates are subject to change periodically without prior notice.
Annualized yields published are compounded quarterly.
NRO fixed deposit for value less than Rs. 2 crore can be booked on netbanking portal of Yes Bank.
Premature withdrawal Penalty
Premature withdrawal penalty shall be applicable on FD deposits booked / renewed with value less than Rs. 5 cr as per the below table.
| Tenure | From 5th July 2019 | 16th May 2022 | 8th Aug 2022 |
| --- | --- | --- | --- |
| Less than equal to 181 days | Nil | 0.25% | 0.50% |
| Equal to or above 182 days | 0.50% | 0.50% | 0.75% |
NRO FD Premature Withdrawal Penalty
Remember:
Premature withdrawal penalty will be applicable for partial as well as full withdrawal.
For FD equal to or greater than Rs. 5 cr, the penalty will be applicable at 0.25% for all tenure and values.
Key Features of Yes Bank NRO Fixed Deposit
Attractive Interest Rates: Yes Bank offers competitive interest rates up to 7.75% on NRO Fixed Deposits, which may vary depending on the tenor and deposit amount.
Flexible tenure: These fixed deposits come with flexible tenure options, typically ranging from 7 days to 10 years, allowing investors to choose a term that suits their needs.
Repatriation: The principal amount in NRO Fixed Deposits is non-repatriable. However, interest earned on these deposits is repatriable after deducting applicable taxes.
Taxation: Interest earned on NRO Fixed Deposits is subject to Tax Deducted at Source (TDS) as per the prevailing Indian tax laws. The tax rate may vary depending on the investor's residential status and applicable double taxation avoidance agreements (DTAA).
Premature Withdrawal: Yes Bank may allow premature withdrawal of NRO Fixed Deposits, subject to certain conditions and penalties.
Joint Accounts: NRO Fixed Deposits can be held jointly with other NRIs, PIOs, OCIs, or Resident Indians. However, the account operation mode will be 'Either or Survivor' or 'Former or Survivor.'
Nomination Facility: Investors can nominate a resident or non-resident individual as a nominee for their NRO Fixed Deposits.
Eligibility for Yes Bank NRO Fixed Deposit
Non-Resident Indians
Persons of Indian Origin/ Overseas Citizens of India
Seafarers of Indian nationality
Indian government personnel with diplomatic passports
Documents Required
Passport
Valid visa/ resident permit/ work visa/ dependent visa
Overseas residence proof
Passport-sized photograph(s)
Tax Deduction on Yes NRO FD Interest Rate
Interest made from NRO deposits is subject to TDS at 30% plus applicable surcharge and cess. You can use your savings/ current/ demand deposit account to recover the deduction.
Calculate your returns on FD and much more with an expert. At SBNRI, you get direct access to field experts who will take care of your individual process personally and assist you throughout the way. Just click on the button below to get in touch with our expert now. Also, visit our blog and YouTube Channel for more details.