Rishi Sunak Is Richer Than the King: Ever since his appointment as the new UK Prime Minister, Rishi Sunak has become the talk of the town or the world precisely, for many good and controversial reasons, such as his Indian connection, his colour and religion, and his meteoric rise to 10 Downing Street. Rishi Sunak is the first British PM of colour and also first Hindu, but it is his wealth that is grabbing more eyeballs than anything else. Sunak possesses an exorbitant fortune; he and his wife Akshata Murthy are sitting on a combined wealth of roughly £730 million ($825 million), which is around twice the estimated £300m – £350m wealth of King Charles III and Camilla, Queen Consort.
It is the first time in British History that the residents of Downing Street are richer than the royals at Buckingham Palace. Earlier this year, Sunak's name was featured in the Sunday Times Rich List, which publishes a list of the UK's richest people.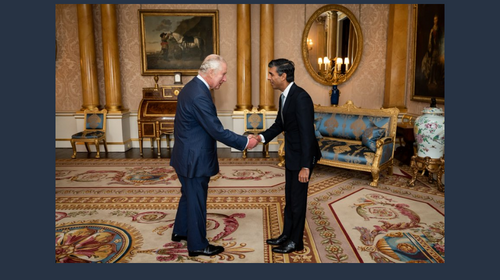 However, the resource of most of the Rishi Sunank's wealth is his wife Akshata's stake in Infosys, a company started by her father, Mr. Narayana Murthy. She owns a 0.93 percent stake in Infosys, a £630-million company. Akshata is also a shareholder of half a dozen companies and owns Catamaran ventures UK, a start-up incubator. As per the Rich, Rishi Sunak and Akshata are among the 250 wealthiest British people or families.
Properties of Rishi Sunak
Rishi owns a portfolio of four properties located across the world, valued at more than £15m. As per The Guardian, a British daily newspaper, Rishi Sunak, with his wife and two daughters, spends most of the week in their mews house in Kensington (west London), valued more than £7m. 
Sunak also has a Grade II-listed Georgian manor house in the picturesque village of Kirby Sigston in Richmond, North Yorkshire where they spend their weekends. They bought the house for £1.5m in 2015, which is now worth more than £2m and has been transformed into something of a wellness retreat featuring a £400,000 indoor swimming pool, gym, yoga studio, hot tub and tennis court.
Rishi Rich
Sunak's clumsiness in flaunting his fortune has forced some people to question if he is too rich to understand the day-to-day struggles of voters of his constituency. Sunak's wealth and lifestyle was a widely discussed topic of the Conservative leadership vote earlier this year and is considered one of the few reasons Tories were hesitant for picking him. The British tabloids anointed him "Rishi Rich."
Sunak made his money at Goldman Sachs and hedge funds TCI and Theleme Partners. He has been seen wearing £450 Prada loafers and £3,500 bespoke suits. However, Sunak believes voters don't care about shoes and suits.
In a podcast with The Telegraph, Sunak said
"I actually quite welcome it, to be honest…It is the opposite of annoying. Very few people bring it up with me. While I was chancellor, I did town hall [meetings] very regularly with members of the public … virtually nobody asked me about it."
However, Rishi Sunak avoided questions about the total wealth he owns or where it is invested on multiple occasions. Also, the revelation that Akshata Murthy claimed non-domicile status allows her to save millions by avoiding UK tax on the £11.6m in annual dividends she receives from Infosys, her father's software company, impacted his reputation.