Mehendi is a unique body art form temporarily done on the skin on special occasions. Mehendi specialists make attractive designs using a solution made from powdered henna leaves. Today we are going to be talking about Mehendi design for all occasions.
Traditionally, women adorn their hands and legs with beautiful Mehendi designs during Hindu festivals like Karwa Chauth, Navratri, Teej, Bhai Dooj, etc. Muslims also use Mehendi on Eid-ul-Adha and Eid-ul-Fitr.
Several people apply Mehendi on their hands and legs on their wedding day, and the bride-to-be and groom-to-be have each other's names written using the paste of Mehendi.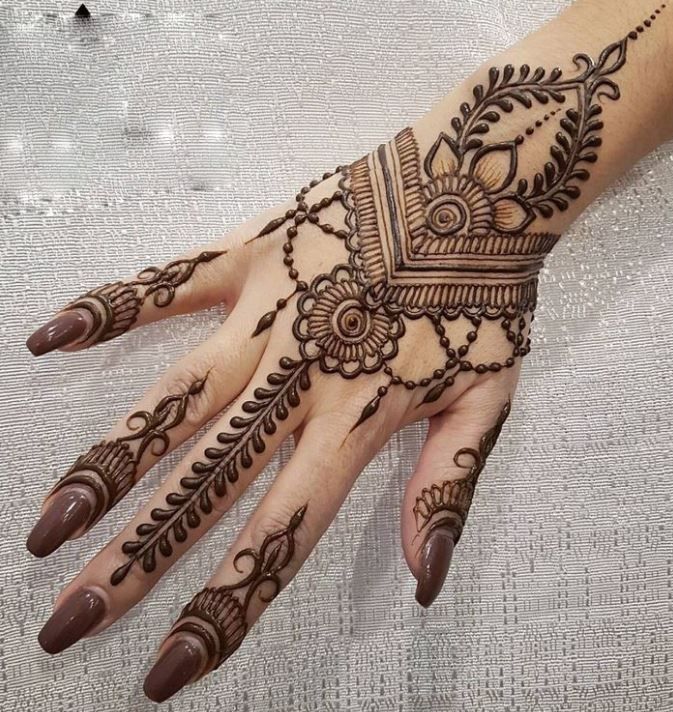 Mehendi has now become a part of statement jewelry. From simple designs to innovative patterns, Mehendi will make your special day.
It has high cultural and social significance. Mehendi is a recognized art form that has its origin in Egypt. You can choose from various designs to adorn your body with Mehendi.
Different Mehendi Designs 
1) Indian Mehendi Designs
Indian Mehendi Designs perfectly complement traditional looks. It mainly consists of meshwork and floral designs. The beauty of Indian Mehendi Designs is unparalleled. All the patterns and shapes used in the designs usually have immense significance.
The patterns of these Mehendi forms have clear connections with the natural elements like flowers, birds, earth, animals, etc. The portrayal of the Hindu gods and goddesses, bride and groom figures is also popular in Mehendi designs in India.
Bollywood movies and songs highlight the use of Mehendi, which has now become an integral part of Indian culture.
People in India consider Mehendi auspicious. They believe the mehendi design is a sign of good luck, and they put exclusive Mehendi designs all over their hands and bodies to avoid negative vibes.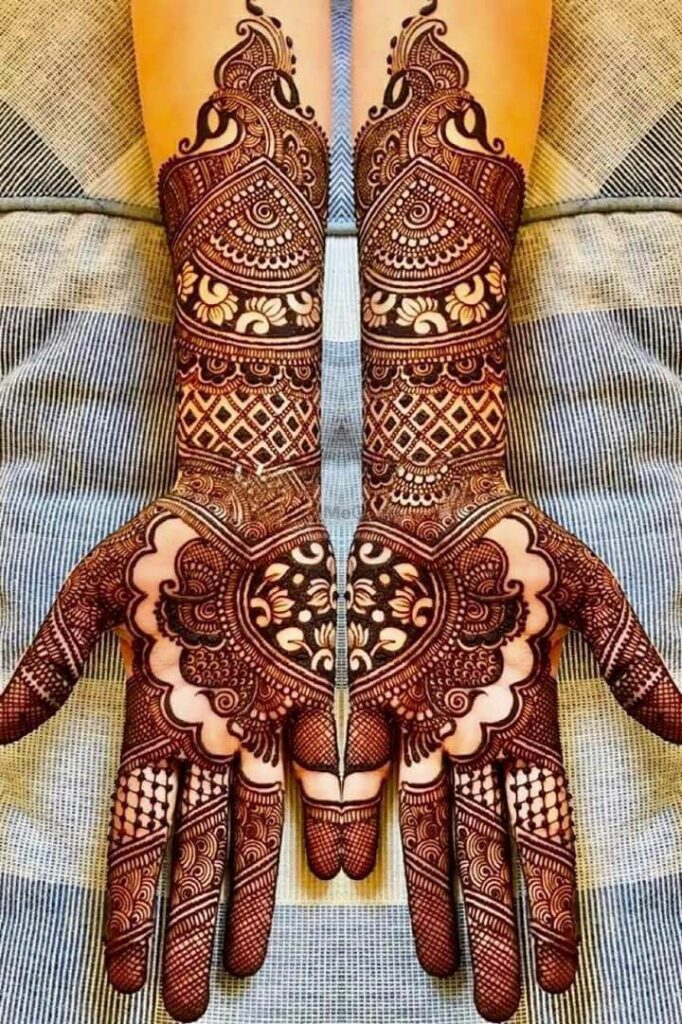 2) Arabic Mehendi Design
Also known as Mughal Mehendi Design, this Mehendi design originates in Arab. This Mehendi type is famous but varies significantly from Indian Mehendi Designs.
Arabic Designs feature more shading and cashew patterns. They have gained immense popularity among Indian young girls as well.
Arabic Mehendi has gained popularity owing to its elegant patterns and style. The design flows smoothly, has sharp strokes, and is spread out over the hand or leg it applies. Arabic Mehendi Designs include floral patterns, mandala designs, leaf patterns, etc.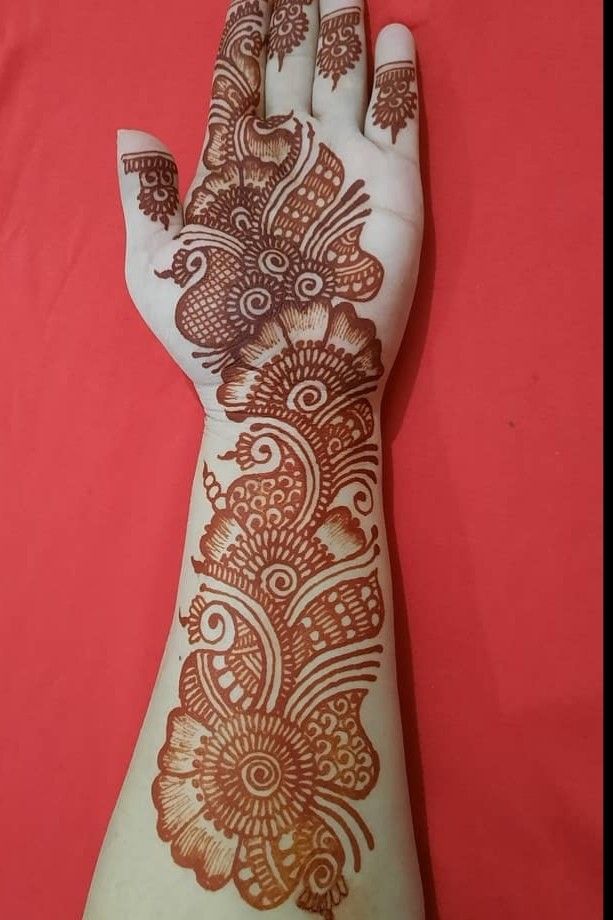 3) Indo-Arabic Mehendi Design
Indian and Arabic Mehendi Designs have their elegance blended into this form of Mehendi design. People often combine Indian Mehendi Designs with Arabic Mehendi Designs for a unique illustration and term it Indo-Arabic Mehendi Designs.
It fuses the Indian Mehendi patterns with Arabic motifs and cashew work. When women want to combine natural elements like birds, flowers, leaves, and animals with Arabic shading, they can opt for Indo-Arabic Mehendi Designs.
4) Pakistani Mehendi Design
Mehendi is not only famous in India and Arab, but it also has fame in Pakistan. Though the patterns of Indian Mehendi Designs and Pakistani Mehendi Designs are similar, Pakistani Mehendi patterns don't have gods and goddesses of Hindu mythology and human figures but feature domes, flowers, leaves, and mandala patterns. They may also have structures of mosques. This type of Mehendi design bears a lot of resemblance to Arabic Designs.
5) Tattoo Mehendi Designs 
There are several admirers of Mehendi even in the West. Mehendi is more than creativity to the people of the West. Their love for Mehendi has resulted in Tattoo Mehendi Designs.
Tattoos have been in the craze for several years now. Tattoo mehndi designs feature geometric shapes and patterns. Quirky designs and shapes of Mehendi often imitate jewelry pieces.
Lovers often replicate hearts on their fingers using Mehendi during valentine's week. People often make small designs of hearts or other things on their hands. Tattoos are generally done using needles. Most people go for Mehendi tattoos as they can remove them quickly. You can have Mehendi tattoos on any part of your body. People can avoid having scars on their bodies by opting for Mehendi tattoos.
6) Punjabi Mehendi Design
Punjabi Mehendi Design consists of spherical designs and loops. They uphold the culture and heritage of Punjab. Most designs are colorful and glittery. They impart a gorgeous look to the Mehendi design.
7) African Mehendi Design
This Mehendi design is a popular form of mehendi design having gaps. It has tribal patterns and bold borders.
African people enjoy the incredible sensation of Mehendi because of the hot and gloomy weather.
Both men and women have mehndi designs on their hands and feet. African Mehendi Designs are similar to Indian Mehendi Designs. Africans also consider Mehendi as a sign of good luck and prosperity.
8) Indo-Western Mehendi Designs
You can fuse the traditional and western designs for a fascinating Mehendi design. It upholds the culture of the East and highlights a style statement as done in Western Mehendi Designs. This Mehendi design is spaced out and suits both traditional and western attire.
9) Moroccan Mehendi Design
This Mehendi design has a different style. It is a kind of western tribal design.
It has zigzag patterns and geometric shapes. Diamond is a prominent shape used in Moroccan Mehendi Designs.
They are not much intricate yet beautiful.
Final words
If you want to adorn your hands and feet with Mehendi designs, you can consider any of the designs discussed above. A Mehendi design will complete your traditional look.
The aforementioned Mehendi designs are suitable for all occasions. You can also choose to blend two or more types of Mehendi designs.
There are several other types of Mehendi Designs that you may think of for several occasions.
You can have an intricate mehndi design in your hands and feet of Lotus motifs or a design having floral bands.
For an innovative design, you can opt for elegant coils. This design is spacious as well as elegant.
Clustered and floral designs are always attractive and make your hands and feet look alluring.
You may also put Mehendi in the shape of an accessory. Multi-layered Mehendi designs are eye-catching and gorgeous. These designs and patterns will adorn your hands and feet and give you a stunning look.
To ask any questions related to the rights of NRIs, PIOs, and OCIs, you can download SBNRI App from the Google Play Store or App Store. You can also use the SBNRI app for investment in stock market/ mutual funds, NRI account opening, tax filing, etc. To ask any questions, click on the button below. Also, visit our blog and YouTube channel for more details.
FAQs
What is Mehendi made out of?
Mehendi is made out of dried Henna leaves.

Can you blend elements of different Mehendi designs?
Yes, you can certainly mix and match between styles.